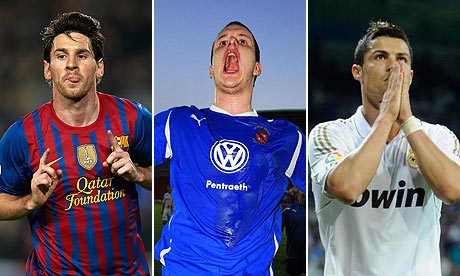 Messi's on the left, Ronaldo's on the right, but WHO'S IN THE MIDDLE?
Who was the Best Player in Europe last season?
Most football fans will probably say Lionel Messi. A considerable number will vouch for Cristiano Ronaldo. Many people will plump for Andres Iniesta, with a reasonable percentage of votes going to Robin van Persie.
Now here's another question: How many football fans seriously believe that the best player in European football last season was Les Davies? And no, as far as I'm aware, he wasn't in The Kinks.
That's right, folks. According to the nominations for UEFA's Best Player in Europe award, a 27-year-old Welsh part-timer who makes safety equipment for a living has had a better season than Sami Khedira, Gareth Bale and Sergio Busquets.
Les Davies, nicknamed the Truck, has played for Bangor City since 2007, and last season, he scored 15 goals as Bangor finished 2nd in the Welsh Premier League. As a result, they qualified for the UEFA Europa League, where they were last week narrowly knocked out in Qualifying Round 1 by the European behemoths of Zimbru Chisinau.
'Big Les', or if you prefer 'Fat Les' (he weighs 17 stone), told Sky Sports News:
"I'm flattered and honoured to be on such a list. I can't get my head round what's happened in the last few days.
"I don't think it is going to sink in for a long time. To be on the list with those people is unbelievable. Just to be nominated in the 32 is fantastic. I'll take that - I don't think I've got much of a chance to make the top three!"
It's good to see Les has kept his feet on the ground. There's more chance of Nessa Jenkins from Gavin & Stacey winning Britain & Ireland's Next Top Model than Davies being chosen ahead of Messi, Ronaldo, Iniesta, or even Jakub Blaszczykowski.
The shortlist for the award is decided by journalists from all 53 member countries of UEFA. There is one journalist per country, and each hack nominates five players for the award, with their first preference getting 5 points, second getting 4, and so on down to the fifth getting 1 point.
The reason why the shortlist ended up being skewered was the Welsh journalist, Dave Jones of the Welsh Daily Post. Jones attempted to justify his decision to give Davies his top score of 5 points, saying,
"Les is an outstanding striker whose reputation has rocketed in the last couple of seasons. Every time he plays for Bangor City in Europe he makes life hell for all defenders."
But if Jones was going to risk the integrity of the Best Player in Europe shortlist, couldn't he have nominated another player from the WPL? Like Rhys Griffiths, who has been the league's top scorer for several years, or Kiwi Greg Draper, whose goals helped The New Saints lift the title? Both would still have been strange choices, but they are perhaps a smidging more deserving of a nomination.
Somehow I don't think Dave Jones will be invited by UEFA to nominate for their awards again. But there's always the BBC Sports Personality of the Year award - maybe he can persuade us to text in our votes for tennis player Evan Hoyt, or rugby union's Aled Brew.
Here are the 32 players that have been nominated for the award, with English Premier League players highlighted in
red
, and Welsh Premier League players highlighted in
blue
:
Sergio Aguero

, Xabi Alonso,

Mario Balotelli

, Jakub Blaszczykowski, Gianluigi Buffon, Iker Casillas,

Petr Cech

, Fabio Coentrao,

Les Davies

,

Didier Drogba

, Cesc Fabregas, Radamel Falcao,

Joe Hart

, Zlatan Ibrahimovic, Andres Iniesta, Shinji Kagawa,

Vincent Kompany

,

Frank Lampard

, Lionel Messi,

Luka Modric

, Mesut Ozil, Pepe, Andrea Pirlo, Sergio Ramos, Raúl, Cristiano Ronaldo,

Wayne Rooney

,

David Silva

,

Fernando Torres

,

Yaya Touré

,

Robin van Persie

, Xavi
.
The awards ceremony takes place on 30 August. If Les Davies wins, then you'd better alert the Angry Birds about those flying pigs...