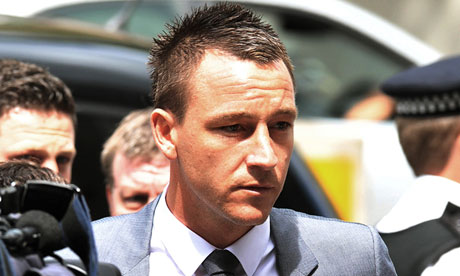 John Terry is not guilty, his reputation is still intact.
Chelsea defender John Terry has been found not guilty of racially abusing Queens Park Rangers' Anton Ferdinand.
After a five-day trial at Westminster Magistrates' Court, Terry was cleared of a racially-aggravated public order offence over the incident, which took place during a Premier League match on 23 October.
Terry admitted describing Ferdinand as "black" and using extreme swear words, but insisted that he was sarcastically repeating a phrase that Ferdinand said that he had used against him.
Chief magistrate Howard Riddle said that Ferdinand was a credible witness, but added that the prosecution had not produced enough evidence that Terry had not told the truth. And in the end, if there's not enough evidence to prove him guilty, he can't be convicted.
The Crown Prosecution Service said:
"The very serious allegation at the heart of this case was one of racial abuse. It was our view that this was not 'banter' on the football pitch and that the allegation should be judged by a court. The chief magistrate agreed that Mr Terry had a case to answer, but having heard all of the evidence he acquitted Mr Terry of a racially aggravated offence. That is justice being done and we respect the chief magistrate's decision."
What does this not guilty verdict mean for Terry's career? Well, it will have certainly done his reputation little harm compared to what it would've had he been convicted.
Chelsea were always going to welcome back their captain with open arms, guilty or not, and now there is no doubt over whether he should still wear the armband. But Terry will undoubtedly have been under more than a little stress because of this trial, and the Blues have reportedly allowed him to go on holiday with his family instead of joining the club's tour of the United States.
When this case first blew up, Terry's captaincy of the England national team came under scrutiny. In February, the FA took matters out of Fabio Capello's hands by stripping him of that honour - a decision that infuriated Capello so much that he resigned as manager. The Italian effectively said that Terry was innocent until proven guilty, and now that he's been proven innocent, should he get the armband back?
If so, it would be his third stint as England skipper. Back in 2010, he lost the armband over an extra-marital affair with Wayne Bridge's ex-girlfriend. My personal opinion is that Steven Gerrard should keep the England captaincy, largely because of his admirable performances at UEFA Euro 2012, although Terry was similarly impressive at that tournament.
Now that the law court has delivered its verdict, it's up to the FA to decide what they do next. There is somewhat of a precedent, as Liverpool's Luis Suarez received an eight-match ban for his slur aimed at Manchester United's Patrice Evra.
But of course, there are some differences between these two cases. Suarez used racially-aggrivated language, but in a naive way, and wasn't too aware about the consequences of what he said. Terry, on the other hand, knew exactly what he was saying, but Ferdinand's evidence wasn't as conclusive as Evra's.
John Terry is not a racist, but as the CPS said, his language towards Anton Ferdinand was not just 'banter'. It's hard to imagine that he will get off completely scot-free.