On the eve of the start of the Olympic Games men's tournament, which begins on Thursday, The Daily Transfer Request today looks at the 16 teams hoping to take home the gold medal: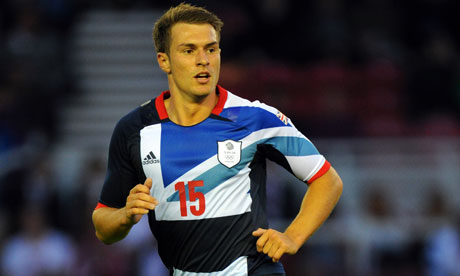 Aaron Ramsey playing for England & Wales. TDTR likes to call a spade a spade.
GROUP A
ENGLAND & WALES
Star players:
Goalkeeper Jack Butland was a non-playing member of England's UEFA Euro 2012 squad, and Aaron Ramsey is the Wales captain.
Over-age players:
Craig Bellamy, Ryan Giggs, Micah Richards.
Head coach:
Stuart Pearce, better known as 'Psycho', coaches the England Under-21s.
Prediction:
Don't rule out gold for Team Merchandise, but TDTR predicts a 4th-placed finish.
SENEGAL
Star players:
They are captained by Norway-based central defender Stéphane Badji and have Everton's Magaye Gueye up front.
Over-age players:
Mohamed Diame, Papa Gueye, Dame N'Doye.
Head coach:
Joseph Koto is also the caretaker of the senior team.
Prediction:
Senegal are likely to be edged out at the group stage.
UNITED ARAB EMIRATES
Star players:
Former Lyon defender Hamdan Al Kamali skippers, while Ismail Matar was the best player at the 2003 World Youth Championship.
Over-age players:
Ismail Al Hammadi, Ali Khasif, Ismail Matar.
Head coach:
Former international midfielder Mahdi Ali has led the UAE to their first Olympics.
Prediction:
Winning a point should be a realistic aim for the Emiratis.
URUGUAY
Star players:
Palermo's Abel Hernández is their next bright young striker, and attacking midfielder Nicolas Lodeiro will want to impress.
Over-age players:
Egidio Arevalo Rios, Edinson Cavani, Luis Suarez.
Head coach:
'El Maestro' Oscar Tabarez is one of the most experienced coaches at the Games.
Prediction:
A squad with plenty of experience should battle its way to a bronze medal.
Switzerland's Innocent Emeghara: so good, they named a smoothie after him.
GROUP B
GABON
Star players:
Pierre-Emerick Aubameyang is prolific for Saint-Etienne, and look out for defender Muller Dinda, who is just 16 years old!
Over-age players:
Bruno Ecuele Manga, Didier Ovono.
Head coach:
Former senior team manager Claude Albert Mbourounot is the man in charge.
Prediction:
Gabon have a promising future but will struggle here.
MEXICO
Star players:
Tottenham Hotspur benchwarmer Giovani dos Santos is there, and Marco Fabián's record for Mexico Under-23s reads 13 goals in 12 games!
Over-age players:
José de Jesús Corona, Oribe Peralta, Carlos Salcido.
Head coach:
Mexico's senior assistant manager Luis Fernando Tena is the number 1 here.
Prediction:
A Quarter Final finish but no better for the Mexican team.
SOUTH KOREA
Star players:
Watch out for UK-based youngsters Ki Sung-Yueng in central midfield and Ji Dong-Won in attack.
Over-age players:
Jung Sung-Ryong, Kim Chang-Soo, Park Chu-Young.
Head coach:
You might remember Hong Myung-Bo's defensive heroics at the 2002 FIFA World Cup.
Prediction:
They've got the potential to reach the knockout phase.
SWITZERLAND
Star players:
Striker Innocent Emeghara and right-midfielder Fabian Frei are among those with experience in the main national team.
Over-age players:
Xavier Hochstrasser, Timm Klose, Diego Benaglio.
Head coach:
Pierluigi Tami coaches the Swiss Under-21s and is assistant for the senior team.
Prediction:
I reckon the Swiss will win their group before being rolled over in the Quarters.
Brazil's Emeli Sandé lookalike Neymar could be the player of the Games.
GROUP C
BELARUS
Star players:
Brazilian-born Renan Bressan is a naturalised Belarusian midfielder, and defender Dzyanis Palyakow recently joined him at BATE Borisov.
Over-age players:
Renan Bressan, Stanislaw Drahun, Sergei Kornilenko.
Head coach:
Georgi Kondratiev has coached Belarus's seniors for less than a year.
Prediction:
Europe's shock qualifiers won't find a way past Brazil and Egypt.
BRAZIL
Star players:
Two little-known Santos players called Ganso and Neymar will be coming to a major club near you very soon, you can be sure!
Over-age players:
Hulk, Marcelo, Thiago Silva.
Head coach:
Mano Menezes will be Brazil's coach at their home World Cup in 2014.
Prediction:
This is the Selecao's next generation, and the boys in yellow can deliver gold.
EGYPT
Star players:
Forward Mohamed Salah is a recent signing for FC Basel, but midfielder Hossam Hassan is no relation to Egypt's greatest ever player.
Over-age players:
Mohamed Aboutrika, Ahmed Fathy, Emad Motaeb.
Head coach:
A modern legend in Egyptian football, Hany Ramzy won over 100 caps in defence.
Prediction:
TDTR tips Egypt to come second in the group before falling short at the last eight.
NEW ZEALAND
Star players:
Chris Wood has the makings of a potential goal machine, while Jake Gleeson has great potential as a goalkeeper.
Over-age players:
Michael McGlinchey, Ryan Nelsen, Shane Smeltz.
Head coach:
Englishman Neil Emblen is fondly remembered by fans of Wolverhampton Wanderers and Walsall.
Prediction:
The Kiwis could just eke out a 3rd-placed finish in the group.
Spain goalkeeper David de Gea is hungry for gold medals - and doughnuts.
GROUP D
HONDURAS
Star players:
Defender Johnny Leverón is the Honduran captain, and Andy Najar is a regular on the wing for DC United.
Over-age players:
Jerry Bengtson, Roger Espinoza, Maynor Figueroa.
Head coach:
Luis Suarez (obviously not THAT one) is a Colombian who has coached Honduras since last year.
Prediction:
Honduras will come unstuck in a sticky group and finish last.
JAPAN
Star players:
Japan have a number of players based in Germany (
the land of Alphaville
), including right-back Hiroki Sakai and midfielder Hiroshi Kiyotake.
Over-age players:
Yohei Tokunaga, Maya Yoshida.
Head coach:
Takashi Sekizuka used to manage Kawasaki Frontale in the J-League.
Prediction:
The group match with Morocco could determine whether they make the Quarters.
MOROCCO
Star players:
Dutch-born winger Zakaria Labyad is a precious talent, and striker Nordin Amrabat has literally just signed for Galatasaray in Turkey's Super Lig!
Over-age players:
Nordin Amrabat, Houssine Kharja.
Head coach:
They are managed by the experienced Pim Verbeek, formerly of Australia and South Korea.
Prediction:
The Moroccans are possible dark horses, but I reckon they'll go out in the Quarter Finals.
SPAIN
Star players:
Manchester United goalkeeper David de Gea can improve his reputation here, and Chelsea will have an eye on captain César Azpilicueta.
Over-age players:
Adrián López, Javi Martínez, Juan Mata.
Head coach:
Former Barcelona AND Real Madrid midfielder Luis Milla is the chief.
Prediction:
Be very afraid of the Spanish - they've got a gold medal in them, but TDTR tips Brazil to beat them to it!