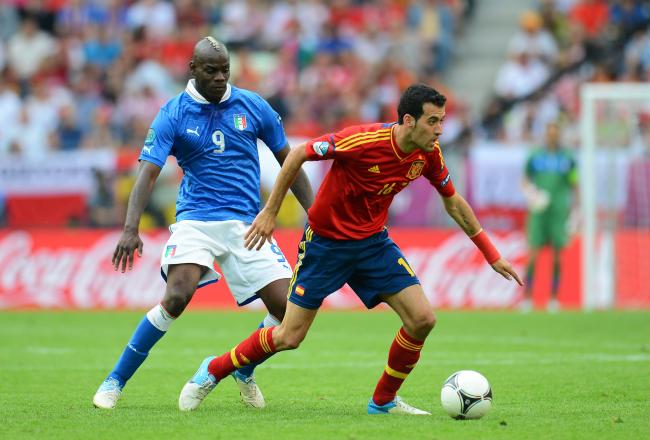 Italy's Mario Balotelli and Spain's Sergio Busquets will meet again tonight
Welcome to The Daily Transfer Request.
And no, this isn't a blog about Carlos Tevez... but it is about football.
With less than three hours to go until the Final of UEFA Euro 2012 kicks off, we've decided to enter the fray in time for the new season. A new season that, believe it or not, begins in just four days time with the first qualifying rounds for the UEFA Europa League. Gosh, those footballers never get no rest, do they?
But what is The Daily Transfer Request, and who is this fat, 20-something Essex boy typing this on an Alienware laptop?
Firstly, let me introduce myself. My name is Christopher (or Chris for short), and I have been a massive football fan since the age of eight. I have wanted to be a football journalist since the age of 14, and that desire led to me creating this blog.
I should also immediately declare that I am a supporter of Arsenal (a love affair which began jointly because of their Double-winning team, and also the fact that my father follows them). Don't think for one minute, though, that they will receive any special treatment in this blog just because of that. When writing for TDTR, I consider myself to be a football fan first, a journalist second, and a Gooner last.
The Daily Transfer Request will deliver the big (and the not-so-big) football news stories when they happen. Because this is technically the off-season, things will start off a little slowly, but they'll pick up as the new Premier League season approaches.
TDTR will mostly focus on the Premier League, the Champions League, and international football, with the odd sojourn into lower league and European football.
There will also be plenty of my football-related opinions. Who's made the best transfer deals? Who should be in the England squad? Who in their right frame of mind would want to sign Joey Barton?
And, considering that there's plenty of comedy to be found in modern football if you look closely, I'll also have some humorous articles lined up for you.
There's plenty to look forward to here, and I hope you enjoy reading this blog as much as I do creating and writing for it.
P.S. I'm going for Spain to beat Italy 2-1, with Mario Balotelli EITHER scoring a goal or getting sent off.