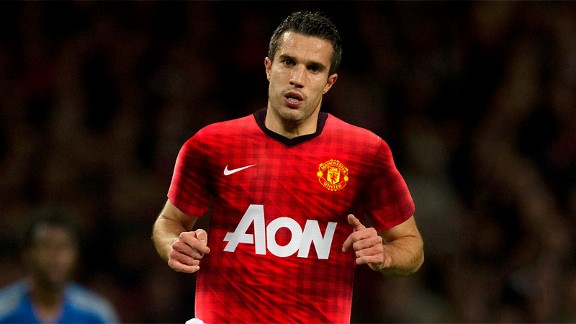 Robin van Persie heads north to Manchester United.
Here are The Daily Transfer Request's (very serious) month-by-month predictions of what exactly will happen in the Premier League and beyond this season:
AUGUST
- Manchester United sign Robin van Persie from Arsenal for £24million. Arsene Wenger denies that Arsenal are a feeder to the Manchester clubs after securing a loan deal for City's Mario Balotelli.
- Tottenham Hotspur thrash Newcastle United on the opening day of the season. Spurs fans ask: "Harry who?"
- Following their Community Shield defeat, Chelsea also lose their opening two games of the season. Roberto Di Matteo is sacked on the spot, and Josep Guardiola decides that his sabbatical is over.
- Swansea City's display of tiki-taka-esque passing against West Ham United is deemed so sexy that it is rated 'XXX' and cannot be shown until after midnight.
- Manchester United's 59-year-old Ryan Giggs announces his retirement, after being so upset to find out that he was the only member of Team GB not to win an Olympic medal.
- Everton have left most of their transfer window business so late that, by the time the deadline arrives, they have only managed to sign Emile Heskey and Bébé.
SEPTEMBER
- England thump Moldova 7-0 in their first FIFA World Cup qualifier, and The Sun hail them as 'the new Barcelona'. Four days later, they lose 2-1 to Ukraine, and The Sun's editor is spotted burning an effigy of Roy Hodgson.
- Roberto Martinez is so sure that his Wigan Athletic side will get duffed by Manchester United that he rests his entire first-team bar Shaun Maloney. Wigan win 1-0.
- Steve Clarke has become so used to being an assistant manager that he starts thinking that Peter Odemwingie is the manager of West Bromwich Albion.
- Everton are rock bottom following a shock home loss to Southampton. Toffees fans call for David Moyes to be sacked, branding him their worst manager since Mike Walker.
OCTOBER
- Reading's star striker scores a hat-trick against Swansea City, prompting calls of: "Adam Le Fondre for England!"
- The Tyne & Wear derby at the Stadium Of Light is won by a magnificent free-kick taken by Newcastle United's Ryan Taylor... in St James' Park.
- Tottenham Hotspur players plan a revolt after Andre Villa-Boas orders them to eat lasagne for lunch.
- Stan Collymore is drafted in as a guest pundit for Match of the Day. He is sacked the next day after the BBC discover that he is remotely interesting.
NOVEMBER
- Southampton, who are struggling badly, give a debut to an unknown Malian after he phones them claiming to be Ali Dia's nephew.
- Liverpool's woes continue at the hands of Newcastle United, who are inspired by a man-of-the-match performance from _______ __________ (insert an obscure French player's name in the blanks).
- After Stoke City leave seven West Ham United players in hospital, the usually calm and serene Sam Allardyce and Tony Pulis come to blows on the touchline.
- While Queens Park Rangers stun Manchester United thanks to an own goal from Martin Atkinson, Joey Barton arrives in Australia for the new series of "I'm A Celebrity... Get Me Out Of Here". He is voted out third, after Louise Mensch and the owner of Fenton the dog.
DECEMBER
- Swansea City overturn a one-goal deficit to beat Arsenal. They are instantly tipped to qualify for the UEFA Champions League, although The Daily Mail columnist Martin Samuel makes a disparaging statement about the Swans, hinting that Welsh teams shouldn't be allowed in the ENGLISH Premier League.
- Reading owner Anton Zingarevich hires his wife as the club's new mascot. Attendances at the Madjeski Stadium soar.
- Suspicions are raised when Aston Villa and Stoke City draw 0-0 after they spend the entire 90 minutes trying to give the ball to City's wheelchair-bound striker Michael Owen.
- Norwich City, now nicknamed Team GB by the British sports media, thrash a Wigan Athletic side consisting of players from 18 different countries.
- On Boxing Day, Aston Villa and Tottenham Hotspur are involved in a nine-goal thriller. Villa score none of them.
- With half of the Scottish Division 3 season still left to run, Rangers have already won promotion to next season's Scottish Premier League.
JANUARY
- Fulham manager Martin Jol cracks a smile for the first time in decades - after Hugo Rodallega's shot goes so far off target that it knocks Mohamed Al Fayed off his seat!
- Arsenal's Mario Balotelli loses his cool against Manchester City, headbutting Mikel Arteta before ripping his shirt in half a la the Hulk. He had just scored a hat-trick.
- Queens Park Rangers snatch a late winner against West Ham United through their latest superstar signing - Lionel Messi. That's the Cameroonian Lionel Messi.
- Chelsea sign Paris Saint-Germain midfielder Sinead O'Connor, er I mean Marco Verratti. But just like O'Connor's latest marriage, Verratti decides to leave after four minutes.
- Tottenham Hotspur lose Luka Modric to Manchester United, Gareth Bale to Real Madrid and Andre Villas-Boas to his own ego. Martin O'Neill leaves Sunderland to take over his boyhood idols.
- Liverpool's latest spending spree sees them snap up Adam Federici, Adam Lallana and Nicky Maynard for a combined £48million.
FEBRUARY
- Upon his return to Manchester City (against Liverpool), Mario Balotelli is sent off for merely existing - and also giving the ref a wedgie.
- Wigan Athletic lose manager Roberto Martinez to Sunderland. They bring in Steve Kean as a replacement, and owner Dave Whelan claims: "Steve is, without any doubt, the best manager in English football."
- Norwich City keeper John Ruddy makes three clangers in their 5-1 defeat to Everton. A creative headline from The Sun reads: "RUDDY HELL!"
- It's Super Sunday, and after Fulham beat Stoke City 2-1, Sky's most insightful pundit Jamie Redknapp says: "Obviously, you know, in terms of going forward, at the end of the day, Alex Kacaniklic is a top, top player."
MARCH
- Jack Wilshere makes his first Arsenal appearance in seven years as the Gunners finally win a trophy at the League Cup Final - the trophy for losing the most League Cup Finals.
- Ahead of Fulham's derby match against Chelsea, Mohamed Al Fayed unveils a new statue at Craven Cottage of Trevor Rees-Jones.
- Having been so irresistible in the first half of the season, Tottenham Hotspur winger Gareth Bale now can't kick a ball straight.
- West Ham United see off West Bromwich Albion thanks to goals from El-Hadji Diouf, Kevin Davies and, after being coaxed out of retirement, Jay Jay Okocha.
APRIL
- Wigan Athletic draw 1-1 with Queens Park Rangers, and are 17 points adrift in the relegation zone with six games to go. Manager Steve Kean says: "We've still got a brilliant chance of staying up."
- After drawing their Champions League Quarter Final with Barcelona, Chelsea are controversially knocked out on the new Platini rule, which states that if the scores are level after two legs of 90 minutes, the English team loses.
- A furious Swansea City manager Michael Laudrup bellows at the press: "NO, I AM NOT IN THE NEXT SERIES OF BORGEN!"
- Manchester United are thumped 7-1 by Arsenal at the Emirates Stadium. Sir Alex Ferguson blames it on the sunshine, moonlight, good times, boogie, weatherman, alcohol, the moonlit sky, the dream that died with the eagles' flight, the sleeping satellite, and everyone except himself or his own players.
MAY
- Liverpool vs Everton sees four red cards handed out - a record low for a Merseyside derby.
- Nine months after joining Sunderland, Louis Saha finally makes his debut for the club. He tears his cruciate ligaments nine minutes later.
- Wigan Athletic somehow win their last six games, and avoid the drop courtesy of a 99th-minute goal against Aston Villa from substitute Aiyegbeni Yakubu.
- Reading and Southampton are relegated, along with Newcastle United, who never recovered after Papiss Cisse and Demba Ba both broke their legs in January and the Magpies ran out of Senegalese strikers.
- Going into the final day of the season, the Manchester clubs are dead level on points and goal difference, but crucially, United have scored one goal more.
- City drew 1-1 against Norwich City in their last match, but in the last minute of injury-time at the Hawthorns, West Bromwich Albion's Ben Foster hauls down Manchester United's Robin van Persie in the penalty area. With the score level at 0-0, van Persie must score the resulting penalty to give the Red Devils their 20th league title...
...but he misses, and the Premier League goes down to a play-off between City and United!