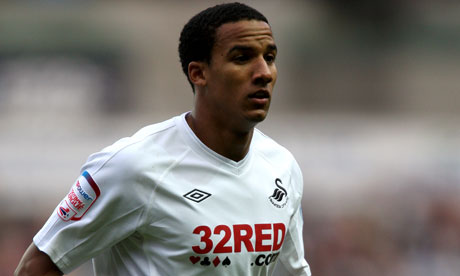 Will Scott Sinclair be swapping this white shirt for a light blue one?
It's the final day of the transfer window, and clubs from England, Scotland and most of the other European leagues have a limited time to complete their transfer activities.
The Daily Transfer Request will be here with regular live transfer updates and opinions, right up until the window closes at 11pm.
You can contact me at any time throughout deadline day by emailing TDTR at
transferrequest@live.co.uk
. Don't bother sending me any spam, or you'll face the consequences.
DEADLINE DAY AS IT HAPPENS
6:59pm
- TDTR's coverage of deadline day continues
here
.
6:56pm
- I'll wrap things up on this article now. See you in a few minutes on a new article.
6:55pm
- Celtic have signed Ashdod defender Efe Ambrose on a three-year deal, the club's chief executive has just confirmed.
6:53pm
- Newcastle United defender Ryan Taylor faces several months on the sidelines with a cruciate ligament injury. Could this prompt Alan Pardew to raid the loan market?
6:51pm
- Aston Villa have agreed a £7million price for Genk striker Christian Benteke, and he's having a medical as I type this.
6:50pm
- Forget Michael Owen, who wants to sign Emile Heskey? Could he return to Leicester City?
6:49pm
- Dan Walker. He's not exactly Jim White, is he?
6:47pm
- Queens Park Rangers striker Jay Bothroyd has started a four-month loan period at Sheffield Wednesday.
6:44pm
- Clint Dempsey to Tottenham Hotspur? Paddy Power have had a flurry of bets on that, and I'll bet they refund them all if he signs for Liverpool instead.
6:40pm
- Laura Robson won her match and is in the last 16 of the US Open! Who cares?
6:38pm
- Robbie Savage thinks Dimitar Berbatov's move to Fulham is the best of his deadline day. £4million for a striker of Berbatov's quality? I agree with you for once, Robbie!
6:34pm
- I'm surprised that we've heard nothing new about Clint Dempsey in the last few hours.
6:32pm
- Here we go. Football Focus is on. It's like watching Percy Jackson and the Lightning Thief when you've got Harry Potter and the Deathly Hallows on blu-ray.
6:25pm
- I'll soon switch over to the Football Focus special programme, to see just how bad the BBC's deadline day coverage is.
6:24pm
- Aston Villa are in transfer talks with Crewe Alexandra midfielder Ashley Westwood who, guess what, is another kid. While he's at it, why doesn't Paul Lambert sign up Raheem Sterling...'s children?
6:20pm
- Chelsea have indeed shipped out Gael Kakuta to Vitesse Arnhem on a season-long loan.
6:18pm
- It's a welcome return to Accrington Stanley for Romuald Boco, who has signed from Sligo Rovers. Wow-cher.
6:13pm
- The transfer deadline in Germany has also passed, but Chelsea can still sign Andre Schurrle from Bayer Leverkusen.
6:11pm
- Celtic are close to signing the Nigerian defender Efe Ambrose, but have as much chance of snaring Michael Owen as I have of winning the 100 metres in the Rio Olympics.
6:09pm
- The window has now shut in Italy, where unconfirmed rumours have stated that Gaston Ramirez is now a Southampton player.
6:05pm
- David Garrido will take any opportunity to mention that we're watching Sky Sports News HD. What a twit.
6:04pm
- Former Liverpool liability Ryan Babel has signed for Ajax, who play Real Madrid and Manchester City in the UEFA Champions League group stages. I don't envy him.
6:00pm
- Only five hours to go until you know what, and just one hour until you know who.
5:55pm
- Aston Villa maintain an interest in Genk striker Christian Benteke. I'll keep you posted, of course.
5:50pm
- Everton have been granted a work permit for Costa Rican international Bryan Oviedo, so you can now call him a Toffee.
5:47pm
- Sorry for the delay. Just to let you know that Joao Moutinho is flying to the Algarve, not London. No Tottenham move for him.
5:36pm
- Fulham's move for Brazil winger Michel Bastos is no go. Lyon have rejected Martin Jol's loan offer for the £7million-rated international.
5:28pm
- Former West Ham United defender Manuel da Costa (forgotten him?) has signed a season-
long loan deal with Portuguese side Nacional.
5:24pm
- At long last, Juventus have completed the signing of Nicklas Bendtner from Arsenal. Shame it's only a season-long loan. I'd prefer to see the arrogant Dane leave England permanently.
5:18pm
- I'll briefly cut away from the football, because Laura Robson's taken the first set in Round 3 of the US Open against Li Na. Not as exciting as spotting Lionel Messi outside Leyton Orient's ground, but still...
5:17pm
- So Sinclair, Maicon and (ahem) Wright are confirmed. Manchester City are hopeful of adding Javi Garcia, and also the Fiorentina defender Matija Nastasic, to their squad list before 11pm. Roque Santa Cruz could leave Eastlands, and Stefan Savic used as bait in the Nastasic deal, so overall it's looking like a busy day for the Citizens.
5:12pm
- Good news for fans of managerless Coventry City. David McGoldrick, one of the products of Southampton's lauded youth system, has begun a loan spell from Nottingham Forest.
5:10pm
- Has Nicklas Bendtner signed for Juventus yet? If not, he'd better get a move on.
5:05pm
- It looks like that Peterborough United have signed the cousin of Rio and Anton Ferdinand, Kane Ferdinand, on a four-year deal from Southend United.
5:01pm
- Less than an hour remains in the Italian transfer window, which begs the question. Where will Napoli striker Edinson Cavani be at the end of the day?
5:00pm
- Six hours to go until the transfer window is slammed shut. Two hours until we see Jim and Natalie for the first time.
4:59pm
- Now I will do those transfers that passed me by. Daryl Murphy (remember him, Sunderland fans?) has gone to Ipswich Town on loan from Celtic, Crawley Town have signed Sheffield Wednesday's Mike Jones and AFC Wimbledon have secured the short-term signing of Norwich City's young defender George Francomb.
4:56pm
- Screw that, Pablo Hernandez has joined Swansea City! The Valencia winger is the latest in a line of Spanish-based players to move to Wales.
4:54pm
- I'll look for some deals that have escaped me so far. Bear with me for a few minutes...
4:47pm
- C'mon, somebody else confirm a transfer! Things are getting a bit stale!
4:45pm
- Staying on the topic of Owen... I think Stoke City have just five recognised strikers in their ranks, and the number 10 shirt remains vacant. Possibly?
4:39pm
- Michael Owen to Celtic? Sky Bet aren't ruling it out. It's now 10/1 (from 50/1) for him to pull on the green and white hoops in the SPLO1TA11TMUTN (Scottish Premier League Of One Team And Eleven That Make Up The Numbers).
4:36pm
- If you're to believe his Wikipedia article, Bosko Balaban has signed for Dagenham & Redbridge. All together... PULL THE OTHER ONE!
4:29pm
- As Rafael van der Vaart takes part in a press conference at his new club Hamburg, Tottenham Hotspur's keeper-elect Hugo Lloris is undergoing a medical at Spurs Lodge.
4:27pm
- Maicon is now confirmed as a Manchester City defender on their website.
4:25pm
- Watford aren't just a feeder club for Udinese and Granada. Hornets boss Gianfranco Zola has raided his ex-club Chelsea for the prodigious 17-year-old defender Nathaniel Chalobah, taking him on loan.
4:19pm
- Oh dear. Looks like Joao Moutinho's move to Tottenham Hotspur has been delayed because of a dispute over personal terms.
4:13pm
- SUPER BREAKING NEWS! AFC Bournemouth have completed the signing of Edgar Davids...
..'s cousin Lorenzo Davids on a two-year deal following his departure from German top-flight side Augsburg.
4:11pm
- Could Stoke City's loss be West Bromwich Albion's gain? West Brom are in talks with the Macedonian left-back Goran Popov. The Dinamo Kiev man's proposed move to Stoke towards the start of the Premier League season collapsed at the last minute.
4:06pm
- Arsenal fans are unhappy that they haven't signed anyone on deadline day. Well, Arsene Wenger is notorious for not doing anything in the last 24 hours, except this time last year, when he went mad and signed about three dozen players at once!
4:04pm
- Paolo Di Canio likes Coke. Giles Coke that is, as the Swindon Town manager's signed the Sheffield Wednesday midfielder on loan, and sent Oliver Risser to Stevenage on a similarly temporary basis.
3:58pm
- Hugo Lloris is now in the UK, more specifically at the Spurs training ground.
3:55pm
- Down in League One, Stevenage have made a couple of new strikers their latest signings. One is the veteran journeyman Patrick Agyemang, and the other is former Atletico Madrid trainee Dani Lopez.
3:52pm
- Just giving you three hours notice that, when Mr White and Ms Sawyer come on the air, I'll be switching my deadline day coverage to a new article, just to keep things as neat and tidy as possible.
3:47pm
- There'll be no return to West London for former Chelsea defender Ricardo Carvalho. Well, Queens Park Rangers can't have them all.
3:44pm
- Within the last half-hour, Manchester City have confirmed the arrival of former goalkeeper Richard Wright.
3:43pm
- Hull City have made a move for Sheffield United midfielder Stephen Quinn.
3:37pm
- Speak of the devil, Maicon has now completed his move to Manchester City. We just need the City website to confirm it.
3:35pm
- A fresh rumour concerns Micah Richards, who could be heading out of Manchester City and signing for Newcastle United. If Maicon as expected joins City, then Richards' career at Eastlands will be pretty much toast.
3:29pm
- For the first time, SSN go to their north-east reporter David Craig, who is usually very busy on deadline day, but not so much today.
3:25pm
- It's been confirmed that Dimitar Berbatov is now a Fulham player. He leaves the Manchester United bench on a two-year deal.
3:20pm
- Rennes have said that Yann M'Vila is definitely not going to England. Okay...
3:18pm
- Lyon say that goalkeeper Hugo Lloris is flying to London, but added that they have not yet agreed a deal with Tottenham. Maybe Hugo decided to go shopping for his partner. Is there a shoe megashop near White Hart Lane?
3:13pm
- SSN's Peter Stevenson is surrounded by dozens of young Stoke City fans who seem to think he's the Messiah.
3:11pm
- Southampton fans, get ready to be thrilled! Nigel Adkins has confirmed that the signing of Uruguay midfielder Gaston Ramirez is "very, very close".
3:06pm
- Maurice Edu has said that his transfer to Stoke City from Rangers is done.
3:05pm
- Signed, sealed, delivered, he's yours, Hamburg. Rafael van der Vaart has officially left Tottenham Hotspur.
3:03pm
- According to Sky's Aidan Magee, Joe Cole fancies moving abroad for a second time.
3:00pm
- Heart of Midlothian, I did not mention, have got their man in Ipswich Town defender Ryan Stevenson.
2:57pm
- Phil Brown's gone, and in comes Paul Merson, who immediately says that Santi Cazorla is "different, different class". Some great experts lined up by SSN.
2:55pm
- Hull City midfielder Cameron Stewart is going to Burnley on loan. And for good measure, Fulham are hoping to complete their set of nationalities by buying Iran winger Ashkan Dejagah.
2:50pm
- Fulham's move for Derek Boateng is on. Make that 164 nationalities at Craven Cottage.
2:49pm
- Lyon president Jean-Michel Aulas has said that talks with Tottenham Hotspur regarding Hugo Lloris are going swimmingly: "The negotiation with the Tottenham directors has been the hardest I have ever had in 25 years."
2:45pm
- I've just found out that Liverpool manager Brendan Rodgers is very charismatic and extroverted. I've also learnt that Michael Owen is undergoing a medical at Grimsby Town.
2:40pm
- A former England youth international is on the move. What can that mean? Yes, Hereford United have signed Tristan Plummer on a free transfer. Hold the back page.
2:36pm
- On the subject of Martin Jol's club, a helicopter has landed at the Fulham training ground. Does this mean they've signed President Obama or the Queen?
2:32pm
- Benfica have accepted a £24million bid from Manchester City for Javi Garcia.
2:30pm
- I think Martin Jol likes deadline day. Rumour has it is that he is about to swoop for Brazilian international Michel Bastos, taking the number of nationalities represented in his squad to 163.
2:25pm
- Everton sign Bryan Oviedo from FC Copenhagen!
2:18pm
- I've not mentioned Southampton's deal for Bologna and Uruguay winger Gaston Ramirez yet. If that gets the green light, that'd set pulses racing on the south coast.
2:16pm
- Crystal Palace have wrapped up a deal for Ipswich Town defender Damien Delaney.
2:09pm
- Stoke are closing in on the signing of Blackburn Rovers' Steven Nzonzi after being rebuffed in their attempts to sign Liverpool's Jordan Henderson. I know which player I'd prefer to have, and it's not the Englishman.
2:03pm
- Stoke City and Norwich City fans will recognise Portsmouth's newest recruit, who is midfielder Darel Russell.
2:01pm
- Good news: Kirsty Gallacher is now in the studio. Bad news: so is David Garrido.
2:00pm
- Nine hours left until the window shuts, but only five until Jim and Natalie are on the air!
1:53pm
- Another player is leaving Spurs. Real Mallorca have had a bid accepted for their forgotten forward Giovani dos Santos.
1:48pm
- Arsenal have now sent Park Chu-Young to Celta Vigo for the remainder of the season.
1:43pm
- Rafael van der Vaart's return to Hamburg is almost sewn up. He just needs to pass a medical.
1:40pm
- Now the main questions are: What colour tie will Jim wear, and what attire will Natalie look gorgeous in tonight?
1:39pm
- The King has arrived! Sir Jim White has entered the Sky Sports News studios! Five and a half hours to go until he and Lady Natalie Sawyer are on the air!
1:37pm
- Tottenham, I forgot to mention, have agreed a fee of £22million for Porto's Joao Moutinho.
1:33pm
- Gareth Bale will be looking forward to playing Manchester City this season, because Inter Milan say they've agreed to sell the full-back Maicon to City.
1:31pm
- Can somebody tell me why Phil Brown is now an SSN pundit?
1:30pm
- As far as a Tottenham deal for Lyon and France keeper Hugo Lloris is concerned... there are conflicting reports. Some say a fee's been agreed, some say it hasn't.
1:25pm
- Leicester City have terminated the contract of defender Tom Kennedy. Big wow.
1:18pm
- Jermaine Jenas' move from Tottenham Hotspur to Sunderland is... dead in the water. He won't be seen on Wearside.
1:16pm
- Rangers midfielder Maurice Edu has arrived in Stoke City as he looks set to join Charlie Adam in signing for the Potters.
1:11pm
- Malaga have confirmed that they are in talks with Manchester City waste of money Roque Santa Cruz. I forgot that he was still a City player.
1:07pm
- Unlike Liverpool, West Ham United DO NOT want to re-sign Yossi Benayoun from Chelsea. The Israeli midfielder's wage demands have turned off Sam Allardyce.
1:03pm
- Sunderland have completed a loan deal for Tottenham Hotspur left-back Danny Rose, I have just read.
12:58pm
- Ghanaian Derek Boateng, of Ukrainian team Dnipro, is also on Martin Jol's shortlist. Why doesn't he just go ahead and rename Fulham as United Nations FC?
12:56pm
- Fulham are rushing around doing deals like a city banker! Who's their newest signing? It's the teenage FC Twente midfielder Chris David. Reportedly, C David said "I'm walking away" to Twente "7 days" ago because "I just don't love you no more".
12:53pm
- Oh, wait, the Charlie Adam one. He's just completed his move to Stoke City from Liverpool.
12:52pm
- A big transfer deal has just broken in the north-west! Rochdale have signed striker Bobby Grant from Scunthorpe United!
12:47pm
- I've read on the BBC's updates webpage that Liverpool were interested in bringing back Yossi Benayoun from Chelsea. What's. The. Point.
12:42pm
- We've known about this for a few hours, but now it's absolutely 100% confirmed. Aston Villa have signed the talented young striker Jordan Bowery from League Two side Chesterfield.
12:40pm
- Stephane Mbia is on his way to Queens Park Rangers. If QPR secure his signature, that really would be a statement of intent.
12:31pm
- Tranmere Rovers have signed Roman Golobart on loan from Wigan Athletic. No, I haven't got amnesia. The BBC have, it seems, so I'm mocking them.
12:25pm
- Reports suggest that Tottenham Hotspur have agreed a fee with Porto for Portuguese midfielder Joao Moutinho. And a car alarm's just gone off near where I'm typing this.
12:24pm
- The Sinclair fee is around £6.2million. The man himself says: "I'm just glad everything is settled and that I'm now a City player." Erm, weren't you a City player before, at Swansea?
12:20pm -
Manchester City have confirmed the signing of the man pictured at the top of this article, Scott Sinclair. That's perhaps the biggest deal so far on deadline day.
12:19pm
- Canada striker Iain Hume was one of the Preston North End players cast out by manager Graham Westley, and he has now signed a loan deal with Doncaster Rovers.
12:13pm
- Breaking news: Rafael van der Vaart is now officially in Germany ahead of his return to Hamburg.
12:11pm
- Richard Wright has arrived at Manchester City where he will sign away the rest of what was left of his career.
12:07pm
- 'In terms of' seems to be the phrase of the day among Sky Sports News reporters.
12:02pm
- Swindon Town have signed striker Adam Rooney from Birmingham City, with ex-captain Paul Caddis set to go the other way.
11:56am
- Things have got a little bit quiet now.
11:49am
- Swansea City left-back Federico Bessone has started a six-month loan at the club formerly known as Swindon Town, and now known as Paolo Di Canio's Swindon Town.
11:47am
- Somebody tell the writer of The Guardian's deadline day updates that Everton's star striker is called Nikica Jelavic, not Nikita. That's the name of an Elton John song.
11:39am
- Fulham have sealed a deal for Sunderland's former England midfielder Kieran Richardson.
11:38am
- The reason why Aston Villa have started the season so poorly is that their young squad looks out of place in the Premier League. They've put in a bid for Charlton Athletic midfielder Dale Stephens, aged 22. Hasn't Paul Lambert got bigger fish to fry?
11:36am
- I watched Swedish teen Amin Affane play for Chelsea in an FA Youth Cup match against Manchester United last season, and I was impressed. But we won't be seeing him in the Premier League season, because he's been farmed out to Dutch outfit Roda on loan.
11:33am
- Huddersfield Town have a BIG Jordan Rhodes-shaped hole to fill in their attack. Jermaine Beckford, who moved to Leicester City on the last August deadline day, could be the man to fill it.
11:30am
- It's now looking likely that Feyenoord winger Jerson Cabral will sign for FC Twente. Sorry, Swansea City fans.
11:28am
- I'll run you through a couple of loan deals that have gone through. Chelsea have loaned Eden Hazard's brother Thorgan to Belgian club Zulte Waregem, and Wigan Athletic have sent Roman Golobart to Tranmere Rovers temporarily.
11:24am
- Joey Barton has been training with Marseille ahead of his proposed move from Queens Park Rangers. Ousmane Dabo was nowhere to be seen.
11:19am
- Sheffield United have made possibly the most high-profile signing in the whole of the Football League. They've named one of their stands at Bramall Lane after Olympic gold medallist, and United fan, Jessica Ennis. Reports that the Blades are naming another stand after Sky's Alex Hammond are wide of the mark.
11:14am
- Speculation that Aston Villa could make a surprise signing in Clint Dempsey is now hogwash. Despite agreeing a fee with Fulham, Villa have ended their interest in the American dynamo as he is desperate to sign for Liverpool instead.
11:07am
- Southampton's former captain Dean Hammond is close to signing for Championship side Charlton Athletic. Slightly further away from London now, and if reports are to be believed, Juventus legend Alessandro Del Piero is set to sign for... Sydney FC!
11:02am
- Big deal completed! Nigel de Jong signs for AC Milan from Manchester City!
10:59am
- Off to Europe now, and Ajax could finally be losing their highly-rated right-back Gregory van der Wiel. The Holland international is heading off to France to secure a £4.5million to Paris Saint-Germain.
10:55am
- Scott Sinclair used to be Chelsea's rent-a-player. Their new serial loanee Gael Kakuta is reportedly off to Vitesse Arnhem in Holland on a temporary deal.
10:53am
- Is it just me, is there no logic in Richard Wright signing for Manchester City? This, remember, is a man who left Preston North End after one week because he was homesick. Unless he's interested in goalkeeper coaching, I cannot see the point of Wright wasting his time in Manchester when he is only going to be about 25 miles nearer to his family than he was at Preston.
10:48am
- Portsmouth have signed a new defender following Sam Magri's exit. He is former Crystal Palace and Sheffield United man Johannes Ertl.
10:46am
- Manchester City have been surprisingly quiet in the transfer window, but Roberto Mancini has said that City are in the market for several players before it shuts.
10:41am
- Liverpool have confirmed the departure of midfielder Jay Spearing to Bolton Wanderers on a season-long loan.
10:35am
- Apparently, Arsenal striker Park Chu-Young is undergoing a medical at La Liga newcomers Celta Vigo. Park's career at the Emirates Stadium hasn't exactly been a magnificent one.
10:32am
- I've just read on the BBC website that someone who works in the Tottenham Hotspur club shop has been told to print hundreds of number 9 shirts in preparation for the arrival of a Spanish international. Could that man be Fernando Llorente?
10:31am -
Ipswich Town have signed Peterborough United striker Paul Taylor, and it looks like his Posh team-mate George Boyd will join him at Portman Road.
10:28am
- It looks like Spurs and Sunderland are going to do another deal, this time for Jermaine Jenas. The former England midfielder is on course for a permanent move to the Stadium of Light.
10:25am
- Watford are owned by the Pozzo family, who also own Udinese. The Hornets have today secured a loan deal for Argentine midfielder Cristian Battocchio... from Udinese. He becomes their SIXTH loan signing from the Italian club. Don't tell me that Watford aren't a feeder club.
10:21am
- Sunderland have agreed to take left-flank player Danny Rose on loan from Tottenham Hotspur.
10:18am
- Chelsea striker Daniel Sturridge has struggled to hold down a first-team place at Stamford Bridge. Could he be about to sign for Liverpool on loan?
10:13am
- Everton look set to do some business in the transfer window. They've agreed a fee with FC Copenhagen for their Costa Rican winger Bryan Oviedo.
10:11am
- Swansea City have sold a midfield player, but it's not Scott Sinclair. Andrea Orlandi has joined the foreign legion at ambitious Brighton & Hove Albion.
10:07am
- Now Villa boss Paul Lambert has said he is unaware of any deal for Dempsey. The plot thickens.
10:03am
- Well, this is a bit surprising. Clint Dempsey wanted Champions League football, so Fulham have agreed a fee for him with... Aston Villa. I bet Clint's excited.
10:01am
- Mike and Alex have left the SSN studio. Now we've got Adam Leventhal and Hayley McQueen. Whoopee.
9:56am
- Speaking to the media earlier this hour, Manchester United manager Sir Alex Ferguson suggested that Dimitar Berbatov could return to Tottenham Hotspur rather than sign for Fulham, as was expected. Does he know something we don't?
9:48am
- Another deal confirmed is one I mentioned earlier. Sam Magri has indeed joined QPR from Portsmouth. The teenage defender is one for the future.
9:42am
- Done deal! Aston Villa have signed a striker, and yes, it's another youngster. Jordan Bowery has completed his move from Chesterfield.
9:39am
- Bad news for Tottenham Hotspur fans. Sky's Gary Cotterill has confirmed that Rafael van der Vaart is leaving Spurs, possibly for his former club Hamburg.
9:35am
- Swansea aren't wasting time in lining up a replacement for Scott Sinclair. Michael Laudrup expects to secure a deal for Feyenoord winger Jerson Cabral shortly.
9:32am
- Where will Michael Owen be at 11pm? Everton? Stoke City? Rochdale? The physio room as usual?
9:28am
- If what I've read is true, and Arsenal plan to sign Michael Essien on loan from Chelsea, I'll eat my hat.
9:22am
- One player heading out of QPR is the man everyone loves to hate, Joey Barton. Yesterday, he passed a medical and agreed personal terms with Marseille.
9:17am
- Expect Queens Park Rangers to be very busy in the dying moments of the transfer window. They've already brought in 10 players during the window, and an eleventh could soon follow. I've heard that Portsmouth teenager Sam Magri had a medical at Loftus Road yesterday.
9:09am
- Manchester City agreed a fee with Swansea City for Scott Sinclair last night, and the forward has just arrived at the Citizens' training ground.
9:06am
- Another Liverpool midfielder looks set to depart Anfield. Jay Spearing, who only got into the Reds team because they needed to make up the homegrown numbers,
is on course to join Bolton Wanderers on loan.
9:02am
- Mike Wedderburn and Alex Hammond are taking us through the first leg of deadline day on Sky Sports News. Maybe racing expert Alex will be able to tell us if Frankel has been spotted at White Hart Lane?
8:58am -
Charlie Adam was such a big success at Liverpool that the Reds are selling him to Stoke City for around £4million. He'll undergo a medical at the Britannia Stadium shortly.
8:56am
- Also on his way to Italy is Nigel de Jong. The Manchester City midfielder is undergoing a medical at AC Milan.
8:47am
- One of the transfer stories that I woke up to concerned Nicklas Bendtner. It looks like Arsenal are finally going to sell the Danish striker, and his ego, to Serie A champions Juventus.
8:45am
- Top of the morning to you! My name is Chris, and I'll be taking you through deadline day with transfer updates when they happen. To start off, I'll fill you in on the biggest transfers that happened yesterday, or deadline day eve if you prefer. Liverpool's £35million striker Andy Carroll has joined West Ham United on loan, Southampton have bolstered their defence with Japan international Maya Oshida, and Queens Park Rangers have completed a deal for Real Madrid midfielder Esteban Granero.