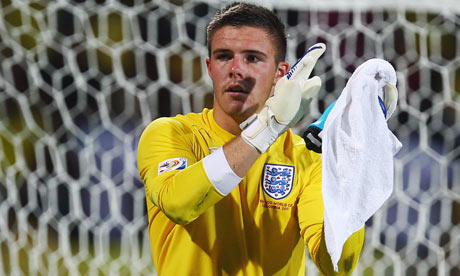 Too much too young? Jack Butland plays for England Under-21s.
England's goalkeeping crisis could plumb to new depths tomorrow as they face Italy in the Swiss capital city of Bern.
With first-choice shotstopper Joe Hart recovering from a slight back injury, the gloves could be handed to Jack Butland, a 19-year-old who has never played at a higher level than League Two.
Butland is a keeper of great potential and maturity, and also comes across as a smart and likeable lad. Last season, the Birmingham City youngster came to prominence with some strong performances on loan at Cheltenham Town, earning him a shock call-up to the England squad for UEFA Euro 2012.
He also donned the gloves for England & Wales at the Olympic football tournament, coming away from that competition as one of its best-performing goalkeepers.
But I am alarmed that, for the first time since league football was created, England's seniors are having to call upon someone who has never played in the top three divisions of any European league system. Has it really come to this that a country which used to produce top-class goalies - like Gordon Banks, Peter Shilton and David Seaman - with regularity now has so little cover for its number 1?
Look in the 20 Premier League squads, and you'll find only five English goalkeepers which can be considered to be their club's first-choice: Hart (Manchester City), John Ruddy (Norwich City), Rob Green (Queens Park Rangers), Kelvin Davis (Southampton) and Ben Foster (West Bromwich Albion). Davis is 35, Green has baggage with England, and Foster has effectively retired from internationals.
Rob Green is one of just a quintet of English number ones in the top flight.
Why then, do the Three Lions have to put their trust in someone as inexperienced as Butland? Shilton reckons that English goalkeepers aren't coached as well as their foreign counterparts. It's no coincidence that Spain have a plethora of world-class talent in that position.
Maybe there are too many of those foreign counterparts in the Premier League. When Newcastle United were unsure about who was their first-choice keeper, they should have given at least a chance to Fraser Forster, who had enjoyed a fruitful loan spell at Celtic. But instead, they sent him back to Parkhead for a second loan, and this summer, the Bhoys bought him outright.
Another Englishman who sums up this problem is Stuart Taylor. He was a keeper of high potential when he started off at Arsenal, and went on to play for Aston Villa and Manchester City - but not often. Taylor was never the first-choice at any club, and during a career that has spanned 15 years, he has made 86 senior appearances (an average of less than six per season). He is now a 31-year-old free agent.
It could be that so many local keepers have made high-profile mistakes that the others are tarred with the same brush. Think David 'Calamity' James. Think Paul Robinson and his failure to clear Gary Neville's back-pass in 2006. Think Scott Carson and his fumble from Niko Kranjcar's shot a year later. Think Rob Green and THAT gift to the United States in the 2010 FIFA World Cup.
Is this problem even down to the coaches at Premier League youth academies, who if you are to believe parents like
this one
, disencourage youngsters from playing in goal if they aren't tall (e.g. 6 foot at adult height)? But that is preposterous, when you consider that Iker Casillas - arguably the best goalkeeper in the world - is slightly less than 6 feet tall.
Now I'll move back to Butland, who even though has been handed the number 1 jersey by Birmingham might not yet be considered to be the Championship club's main goalkeeper. Manager Lee Clark needs to give him ample opportunities to show that he is not just a 'potential' star, or if I was Jack, I would look for alternative employment.
Premier League newcomers Southampton look like a great club for Butland to hone his goalkeeping skills should he not break into the Blues' first-team.
I believe that, at this stage of his career, it is a little too early to be giving Jack Butland his first full cap for England. Roy Hodgson, in my opinon, should look to take some of the pressure off his young shoulders and instead blood the similarly-uncapped John Ruddy, who showed in his first Premier League season with Norwich that he can perform at a high level.