The second week of the new Premier League season has passed with plenty of talking points. Here are just a few of them: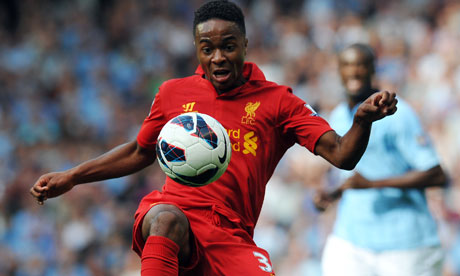 Liverpool's Raheem Sterling is destined for a glorious future.
Sterling work, Raheem
Rafael Benitez may have taken a bit of stick from Liverpool fans, but today, they've got to give him some credit for signing Raheem Sterling.
In February 2010, Benitez spotted plenty of potential in a 15-year-old winger from Queens Park Rangers who had just been capped by England Under-16s - so much so that he paid QPR £600,000 to bring him to Anfield. That kid was Sterling, and yesterday, he made his full Premier League debut against Manchester City.
The left-winger caught the eye on his Liverpool debut against Heart of Midlothian in midweek. But his showing 24 hours ago against the league champions has brought him to the national spotlight.
Sterling's performance was solid, if not spectacular, but you've got to remember that he is now just a 17-year-old kid. Darting down the left flank with pace to make Messrs Bolt and Blake concerned, he gave City plenty of problems. His work rate was impressive for someone of his tender years, and he did not look at all nervous coming up against players like James Milner and Kolo Touré.
Liverpool boss Brendan Rodgers hailed Sterling's performance after the match, saying that it was an "easy decision" to select him in favour of the underperforming Stewart Downing. Rodgers' attack-minded passing philosophy is exactly the right system to get the best out of this very talented young Englishman.
But a word of caution - Raheem still has plenty of maturing to do. If you google his name, you might find reports that Sterling got two different women pregnant within a fortnight. Of course, not many boys become model professionals in their teenage years, but as long as Raheem doesn't turn into another Ravel Morrison, he should be alright.
One of Olivier Giroud's best scoring chances against Stoke. That says a lot.
Gunners firing blanks
Boring boring Arsenal is something you used to hear in the mid 1990's, not in 2012.
Arsene Wenger's team have done a Ross County by beginning the season with two successive 0-0 draws. Their second came in a very lacklustre away game against Stoke City.
There are some positives to take away from that game from an Arsenal perspective. Stoke are a bit of a bogey team for the Gunners, who don't like playing against Tony Pulis and his rough-and-ready Potters. More importantly, though, they haven't conceded any goals yet. Defence has been a prominent Achilles heel in the Arsenal team over the last couple of years.
However, it can't be denied that, without Robin van Persie, the Londoners are having trouble finding the net. The day after van Persie scored a wonderful goal on his Manchester United home debut, his old team-mates looked like they needed satellite navigation to find Asmir Begovic's net.
Olivier Giroud came into the side just as van Persie was preparing to pack his bags. He nearly caught Begovic off guard with a 35-yard cross that could easily have become a goal, but apart from that, his shooting was wasteful at best. No shots on target out of five on goal is not a good return for a Premier League centre-forward.
Giroud may be 25 years old, but this is only his third top-flight season. In 2010/2011, he scored 12 goals for Montpellier as they finished 14th in Ligue 1 - an average total at an average club. Last season, he found the net 21 times as La Paillade stormed to the title. Imagine Grant Holt doing the same thing with Norwich City this season after what happened last time around. It makes you wonder if Giroud is genuinely a top striker or just a few-seasons wonder.
Arsenal's other two big signings look promising, though. For the second game in a row, Santi Cazorla dominated the pitch like a typical Spain international midfielder, and Lukas Podolski is more than capable of finding the target with the right service.
Aside from Giroud and Podolski, the Gunner's first-team strikers are Nicklas Bendtner, Marouane Chamakh and Park Chu-Young. Will Wenger seek to improve his attacking options with a late signing as the transfer window prepares to shut?
Paul Lambert asks: "What have I got myself into?"
Meet the Championship's newest members
Nobody said it would be easy for Paul Lambert when Norwich City's gifted young manager made the move to Aston Villa.
On Saturday, he discovered just how difficult his task was. In their first home game of the season, Villa crumbled to a 3-0 half-time deficit against Everton. Karim El Ahmadi scored a late consolation in the second half, but that merely papered over the cracks.
The nightmare began in just the third minute, when Steven Pienaar's shot for Everton swerved past Shay Given. That was followed by goals from Marouane Fellaini and Nikica Jelavic. I did say in my pre-season preview that Given would be short on confidence following his displays for Republic of Ireland at UEFA Euro 2012, but now we're seeing just how low it is.
The back four that he has to organise doesn't give him much to be optimistic about, either. The four that started were Ciaran Clark (who got sent off for a foul on Jelavic), Nathan Baker (a youth graduate who doesn't look PL class), Matthew Lowton (who was a late bloomer at League One's Sheffield United) and Ron Vlaar (who had a horrid European Championship with Holland).
Aside from Darren Bent and Charles N'Zogbia, Villa don't really have any top-quality players in their squad. If Lambert can't sign any new recruits before 11pm on Friday night, he will have to continue relying on youngsters like Chris Herd and Nathan Delfouneso, who do have potential but aren't yet up to the standard that the Premier League demands.
And it gets worse. Gary Gardner, one of their most exciting youth graduates, tore his anterior cruciate ligament last week and is effectively out for the rest of the season.
The last time the Villans started this badly was ten years ago, in the season when Peter Enckelman
did this
. Villa recovered to finish 16th, but this time around, if their form gets worse before it gets better, they could easily find themselves playing Championship football next season.
Compare their plight to Everton, who are traditionally slow starters, but have this month flown out of the traps like a greyhound Ben Johnson. While one Scottish manager is having a tough time currently, another is looking forward to, once more, a solid season in the top half. David Moyes continues to do an excellent job under the circumstances at Goodison Park.