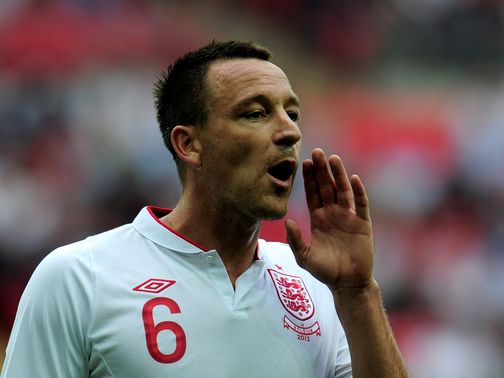 John Terry - a great leader, but not an example to follow.
Former England captain John Terry announced his retirement from international football last night, ahead of an FA disciplinary hearing which starts today.
Terry's decision to quit England now is the right one. His name has been dragged through the mud by a number of controversies, most notably the accusations of him racially abusing Queens Park Rangers' Anton Ferdinand. Although he was
found not guilty in July
after a trial at Westminster Magistrates' Court, if an FA inquiry finds otherwise, there'll be no question about him not playing for the Three Lions again.
A statement from Terry which was published last night was seen as one final dig at the FA, who have effectively taken the England captaincy away from him twice. The Chelsea skipper said,
"I am making this statement in advance of the hearing of the FA disciplinary charge because I feel the FA, in pursuing charges against me where I have already been cleared in a court of law, have made my position with the national team untenable."
Being born at Barking and spending a great deal of his youth playing days at West Ham United, Terry - who moved to Chelsea when he was 14 - inevitably has been compared to Bobby Moore many times. But while Moore was a gentleman and one of England's great sporting heroes, Terry is neither. Yes, Moore did cheat on his wife, but he was never accused of something as serious as racism.
However, like Moore, Terry would - in a war situation - always give his own life to save his comrades. One moment that typified that was in the 2010 World Cup against Slovenia, in which Terry dived headfirst to block a shot from Zlatko Dedic, which had it gone in would have eliminated England at the group stage. As it happened, the Germans did for us in the very next game.
John Terry could never be accused of not giving 100% commitment for either his club or his country.
His international career began back on 3 June 2003, when he came on as a substitute against Serbia and Montenegro. You may remember that game as the one where the England captaincy was handed over with such regularity that even Emile Heskey got a go!
Terry was in Sven Goran Eriksson's squad for UEFA Euro 2004, and started in three of England's four matches in Portugal. Later that summer, he was made Chelsea captain, and you know how his club career continued from there.
When arguably in the best form of his career, Terry played in all of England's matches at the 2006 World Cup, after which he inherited the captain's armband from David Beckham. All was well at Chez Terry... until 2010, when he had an affair with Vanessa Perroncel, the ex-girlfriend of his former Chelsea team-mate Wayne Bridge.
An angry Fabio Capello took away the captaincy from Terry ahead of that year's World Cup in South Africa. Being relegated to just a first-team player with England didn't affect his performances, because he was one of his country's better players at a pretty dismal tournament from an English point of view.
By now, a spate of injuries had meant that he couldn't replicate the form that in the mid to late-noughties made him one of the best, if not THE best, centre-backs in world football. However, he was still the undisputed rock in the Three Lions' defence. In March 2011, Capello saw reason to give him the England captaincy again, but seven months later came THAT incident with Ferdinand.
The Crown Prosecution Service charged him with racially abusing Ferdinand in December, and this February, the armband was again taken off him, this time directly by the FA. Capello was incensed, and resigned as England boss, allowing Roy Hodgson to take over for UEFA Euro 2012.
Before the finals, the main debate was over whether John Terry and Rio Ferdinand (Anton's brother) could ever appear again in the same England team. When the squad was announced, Ferdinand was omitted, and Terry was retained. His performances at the European Championship justified that decision, because again, he was infallible.
The last of 78 caps for England (which also included six goals) came against Moldova on 7 September. His decision to call it quits is not surprising, but why has he only now announced it? Why didn't he decide to just end it after the Euros, or when the FA announced in July that they were pressing charges?
Whatever the reason, the fact is that he is no longer available for his country, and Hodgson has a big hole to fill in the centre of his defence.
His statement brings a bitter end to his international career. But while he should be remembered as one of the great England defenders of recent years, his actions mean that he'll almost certainly be remembered for other, less savoury things.