My eight-year-old self once managed Steve Jagielka at Shrewsbury Town.
Over the past 20 years, football fans who have wanted to see how they could do in the shoes of their club's managers have been able to do so, thanks to the genre-defining Championship Manager (and later Football Manager) series.
Back in 1992, two brothers - Paul and Oliver Collyer - decided to give the budding Alex Fergusons, Ron Atkinsons and Lennie Lawrences their chance to live their dreams by setting up Sports Interactive, and creating Championship Manager, a video game series that would go on to become not only the number 1 game of its type, but one of the best selling sports game series of all-time.
I first discovered CM back in 1998, when I was just eight years old. Here is a 14-year tale of how one series captured my imagination more than any other...
Championship Manager 3
This was the first SI game I ever played. One day, when my obsession with football was still in its infancy, I put in a PC Review CD which had the demo of this game, installed it, and took my first plunge into the waters of football management.
What team would I manage, though? I just randomly picked a team, which happened to be Shrewsbury Town in Division 3, and got started. My first session took me well past my bedtime - I had swallowed the game hook, line and sinker.
Bear in mind that I was but an 8-year-old kid at the time, and I had little idea where the players were meant to go position-wise, so the best result from by CM debut was, I believe, a 3-0 friendly defeat against Total Network Solutions. After eight league games, my Shrews were rock-bottom of the Football League with zero points out of a possible 24 (
so things could be worse, eh, Peterborough United?
). Then, I forgot my password and the save game was soon lost forever.
Steve Coppell: The only gaffer to spend less time at a club than Chris Fuller.
Championship Manager 99/00
The first CM game that was ever bought for me was the one directly after CM3 - CM 99/00. By this time, despite being a hardcore Gooner, I always wanted to start my CM careers big by taking over Manchester United. Of course, I was still very much on a learning curve, so I never won anything with the then Premier League, FA Cup and UEFA Champions League holders.
My first CM career took me to Manchester United (for 5 months), Scotland (I managed them at UEFA Euro 2000 and then quit), Charlton Athletic (3 months), Birmingham City (not even a week!), back to Shrewsbury (barely three weeks), Luton Town (two weeks), Sheffield United (four months) and finally, by 2003, Barnsley. However, I then made an accidental slip on the mouse, and it was bye bye save. Then again, I'd hardly been a resounding success, so it was probably for the best.
Some time later, when I'd learned how to put players in the correct positions, I started an enthralling save game managing England. How successful was I? Well, I won the 2002 World Cup, and then the 2004 European Championship, and by 2009, I was building and preparing a Three Lions team for an assault on the 2010 World Cup in China. But then the old Viglen that housed the save game died a death, and said game had to be put on hold for the time being. I still have the hard drive, so there is hope of me winning a second WC to well and truly trump Alf Ramsey.
Championship Manager 00/01
Now aged ten, I bought the next season's CM game, again starting first at Manchester United. After finishing a pathetic 3rd in the Premier League, I resigned and moved onto Bristol City. I'll probably get hate mail from Justin Lee Collins for saying this next bit, but I left City without even managing them for one match when the Birmingham job became available! The save game soon became stale and I lost interest...
...until, in my late teens, with the Viglen now kaput, I booted up my parents' laptop and reinstalled CM 00/01. My hopes to replicate my CM 99/00 success with England went so well that, er, I was knocked out at the 2002 World Cup group stages and got sacked! For the first time ever in a CM/FM game! After that, I took my first serious journey abroad my managing Boavista for almost a whole season, when they sacked me for
not quite
qualifying for Europe.
Afterwards, I took Walsall into the Premier League, then crossed the Midlands to try and do the same thing with Wolverhampton Wanderers. The save game is in its TENTH season (2009/2010) and, as things stand, my Wolves are in the Division 1 play-off zone. Can I do it? Wish me luck.
Championship Manager 01/02
I only played the demo of CM 01/02 (the last of the CM3 era games), and for the first time, I had a real go at managing Arsenal. It didn't exactly go to plan, so I spent the rest of my time on the demo experimenting in the English leagues.
A few years ago, CM 01/02 became abandonware and was made available for free download. I downloaded it a few days ago onto the parents' laptop and I'm hoping to get into a new save soon, possibly in Finland. (For some reason, on my epic 99/00 England save, Finland reached the 2002 World Cup Final!)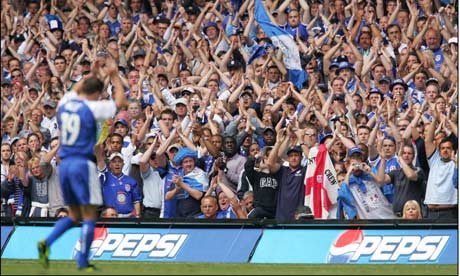 "We're in the Final!" One year too late, Dennis...
Championship Manager 4
For my 13th birthday, my parents got me the much-delayed but hotly-anticipated CM4, and I LOVED IT. Yes, there were so many bugs in the shipped version of the game, but once I installed the patch, there was no stopping me playing this game. Until the CD got a large crack in it.
I was gutted when that happened, because I was well into my second season at Millwall. In my very first season, I led the Lions to an emphatic victory in the Division 1 title race, and perhaps even more significantly, outdid Dennis Wise's real team by one year in reaching the FA Cup Final... and beating Aston Villa 2-0 in Cardiff!
How did Millwall fare in the Premier League? Well, put it this way. With ten games to go, when the CD committed suicide, we were 4th. Things were going so, so well, and I hope to buy a new copy of CM4 one day so I can discover just how far my team would have gone.
Championship Manager 03/04
Thanks to the delayed CM4, I never got past the first few weeks of the CM 03/04 demo. After this game, there was a monumental split between Sports Interactive and Eidos. Eidos kept the name 'Championship Manager' but made inferior management games, while SI continued to deliver the goods under the new franchise name 'Football Manager'.
Football Manager 2005
Well, I say they continued to deliver the goods. I really believed that Football Manager 2005 would be the best, er, football manager game I ever played.
WRONG!
FM05 was so slooooow that getting through one in-game week felt like one real-life week. By December in the first season of my Millwall save, I was losing patience. Then the CD cracked. I bought a new CD, and it was still slow, slow, SLOW! I had enough, threw in the towel, and uninstalled the game
Worst. Football Manager. Ever.
Football Manager 2006
Managing Millwall (again) on the demo of FM06 was a far more satisfying experience than on FM05. The game ran like clockwork, and the results flowed as well. By the time the demo expired, my Lions were top of the Championship. In retrospect, this was the version of Football Manager that I most regret not buying.
Rob Elvins - buy him if you're a non-league team on FM07.
Football Manager 2007
Playing as Grays Athletic on the FM07 demo gave me the appetite to play the full version of the game. On the demo, I created a Grays team that was not only flying high in the Conference Premier but also consisted of some players who have had contrasting fortunes in their real careers. My star midfielder was Tim Sparv (now at Groningen), and my deadly strike force was that of the ex-West Bromwich Albion trainees Stuart Nicholson (Hebburn Town) and Rob Elvins (Worcester City). Happy days.
Not such happy days when I bought the full version, though. The save games corrupted at such a rate that I basically had to save my games three times to even have a chance of it not being ruined when I logged back on. The final straw for me was when, having just led a more Anglicised Arsenal to victory in the League Cup (something that Arsene Wenger has never done), the save game corrupted and I lost my trophy. Back in the case it went.
Football Manager 2008
I was so frustrated by FM07 that I tried to cure my Football Manager blues with FM08. Big mistake. Corrupted save games was again the main culprit for me not getting far beyond August 2007. My best effort was a save with Rwanda where, under the American pseudonym of Hank Sawyer, I got up to the 2008 African Cup of Nations. Then Hank's team got thumped by Cameroon and Hank committed suicide.
There was something interesting that came out of one holiday save that I had on FM08. By 2012, Portsmouth were playing at the state-of-the-art '
Spinnaker Stadium
', were flying high in the Premier League, had money literally pouring out of their ears, and had reached the Final of the UEFA Champions League, where they took the lead against Real Madrid before ultimately losing 2-1. And no, I wasn't involved. How times change, eh?
Football Manager 2009
and
Football Manager 2010
Thanks to the two abominations before them, FM09 and FM10 were both non-starters for me. I was so annoyed by SI back then (teenage angst, see) that I really considered moving over to the dark side and buying Eidos' Championship Manager 2010. I then read the reviews of the game on Amazon and Play.com, and was so encouraged by what others had to say that I
slowly,
backed, away,
and never went back.
Football Manager 2011
FM11 was the game that rekindled my love affair with the Football Manager series. For the first time, I managed to get past three seasons in a full-blown FM career with, yes, Millwall. Early on in my fourth season, the Lions have started the campaign well as we finally hope to win promotion from the Championship. By the fourth season of my CM4 save, my Millwall might have been European champions! Frustrating, isn't it?
I also have a save game on the side with my hometown club, Romford. It's early doors in my first season (I've only just started this game) and Romford are second in the Isthmian League Division 1 North. The Premier League is at least seven seasons away.
Football Manager 2012
FM11 meant that, when FM12, I couldn't even rouse myself enough to get into the demo. I hadn't even managed to play a single match before it had been uninstalled from my laptop. I don't regret doing that, considering the number of bugs and extremely unrealistic events that I've read about happening in FM12 saves.
Football Manager 2013
This brings me on to the newest version of the series, which is expected to come out before Christmas, say SI. With new features such as directors of football, challenges, an improved match engine, and a Jim and Natalie-esque Deadline Day, they've already got me hooked. When the demo comes out, you can be sure that I (and hundreds of thousands if not millions of other wannabe coaches) will be downloading it before you can say Andre Villas-Boas!
Football Manager has been stealing my life for nearly 15 years, and they can continue to steal it for another 15 if they want to.