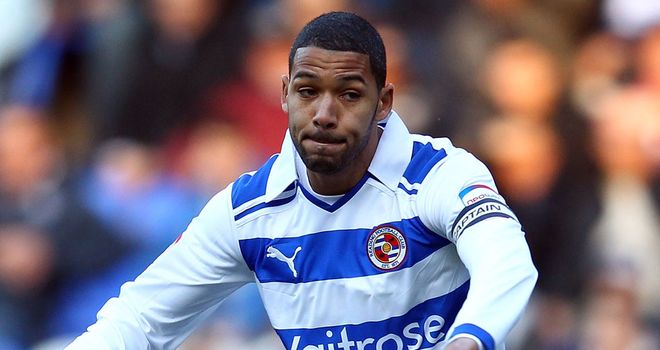 Jobi McAnuff is a footballer voting FOR a restriction on wages.
Reading captain Jobi McAnuff has called for a salary cap in the Premier League.
With top players earning as much as £200,000 per week - and some even more - it seems that McAnuff is a turkey that has decided to break ranks and vote for Christmas. His statement will be popular with many football supporters, if not so much his fellow professionals.
The midfielder said,
"I can see why a Wayne Rooney should get a big bonus because of the amount of shirts he sells but if you're talking about £200,000 a week, that's ridiculous. Who needs that amount of money?
"Surely someone will say 'that's enough'. We're on the verge of getting out of control and we're starting to lose a bit of reality.

"The most popular question I get from kids is 'what car do you drive?'. What happened to them wanting to know what it was like to make your debut?"
Hear, hear, Jobi. McAnuff speaks a lot of sense. He understands that modern footballers are becoming out of touch with football fans from the outside world, whereas that was certainly not the case decades ago. After all, how can Joe Plumber associate himself with someone who earns £1million in wages in just one month?
Big wages have a big impact on young boys who want to grow up to be the next Rooney, or perhaps more importantly to them, become amazingly rich. In
an interview with the Mail on Sunday
last week, Paolo Di Canio said about this subject,
"I have noticed the changes in football, It used to be work, work, work. Now, for some players, the priority is the gold watch."
Nowadays, you get a lot of average players - Championship level at best - who earn more in a week than most hard-working British people earn in a year. How has it come to this that a second- or even third-division footballer can earn at least twice as much in a year as the Prime Minister?
Jimmy Hill created a monster when he scrapped the salary cap.
Since 18 January 1961, when Professional Footballers Association chairman (and just about every other profession in the sport) Jimmy Hill helped to get the salary cap abolished, wages increased steadily in the 30 years afterwards... and then skyrocketed in the next 20.
Why is that? The answer consists of just three words - Rupert bleeding Murdoch.
Yes - everyone's favourite Australian tyrant, and his British Sky Broadcasting monster, is responsible. In 1992, with money starting to pour back into English football after several years of turmoil, BSkyB paid £262million for the broadcasting rights of the then-embryonic Premier League. The rest is history.
Here are some of English football's landmark highest-paid players over the years:
1961:
Johnny Haynes
(£100 per week)
1979:
Peter Shilton
(£1,200 per week)
1994:
Chris Sutton
(£10,000 per week)
2000:
Roy Keane
(£52,000 per week)
2001:
Sol Campbell
(£100,000 per week)
2010:
Carlos Tevez
(£286,000 per week)
The highest-paid footballer in the world is reported to be Samuel Eto'o, who Anzhi Makhachkala pay around £345,000 per week - making his annual salary almost
£18million
(around
$29million
)!
Compare that to other big-earning sportspeople like baseball's Alex Rodriguez ($27.5million per annum), basketball's Rashard Lewis ($21million) and American football's Drew Brees ($20million). Bear in mind that baseball and basketball players have to play in far more games per season than soccer players.
Astronomical wages can also cripple a football club financially. Tal Ben Haim was on a contract worth £36,000 per week at League One Portsmouth, and until he agreed to leave Fratton Park, the club's very existence was in jeopardy.
Wages have spiralled out of control, and it's only a matter of time before the situations that dogged clubs like Pompey and Leeds United dog even bigger clubs. If something like that happened at, say, Manchester City or Chelsea, the consequences for the team in question would be catastrophic.
That's why McAnuff's comments have received the support of the current PFA chairman Clarke Carlisle, who nodded,
"I think it's a very interesting suggestion and one that the authorities should take very seriously.

"The more I venture into the other side of football, the more I see that a lot of clubs are in very precarious positions.

"I do believe it's about time that football started running itself, and clubs started running themselves, as viable business entities. If there was a business in any other walk of life that was treading the financial line that a lot of our clubs are now, they wouldn't be in existence tomorrow."
The restrictions on salaries that Jimmy Hill fought so hard against could soon be back in place if Jobi McAnuff has his way. A salary cap is something that I, as someone who has witness the unrealistic inflation of wages during by 14 years as a football fan, completely support. But what would be a good cap at Premier League level? Now that's a good question.