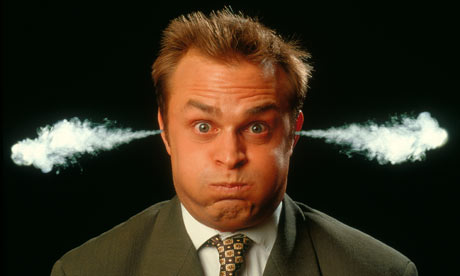 Paolo Di Canio stays calm under the pressure of a losing streak.
You could say that Swindon Town manager Paolo Di Canio is the José Mourinho of League One - in more ways than one.
The Italian firebrand is in his second season as the Robins' boss, and has certainly ruffled a few feathers during his time at the County Ground.
Reading about his actions at Swindon over the last 15 months, and listening to some of his quotes, you can instantly twig that Di Canio is a fascinating character. The former Sheffield Wednesday and West Ham United striker certainly doesn't pull any punches... or even pushes, for that matter. Some of his quotes will strike a chord with many football folk, but does he cross the line too often?
Di Canio came to Swindon last summer with the club down in the dumps following relegation to League Two. He made sweeping changes to the squad, including the acquisitions of more than a few of his Italian compatriots, and some other foreigners. A Namibian, a Czech, a Frenchman and an Algerian all walked into a club - Swindon Town.
Promotion back to League One was secured, but not before describing his players as 'chihuahuas' and 'rottweilers', having a fiery conversation with Leon Clarke which ended the striker's stay in Wiltshire, and overseeing an FA Cup giant-killing against Wigan Athletic, after which he called for his players' names to be etched into the stadium.
He also led Swindon to the Final of the Johnstone's Paint Trophy, but that season, there was double tragedy for him as he lost both parents within months. Just another quiet campaign, then.
This summer, his reputation has continued to rise - but the number of eyebrow-raising moments from Di Canio have also increased. Relations between him and captain Paul Caddis seemed to break down completely. Di Canio accused the Scotsman of showing a lack of commitment since he became a father, and on transfer deadline day, he sent him off to Birmingham City.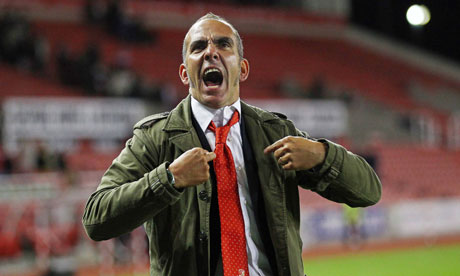 Happy, sad, angry, neutral - the many emotions of Paolo Di Canio.
A couple of days later, goalkeeper Wes Foderingham conceded two early goals to Preston North End. By the 21st minute, Di Canio had decided enough was enough - Foderingham was substituted, and the shotstopper was far from happy. After a quiet conversation with his manager, Foderingham calmly kicked a water bottle and politely decided to spend the rest of the match in the stands.
Di Canio decided not to be too critical, saying,
"He's the worst professional I've ever seen.
"It wasn't only the mistake, which can happen to everyone. It was the arrogance later on when he started moaning to the others. That was the worst thing for me.
"If he doesn't come out and say sorry to the fans for his professionalism, then he is out of my team."
Foderingham apologised, and kept his place in the team. That 4-1 defeat was followed by another loss, this time to Oxford United in the JPT.
This time, Aden Flint was seen as the culprit after his collision with defensive partner Darren Ward allowed Oxford to score late on. Di Canio reacted,
"Flint came in tonight as if he was on holiday and this is not acceptable. He has to take the responsibility. We lost because of him."
Now we move onto yesterday's league game, at home to Leyton Orient. Di Canio had what is described in TDTR HQ as a "leg in the air", as he took off several items of clothing as Swindon's predicament. The final score was only 1-0 to Orient, but there was a fear that, had Foderingham conceded any more goals, Di Canio might have ended the match with as many clothes on as Lori Buckby from Babestation.
Thankfully this time, Di Canio didn't call for Raffaele De Vita to be hung, drawn and quartered, or for Alan McCormack to be thrown to the lions. But he did comment,
"There wasn't passion in this game or desire. It was an empty performance. I have over-estimated some of my players. I hope my players analyse themselves."
It's clear that man-management skills are not the Italian's forte. If he doesn't cut some slack for his Swindon players, who knows what could happen in later months? Could he end up coming to blows with one of his midfielders? Might there be a player revolt? Could he even be taken to court by a player accusing him of something REALLY nasty?
Di Canio has in the past been accused of facism, or at least making fascist salutes. In May, on-loan Leyton Orient striker Jonathan Téhoué even complained that he made racist comments about him and other black players at Swindon. I'm not sure if anything's been proven yet, but I should point out that Wes Foderingham is black, and not many other players at Swindon are compared to other league clubs. I won't say anymore on that matter.
As things stand, Swindon are 11th in League One with a distinctively average tally of seven points from five games. But a blip could become a long winless streak, which in turn could become a full-blown crisis. The more Di Canio makes cutting remarks about his squad, the bigger the risk of that happening.
After beating Swindon yesterday, Leyton Orient boss Russell Slade said,
"Our dressing room was a happy place to be."
Can the same be said about the Robins' dressing room?