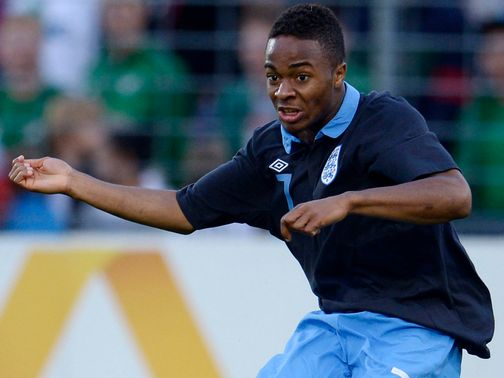 Raheem Sterling is close to his England senior debut. Too close?
This could be a red letter day for Liverpool winger Raheem Sterling, who could make his England senior debut at the age of 17 years and 225 days.
In the early stages of this season, Sterling has impressed in a Liverpool team which otherwise has not. He has so far made seven senior appearances for the Reds, with his most high-profile showings coming in home league games against Manchester City and Arsenal.
His pace and his ability to get past defenders easily have really caught the eye, with many tipping the former Queens Park Rangers youth player to become a genuine star.
But let's get real. Sterling's still a kid, with a lot of growing up to do. There's no doubting his potential, but at the moment, he has just that. Potential.
He's only just made his debut for England Under-19s, for Pete's sake! In fact, the reason why Sterling was called up for the Under-19s' friendly match in Germany was because his Liverpool boss, Brendan Rodgers, didn't want him in Stuart Pearce's Under-21s for fear of overexposure.
Rodgers, who has a good track record when it comes to working with young players, said at the time,
"It might look great on the back pages that he is involved in the Under-21s but the reality is that this is a kid who has made great strides over the last few weeks. He was absolutely fantastic through pre-season... but, for the moment, let's just stay calm."
In that case, calling Raheem into the main squad is like saying that little toddler Timmy is not yet ready to dip his toes into the paddling pool, and then throwing him head first into the middle of the Atlantic Ocean.
England manager Roy Hodgson has given assurances that Sterling will not be allowed to over-react to getting this call-up. It is highly unlikely that the Jamaican-born teenager will make his debut against Ukraine tonight, unless England have an unlikely 4 or 5-0 lead after 70 minutes, in which case Hodgson might tell Sterling to get warmed up.
He may not technically be an adult yet, but he won't be the youngest England international ever - or even in the last ten years. Compared to Wayne Rooney, who made his bow against Australia in 2003 when he was 17 years and 111 days old, he is positively middle-aged. Sterling is even a grandad (which he might actually be by the time his playing career ends!) compared to Theo Walcott, who was 17 and 75 days when he debuted against Belarus six years ago.
But here's a word of warning from Sterling's boss Brendan Rodgers,
"I think you have to be careful with young players. They can be elevated above their station too quickly. That is a part of it in this country. They have one good game and they get elevated into superstar status. You then see them at 23 and 24 and you wonder why they are not superstars any more."
That can be said of a young Liverpudlian striker called Jose Baxter, who, if like me you regulary watch the Victory Shield Under-16s tournament, you will recognise from the 2007 England squad. One of his team-mates was a young midfielder by the name of Jonjo Shelvey, who of course is now one of Sterling's Liverpool team-mates.
He scored twice in that tournament as England once again retained the trophy, and there were some comparisons to Wayne Rooney, who made his mark in that competition almost a decade earlier.
Baxter's rise was so quick that, in August 2008, he made his Everton debut against Blackburn Rovers when he was just 16 years and six months old. Injuries limited the impact he made in his first season, although he featured seven times the following season. But things went downill from autumn 2009, when he was arrested on suspicion of possessing cannabis. He wasn't convicted, but things didn't improve for Baxter afterwards.
The 2010/2011 season was one to completely forget about, but surely he would break through in the following campaign! Er, no. After one Carling Cup appearance for Everton, he was sent on loan to Tranmere Rovers, where in 14 appearances he scored three goals, along with one straight red card against Scunthorpe United. Not great.
A substitute appearance for Everton against Manchester City this January would be his last for the Toffees. He was offered a new contract at Goodison Park, but turned it down in order to seek first-team football. After a failed trial at Crystal Palace, he's now hoping to earn a contract with League One side Oldham Athletic, whose next match is a home game against Notts County on Saturday. Hardly Wembley, is it?
Another player who was hyped up at a very young age is Ravel Morrison, who played in the Victory Shield the year after Baxter did. You'll probably be aware of how his career has gone so far. If not, I'll just say that, at 19, he can't even get off the bench for Birmingham City, let alone England.
Raheem Sterling should keep his feet on the ground, and I have this advice for him. Enjoy your England experience, and don't expect to play. You haven't made it yet, lad, but you can do that one day.