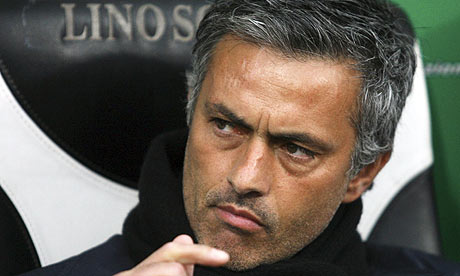 Jose Mourinho has said that he wants to return to England one day.
It must be an easy job to be the editor-in-chief at the Daily Express.
It seems that every day, the editor tosses a coin. If the coin shows heads, then the Daily Express publish a front-page headline story about Princess Diana. If it's tails, the headline is about something which can, apparently, cause and/or prevent cancer.
Jose Mourinho must do something similar before he speaks to the press.
If the coin that he tosses turns up heads, then he publicly declares that he wants to return to England. If he decides to toss another coin and it comes up heads again, he'll say that he wants to be Chelsea manager again. If a third coin toss results in a third heads result, it's Manchester United.
Every now and then, Mourinho comes out with the same old "I'm coming back" statements, and the British press lap it up. But exactly how often does he do that?
27 JANUARY 2011
The Daily Mail:
Jose Mourinho's tempestuous time at Real Madrid reached a spectacular crescendo last night with several incidents before, during and after his team's 1-0 Copa del Rey semi-final first leg win over Sevilla. Most notably, the former Chelsea boss revealed his desire to return to the Premier League, issuing a come-and-get-me plea to Manchester rivals City and United, as well as his old club.
The Special One:
"I've decided to return to England. I have nothing prepared about my future - I just want to be happy in my work. I have no preferences about Manchester United, Manchester City or Chelsea. I just want to rediscover the joy."
22 FEBRUARY 2011
The Daily Mail:
Jose Mourinho has offered his strongest hint yet that he would relish a return to the Stamford Bridge hotseat. Pressure is mounting on under-fire Italian boss Carlo Ancelotti following Chelsea's alarming lack of form that has seen last season's double winners lose a grip on their Premier League title and dumped out of the FA Cup.
TSO:
"I love Chelsea. I was the happiest man when I was there. I was thinking I would be there all my life. So you never know. When I sign a contract, I sign with the intention to respect the contract and be happy."
23 MARCH 2011
The Daily Mail:
Jose Mourinho has reiterated his desire to return to the Barclays Premier League to tackle 'unfinished business'.
TSO:
"I miss England and my next job will be in England. There is unfinished business. And I think England wants me back, no? It was the most enjoyable time of my career."
14 APRIL 2011
The Sun:
Jose Mourinho believes he will succeed Alex Ferguson at Old Trafford. The Special One wants to take over as Manchester United boss at the end of next season - and reckons he will get the job.
TSO
didn't comment at that time, although this was The Sun, so I would take this particular article with a pinch of salt.
Jose Mourinho has said that he wants to return to England one day.
26 DECEMBER 2011
The Daily Telegraph:
Jose Mourinho has reiterated his desire to return to manage in England 'in a couple of years' once his time in charge of Real Madrid is over.
TSO:
"I am very, very happy to be in Real Madrid. It is a great experience for me. I believe it is probably the biggest club in the history of football, I didn't want to miss the chance to work here, but my passion is England and my next step will be to go back, if possible go and stay for a long time. Get me a club in a couple of years, get me a good club."
7 MARCH 2012
The Sun:
Jose Mourinho is ready to make a spectacular return as Chelsea manager. The Special One is quitting Spanish giants Real Madrid in the summer to come back to England.
TSO
didn't comment at that time, although this was The Sun (etc)
26 MAY 2012
The Daily Mail:
Real Madrid manager Jose Mourinho has again hinted that his future may lie in England despite just signing a new contract with the Spanish champions that runs until 2016.
TSO:
"In 2016, my daughter will be starting university and I would like to choose in which city she studies. London was distinct for me. I had a normal life there. In England the people are not interested in your personal life, but that is different in Spain and Italy. I need to protect my family."
22 SEPTEMBER 2012
The Daily Telegraph
:
Jose Mourinho would happily coach any club in the Premier League if he moved on from Spanish champions Real Madrid, the former Chelsea manager said.
TSO:
"In England I am blue. I will push a little but when I watch matches on TV. I cannot deny what is clear in my mind. After Real Madrid, England, that's for sure. I keep saying the same, I know clearly."
Yes, Jose, we get it. You want to return to the Premier League, fine. Stop talking about it then!
I get the feeling that Jose Mourinho is saying these things not just because he really does want to return to England one day, but just because he can say them. His ego needs constant media attention to reinflate it when it deflates. In that respect, he's the Cheryl Cole of world football.
Sooner or later, Real Madrid will tire of Mourinho's comments to the extent that they call his bluff - and sack him.
But, of course, the British media must also shoulder some of the blame for this ages-old story being recycled time after time after time. It has been five years and two days since Mourinho left Chelsea, which is more than enough time for them to get over it, except they can't seem to get over it.
You can always count on one British journalist at the Bernabeu asking Mourinho if he'll ever take charge of a Premier League club again. Yes, he's a world-class manager and a character to boot, but the British are so obsessed with him that they are bordering on stalking him! Luiz Felipe Scolari was sacked by Chelsea three years ago, but you don't get any lovelorn Englishmen begging him to come back.
Put it this way. If I'd done to a girl that I fancied at school seven years ago what the British press have done to Mourinho, I would either have a restraining order against me, or I would be typing this very article from a prison cell.
Jose Mourinho has said... no, hang on, this is another fame-seeking parasite.