After another weekend of Premier League action, I discuss the end of Southampton's grace period, the lack of firepower at Liverpool, and a team that was surprisingly quick off the blocks.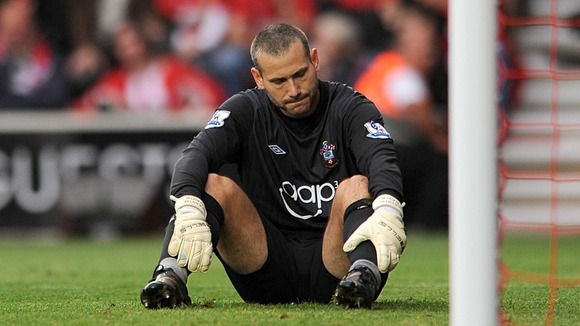 Southampton, and keeper Kelvin Davis, snatched defeat from victory's jaws.
Saints' honeymoon is over
Southampton know that they are better than being just 'plucky underdogs'. A club that spent £28.5million in the summer - about the same amount that Liverpool coughed up before the transfer window shut - won't be overly happy with a 17th-placed finish after 38 matches.
But after losing their first three games, the Saints need to address some key failings if they're to have any chance of even finishing 17th. Against both Manchester clubs, they have surrendered 2-1 leads to lose 3-2 late on. More worryingly, they conceded two goals at home to Wigan Athletic!
Having watched Southampton's home meeting with Manchester United, I was impressed with some facets of Nigel Adkins' team. Rickie Lambert is turning out to be a natural goalscorer at any level, and Adam Lallana has the makings of an England international.
Less impressive was a defence which has conceded eight goals in its first three Premier League matches. Right-back Nathaniel Clyne was slipping all over the pitch in the first half, and centre-half Jos Hooiveld conceded his second penalty of the season for a very clumsy challenge on Robin van Persie. But just like against Manchester City, Hooiveld's blushes were spared when van Persie's audacious chipped penalty was palmed away by goalkeeper Kelvin Davis.
I was quite surprised that Adkins didn't spend money on a bona fide Premier League goalkeeper, because Davis hasn't played at this level since 2006, and it showed. He gave a few wayward passes straight to United players and didn't look particularly self-assured. I remember him making an Enckelman-esque error for Wimbledon in 2002, and although the saying goes that goalkeepers get better with age, I don't think Davis has.
In short, I wouldn't trust this Southampton defence to babysit my cat, let alone defend a lead against Manchester City or Manchester United.
This was Sir Alex Ferguson's 1,000th league match in charge of United, and it ended in typical fashion for the wily Scot's team. New signing van Persie repaid most of his £24million transfer fee with a superb hat-trick, and the third goal - the winner - was scored in the second minute of what is now often referred to as 'Fergie time'.
The only way that match would have been more typically Ferguson-esque was if Ole Gunnar Solskjaer had come on as an 80th-minute substitute and scored the winner.
"I might have to play my son's best friend up front in the next game, Conor."
Can't score, won't score
It was a perplexing decision from Liverpool to loan striker Andy Carroll - as overpriced as he was - out to West Ham United when they hadn't lined up a replacement.
That became even more bewildering after a 2-0 home loss to Arsenal which showed just how far Liverpool are from the days that they regularly finished in the top four, and challenged for (and even won in 2005) the UEFA Champions League.
Brendan Rodgers' striking options without Carroll are Luis Suarez, Fabio Borini, Adam Morgan and Samed Yesil. Suarez can be a brilliant scorer on his best days, but far too often, he is inconsistent and ineffective. £12million striker Borini's performances in his first few games for the Reds suggest that Rodgers paid at least £11million over the odds. Their other two centre-forward, Morgan and Yesil, are both just 18 years old.
The fact that Aston Villa were willing to pay Fulham's asking price for Clint Dempsey and Liverpool weren't showed just how badly the club's finances had been mismanaged when they were under the ownership of Messrs Hicks and Gillett. The current owner, John W Henry, said in an open letter to the club's supporters that Liverpool is "still in the process of reversing the errors of previous regimes".
With Rodgers so painfully short of options up front, the Ulsterman will probably have to turn to the free agent market. He has been linked with a move for former Reds striker Michael Owen, although Stoke City remain the favourites to sign him. Didier Drogba is also on the market now after he decided that China is not the place for him to continue his football career.
But there are other concerns on the pitch. Captain Steven Gerrard, whose long-passing game is one of the best around, doesn't seem suited to Rodgers' attacking, short-passing philosophy. A loose short-pass from the skipper, coupled with similarly woeful defending from full-back Glen Johnson, allowed Lukas Podolski to break through and score Arsenal's first goal of the season.
The second goal highlighted concerns over their goalkeeper, José Reina. So often, he is a world-class shot stopper, but every now and then he goes and spoils it all by doing something stupid. A second-half shot from Santi Cazorla bounced off his Spanish compatriot's elbow and into the net to make it 2-0 Gunners.
Reina also made an error in Liverpool's previous game against Heart of Midlothian. Right now, they would probably be better off putting Suarez in between the sticks.
Reds fans should not criticise Brendan Rodgers for getting Liverpool off to their worst start for 50 years, and leaving them in the relegation zone for at least the next fortnight. These problems are the makings of Hicks, Gillett, and Rodgers' successor Kenny Dalglish. After all, it was so-called 'King Kenny' who paid £35million for a striker who is now at West Ham.
Shane Long wheels away after putting West Brom ahead.
West Brom have their boing boing
Even if you've taken seven points from your first three matches, you can't count your chickens just yet. Just ask Wolverhampton Wanderers.
But their fellow Midlanders, West Bromwich Albion, are in an optimistic mood after an unbeaten opening to Steve Clarke's reign at the Hawthorns. Clarke has spent several years as an assistant to big-name managers like José Mourinho, and he's clearly learn some of the skills that you need to succeed in this profession.
After a 2-0 win over an Everton side that kicked off with back-to-back victories, forward Peter Odemwingie said that he was impressed by his new manager.
"He has started smoothly and he looks like someone who had a plan,"
started Odemwingie.
"He has said that he wants to build and instead of just trying to stay in the league, he wants to win one of the cups. He will play strong teams in the cups and he will be aggressive in football, not passive and just defending and trying to stay up."
Clarke is renowned for building strong defensive back-lines, and the early indications are good. West Brom have conceded just the one goal from their first 270 minutes of PL action this season.
But what has become less obvious is that there is now more emphasis on passing. The passing movement for their first goal against Everton, in which Shane Long tapped in a cross from Odemwingie, involved no fewer than eight outfield players.
The second goal was scored eight minutes from time by Gareth McAuley, with an excellent assist from one of the Baggies' key men, Chris Brunt.
I'll be honest in saying that I thought West Brom would struggle a wee bit this season. But if Roy Hodgson was the manager that stabilised Albion and made them part of the Premier League furniture, Steve Clarke could be the boss that takes them one step further.