A month into the Premier League season, and already the top of the table has a familiar look to it.
Following this weekend's round of matches, The Daily Transfer Request looks at four turning points: Manchester United's rising stars, Norwich City's predictability, expert punditry on the BBC and, firstly, THAT handshake.
Anton Ferdinand: "Nothing to see here, kid, move along."
Let's (not) shake on it
Anyone who watched the Olympic and Paralympic Games will have been pleased that the athletes in London were all very sporting and professional. Well, all of them except the
Korean fencer Shin A Lam
.
Now that the London show is over, it's back to the good old Premier League, where petulent and overpaid egomaniacs with the attitudes of 12-year-old TOWIE wannabes do their best to anger the British public once again.
The pre-match handshake at Premier League games was brought in a few years ago with good intentions, but always appears to be false. There have been a few instances where players have refused to shake hands, therefore overshadowing the game which it preceded.
For the second time in just two-and-a-half years, Chelsea captain John Terry was snubbed by an opposing player during the ritual. Last time, it was Manchester City's Wayne Bridge. This time, Queens Park Rangers defender Anton Ferdinand turned past Terry instead of shaking hands with someone who he is not exactly best mates with after what happened on 23 October last year.
Although he has been cleared in the law courts of racially abusing Ferdinand, it has been almost a year since that incident took place and the FA have not yet decided whether Terry and Ferdinand should get any punishment. The feud hasn't been resolved, and if anything looks to be getting worse.
Terry's team-mate Ashley Cole, who defended his skipper in court, retaliated by refusing to shake Ferdinand's hands. And then, when the two captains met up at the centre circle for the referee's coin-toss, QPR captain Park Ji-Sung point-blank refused the hand of Terry. Remember, Park used to be a Manchester United team-mate of Anton Ferdinand's brother Rio.
Because three players (four if you include Terry) refused to acknowledge an opponent before the game, the entire match was overshadowed. Then again, if Roberto Di Matteo sneezed, it probably would have done the same, for the game ended in a dire 0-0 stalemate.
The pre-match handshake is flawed, and West Ham United boss Sam Allardyce has joined his QPR counterpart Mark Hughes in saying that it should be done away with. I agree. A post-match handshake might be a bit better, but the sooner the FA and Premier League get rid of this politically-correct farce, the better.
The sad thing is, though, I might be talking about this very subject again seven days from now. Liverpool are due to play Manchester United at Anfield on Sunday, and we know what happened when Luis Suarez and Patrice Evra last came face-to-face.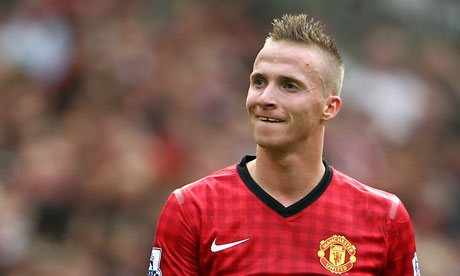 Manchester United left-back Alex/ander Buttner (delete if appropriate).
Fergie's new fledglings
Sir Alex Ferguson has a keen eye for signing bright young talent for Manchester United.
The man that brought future superstars like David Bellion, Liam Miller, Dong Fangzhuo, Ritchie De Laet and Bébé to Old Trafford has done it again. It may be a bit early to say for sure, but it looks like Alexander Buttner and Nick Powell are going to be shrewd investments.
Holland left-back Buttner was on the verge of joining Southampton, but then something seemed to happen, and instead, the Vitesse Arnhem youngster went to Manchester United. The 23-year-old must have felt like he'd lost tickets to see One Direction in concert and instead ended up with tickets to see Muse.
After Paul Scholes and Javier Hernandez got on the target for United against Wigan Athletic, it was time for Buttner to shine. Having set up Hernandez's goal three minutes earlier, Buttner beat four Wigan defenders before firing past Ali Al-Habsi from a tight angle to put the Red Devils 3-0 up on 66 minutes. If you missed his goal, you really should find it on YouTube, because he showed plenty of perseverance as well as technique during his left-wing run.
Now, the stage was set for Nick Powell, aged 18-and-a-half. Ferguson didn't waste any time in swooping for the Crewe Alexandra teenager when a wonderful goal helped the Railwaymen to secure promotion to League One. Primarily used as a forward at Crewe, Sir Alex sees him more as a central midfielder at United.
Powell is seen as a direct replacement for 37-year-old Scholes, who had earlier marked his 700th United appearance with a goal. Young Nick did the same in his first appearance. And with a 25-yard screamer to boot. Not bad, eh?
Ferguson said of Powell,
"The boy is going to be a really good player, who we hope is going to fill Paul Scholes's boots. He's got terrific vision, a good temperament, two great feet, he's quick and is a great striker of the ball."
Powell's certainly looking like another good boy for the wily veteran. And as for Buttner... let's just say that the normally chipper Southampton boss Nigel Adkins probably facepalmed when he read the United-Wigan match report.
This is what football does to you, Chris.
Mellow yellow
Admittedly, when I assessed the
Premier League's newest managers
in July, I said that hiring Chris Hughton would be a shrewd move for Norwich City.
I can only apologise. After four matches, I'm afraid Hughton doesn't look so much like a good choice. A 0-0 draw at home to West Ham United means that Norwich are currently sitting in a far from pretty 16th place, and have yet to get a win on the board.
The Canaries' attack right now looks about as deadly as, er, a canary. Grant Holt seems to have lost his way after issuing, and then retracting, a transfer request during the summer. There is some potential to be seen in on-loan Tottenham Hotspur striker Harry Kane, who came on with 20 minutes to go and missed a few chances to win all three points for his new team.
Goals were not as hard to come by when Paul Lambert managed Norwich. His fluid football did the trick for this team, which achieved a better result than many people expected when they finished 12th last season. In comparison, Hughton's tactics are perhaps more predictable - West Ham quickly sussed that Norwich's main attacks would come from the flanks and changed their game plan accordingly.
A number of City fans were perplexed that their creative midfielder Wes Hoolahan was left on the bench by Hughton, and some made their feelings public by booing the new manager.
Four points from as many games isn't a horrific return, but Hughton will know that his team could (and should) have picked up more - especially considering that their next four league opponents are Newcastle United, Liverpool, Chelsea and Arsenal. These are tough times for the Norfolk boys.
Aston Villa striker Christian Benteke has never heard of Garth Crooks.
I've never seen Star Wars
As much as I dislike many aspects of how Sky Sports cover the Premier League, I have to say they do it a lot better than the BBC.
If you heard Garth Crooks on BBC's Final Score programme on Saturday, you'd probably have thought that he knew as much about football as country singer Garth Brooks knew about the Higgs boson.
This is what he said about Aston Villa's new signing Christian Benteke, who scored against Swansea City:
"Benteke? £7million? I'd never heard of him, but I have now."
When a football pundit says that he's never heard of a player, it's like a Lewis Carroll enthusiast asking, "Alice? Who the f**k is Alice?" It's completely idiotic and makes you wonder why he gets taxpayers' money to educate the public on football.
Christian Benteke had been a star name in Belgium's Pro League for five years, winning the title with Standard Liege in 2009 before scoring at the rate of a goal every two games for Genk last season. He has six caps for Belgium, and against Holland last month, he scored his first international goal. But then again, only a very knowledgeable expert on Belgian football would know about those facts, isn't that right, Garth?
Then again, this is the BBC we're talking about. Two years ago, when asked about Newcastle United's new signing - the precociously-talented striker Hatem Ben Arfa, who had been tipped as a star of the future since his senior debut in 2004, and had gone on to win several international caps for France - Alan Shearer replied,
"No one really knows a great deal of him."
Not many people really know a great deal about the Higgs boson. In contrast, millions of people know who the f**k Ben Arfa is, and more than a few are also clued up on Benteke. Perhaps Crooks and Shearer's joint knowledge of football is actually so limited that it stretches only to the Premier League, and La Liga's big two.
Surely it's only a matter of time before Alan Hansen asks Gary Lineker, "Do you know anything about this kid, Eden Hazard?"