After this weekend's Premier League games, The Daily Transfer Request todays looks at Everton's fantastic start to the season, the return of the morons, and the problems of zonal marking.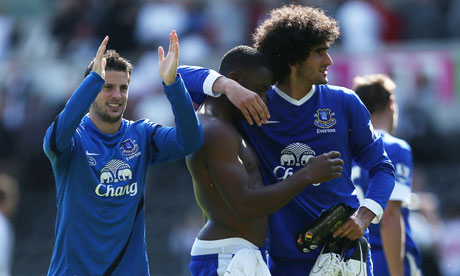 Everton are feeling good, thanks to the likes of Fellaini (afro).
Toffees targeting a breakthrough
Like
Muse's cover of Feeling Good
, Everton traditionally start off quietly before making loud noises later on.
But this season, they've been more like
Wolfmother's Joker And The Thief
. A 3-0 win away to another team that was quick out of the traps, Swansea City, has propelled David Moyes's men to third place in the table. And with the resources at their disposal, you can't rule Everton out of Champions League contention.
Moyes was without his marquee signing from January, Nikica Jelavic, through injury. He didn't really need the prolific Croatian, though, for he had two fantastic Belgians in his starting XI.
Late on in the first half, forward Kevin Mirallas hit the crossbar before converting the rebound to give Everton a 2-0 lead (their first goal was scored by Victor Anichebe). Then, eight minutes before time in the second, Marouane Fellaini nodded Leighton Baines's free-kick past the Swansea keeper, Michel Vorm. If the brilliant midfielder continues the form that he has started this campaign with, then he is an early contender for Player of the Year.
There was a major talking point about the first goal. Fellaini appeared to handle the ball with his forearm before setting up Anichebe. Having seen the incident, I'm inclined to agree, but Swansea can't really have too many excuses about their defending. After two defeats in a row, Swans boss Michael Laudrup has some work to do to regain that lost momentum.
Momentum is something that Everton have in spades now, plus they have top players in most positions. They have Tim Howard in goal, Baines at left-back, Steven Pienaar in midfield, the two Belgians of course, and Jelavic up front. Those players are good enough to challenge for starting places at some of the so-called 'big six' teams, and together, they make Everton an underrated but serious threat to the big boys.
Some Everton fans regularly lurch from demanding David Moyes's head on a pike to hailing him as the latest incarnation of Jesus Christ. I'm pretty sure that they're doing the latter right now.
Everton's next fixtures are against Southampton, Wigan Athletic and Queens Park Rangers - all winnable games. Don't be too shocked if, by the end of 21 October, Everton are in the top two. Could this be the year in which the Toffees show just how far they can go?
Mark Halsey received vile abuse for dismissing Liverpool's Jonjo Shelvey.
Some fans never learn
On the eve of Manchester United's trip to Liverpool, Sir Alex Ferguson wrote an open letter to United fans attending the game at Anfield pleading with them to be on their best behaviour.
Most of them were, and so were the players when it came to the pre-match handshake. United's Patrice Evra and Liverpool's Luis Suarez agreed to let bygones be bygones, and shook hands before kick-off.
There was also an emotional tribute to the 96 victims of the
Hillsborough disaster
(this was, of course, Liverpool's first home game since the truth was outed), and an equally brilliantly-observed minute's applause for the two police officers shot dead by Dale Cregan earlier in the week.
But then things began to get nasty. Some Red Devils fans could not stay angelic for any more than 13 minutes, after which they chanted at home supporters,
"Where's your famous Munich song?"
38 minutes into the match, Liverpool had young midfielder Jonjo Shelvey sent off for a reckless tackle on Jonny Evans, who to be fair also went in two-footed. The referee who sent Shelvey off, Mark Halsey, was later subjected to cruel cancer-related taunts from a select few Liverpool fans on Twitter. Mark and his wife Michelle have both suffered from the disease, and out of respect, I will not repeat what was tweeted at him.
After the final whistle, the real nastiness kicked off. A small number of Liverpudlians made aeroplane gestures at United fans, clearly referencing the Munich disaster. Some of the United contingent retaliated,
"Always the victims, it's never your fault."
A few even chanted
"Murderers"
- a direct reference to the
1985 Heysel disaster
.
For the record, Manchester United won 2-1, but both teams are losing the battle to weed out their most thuggish and moronic supporters.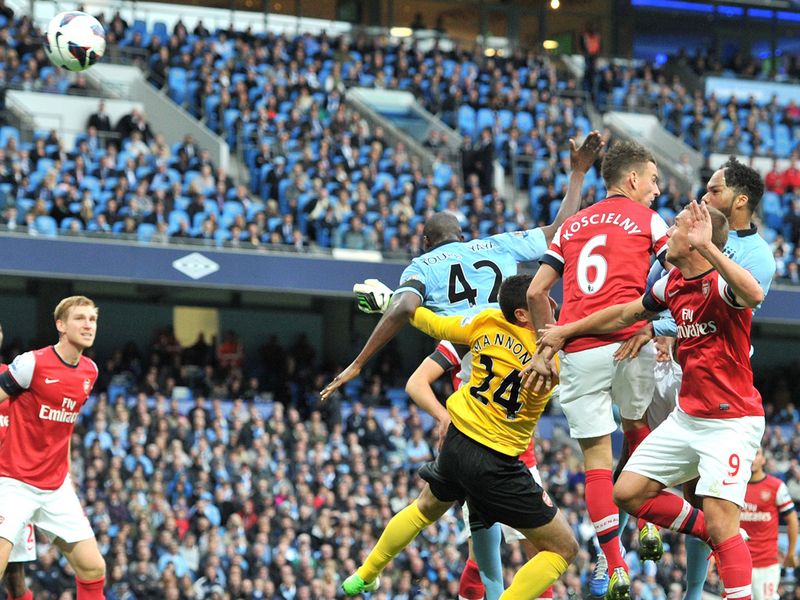 Joleon Lescott makes Arsenal's zonal marking look completely hopeless.
Danger zonal
The goal that Arsenal conceded in their 1-1 draw against Manchester City once again exposed the flaws of their zonal marking system.
In the 39th minute, David Silva's corner into the Arsenal box was nodded in by Joleon Lescott, who left Gunners keeper Vito Mannone helpless.
The main reason why that goal was conceded was because of the zonal marking system, which is not a great strategy to use when defending corners. Arsenal had eight players in or around the six-yard box, but none of them had a close eye on Lescott, who ran towards Silva's delivery and beat the standing Thomas Vermaelen and the flailing Mannone to the header. After that, there was no way to prevent a goal.
Vermaelen trying to beat Lescott from a standing start was like, as Sky Sports News' Rob Wotton put it when in an interesting discussion with ex-Charlton Athletic manager Alan Curbishley, trying to beat Greg Rutherford at the long jump from a standing start. The Arsenal captain did not stand a chance because he had no forward momentum and Lescott had plenty.
I'll explain the main differences of zonal marking and man-to-man marking (or just man marking for short). Zonal marking is where defenders cover specific areas of the pitch. If an attacker moves into the area of the pitch where the defender is marking, he marks the attacker. When the attacker moves into another zone, the responsibility goes to the defender who is covering that zone.
Zonal marking is more flexible than man marking, which as the name suggests is a strategy in which defenders mark specific opponents rather than zones. Although widely used by German and Italian teams in the 1960s and 1970s, it is not widespread at top-level football nowadays, mainly because it affects the man-marking team's ability to attack fluidly.
However, man marking is a much better strategy to use when defending free-kicks or set-pieces, because you've always got someone close to a potential attacking threat. Zonal marking gives the attacking players more room for manoeuvre, as Rafael Benitez regularly found out to his cost when he managed Liverpool.
For these reasons, when I play football computer games, I generally use man marking most if not all of the time. I'm not saying that man marking is the perfect marking strategy, but when you're defending a corner at the home of the league champions, you can do much better than zonal.