The European qualifiers for the 2014 World Cup get underway today.
There are 53 European teams hoping to qualify for the finals in Brazil, but only 13 of them will get their tickets.
The teams are split into nine groups, eight consisting of six teams and the ninth consisting of five. The top team in each group automatically qualifies, and the eight best runners-up will play-off for the last four places.
Today, The Daily Transfer Request will forecast the outcome of all nine groups, predicting who will win those groups and which four runners-up will make it through the play-offs. When European qualifying ends on 19 November 2013, we'll look back at this and see just how accurate our predictions were.
Vincent Kompany, captain fantastic for both his club and for Belgium.
GROUP A
CROATIA:
Former international Igor Stimac replaces Slaven Bilic as the man in helm of a team with plenty of attacking talent, but not to much in the way of defence. Getting the likes of Niko Kranjcar, Luka Modric and Nikica Jelavic will be crucial - particularly Jelavic, as his international scoring record's not great.
(2nd)
SERBIA:
Serbia were bitterly disappointed not to make it to UEFA Euro 2012, and manager Sinisa Mihajlovic has had to make some major changes. There's no Nemanja Vidic to call on anymore at centre-back, and his possible long-term replacement Matija Nastasic is just 19.
(3rd)
BELGIUM:
The Belgians are coming, and their 12-year tournament drought will surely be ending soon. Captain Vincent Kompany and winger Eden Hazard are the main focus points of a young Red Devils team that can hit the ground running and make it to Brazil.
(1st - QUALIFY)
SCOTLAND:
A squad full of mostly Celtic and Championship players won't worry the bigger teams in this group, although the very prolific Jordan Rhodes might.
(4th)
MACEDONIA:
Macedonia's one world-class striker is the Napoli striker Goran Pandev, and he alone can't get them anywhere near qualification.
(6th)
WALES:
Chris Coleman has stabilised the Red Dragons following ex-boss Gary Speed's tragic death, but Aaron Ramsey and his young team-mates aren't at their best just yet.
(5th)
Gianluigi Buffon has been Italy's number 1 almost since the dawn of time.
GROUP B
ITALY:
Euro 2012 showed that Italian football scandals aren't exactly bad news for their national team when it comes to major tournaments. The runners-up, with talisman Andrea Pirlo and the enigmatic striker Mario Balotelli, should coast through this group, especially with the ever-dependable Gianluigi Buffon still in goal.
(1st - QUALIFY)
DENMARK:
Once again coached by the man who epitomises Danish football, Morten Olsen, the red and whites should make up for missing out on the last two World Cups. Nicklas Bendtner is almost literally Danish Dynamite at his best, as is playmaker Christian Eriksen.
(2nd - QUALIFY)
CZECH REPUBLIC:
Even with Petr Cech in goal rising star Theodor Gebre Selassie at right-back, the Czechs are vulnerable defensively. The Quarter Finalists from Euro 2012, now minus Milan Baros, may also struggle for goals, so I doubt they'll make it.
(3rd)
BULGARIA:
Nowadays, Bulgaria's team is not one to get excited about, and goalkeeper Nikolay Mihaylov will be picking the ball out of his net quite often, I think.
(5th)
ARMENIA:
Armenia had a slim chance to qualify for Euro 2012, but midfielder Henrikh Mkhitaryan and his team-mates couldn't take it, and they will struggle this time.
(4th)
MALTA:
The Knights of Malta have got 'ni' chance, but as long as Michael Mifsud is still banging in the goals, they have a chance of avoiding the wooden spoon.
(6th)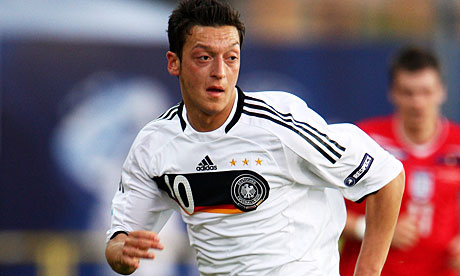 Mesut Ozil: The centrepiece of the multicultural German team.
GROUP C
GERMANY:
Germany's time will surely come within the next four years under Joachim Low. Mesut Ozil is the main creative force of a Mannschaft which tears apart minnows, and hopes are high that Mario Gomez's excellent form will continue and their best goalie since Oliver Kahn, Manuel Neuer, will improve further.
(1st - QUALIFY)
SWEDEN:
Sweden's chances will be determined by Zlatan Ibrahimovic - if the striker wants to be a team player, they can qualify. If he's only thinking about himself, though, then Erik Hamren might have to rely more on Johan Elmander.
(2nd)
REPUBLIC OF IRELAND:
If Euro 2012 was an indication of where Ireland stand in Europe's pecking order, they are very far away from the big guns. Giovanni Trapattoni's Anglo-Irish army are very exposed at the back, and midfielder Aiden McGeady can be frustrating at times.
(3rd)
AUSTRIA:
Although they shouldn't expect qualification, Austria - whose star player is left-back David Alaba - should at least Ireland close if not overtake them.
(4th)
FAROE ISLANDS:
Things have improved for the Faroe Islands and their veteran keeper, 42-year-old Jakup Mikkelsen, in recent years but not by much.
(5th)
KAZAKHSTAN:
Sergei Ostapenko is the main source of goals for a very inexperienced Kazakh team who have only a few players from outside of their national league.
(6th)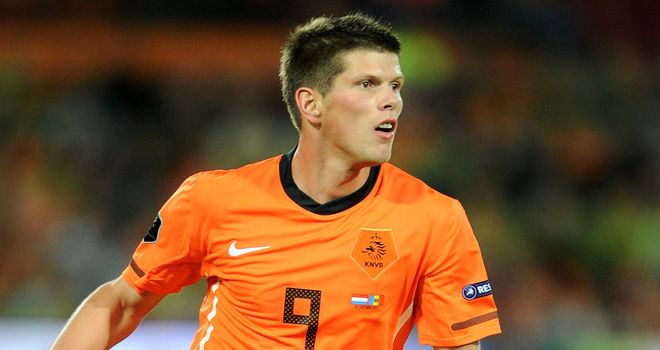 Klaas-Jan Huntelaar, like Robin van Persie, knows where the goal is.
GROUP D
HOLLAND:
The last time Louis van Gaal took charge of Holland, they failed to qualify for the 2002 World Cup. But despite an awful Euro 2012, goal machines Robin van Persie and Klaas-Jan Huntelaar should ensure straightforward qualification this time around, and young stars like Kevin Strootman can make their mark now.
(1st - QUALIFY)
TURKEY:
Plenty has changed in the Turkey team since their last major tournament just four years ago. Two of these team's newer stars are on-loan Liverpool midfielder Nuri Sahin, and striker Burak Yilmaz, who should get them into the play-offs.
(2nd - QUALIFY)
HUNGARY:
Balazs Dzsudzsak (try saying that when drunk!) is the centrepiece of an otherwise lacklustre team of not so magnificent Magyars.
(4th)
ROMANIA:
Romania finished 3rd in their Euro 2012 qualifying group, but their stock has fallen considerably. Attacking midfielder Gabriel Torje and rising starlet Gheorghe Grozav should be able to move them back up this time.
(3rd)
ESTONIA:
Experience is prevalent in the Estonian side, but 125-cap striker Andres Oper's best days are behind him, and the same can be said of his team-mates.
(5th)
ANDORRA:
Picking up at least one point should be the aim for veteran defender Oscar Sonejee and co, who are used to being whipping boys.
(6th)
Say hello to Xherdan Shaqiri and Switzerland's bright young hopes.
GROUP E
NORWAY:
Norway may be top seeds in this group, but it's a very competitive one and I don't see the Drillos qualifying. Egil Olsen's team is in a transitional phase, with players like Morten Gamst Pedersen gradually making way for up-and-comers such as Markus Henriksen.
(3rd)
SLOVENIA:
A lack of potency in attack, thanks to the retirement of Milivoje Novakovic, is Slovenia's biggest threat to missing out on Brazil. But there's plenty of hope in youngsters like midfield man Jasmin Kurtic for the two-time World Cup qualifiers.
(2nd)
SWITZERLAND:
I am so looking forward to watching Ottmar Hitzfeld's Swiss team reach its full potential. Xherdan Shaqiri has been touted as a future superstar, and Granit Xhaka as possibly the best Swiss player ever, and frontman Eren Derdiyok is approaching his best form at the age of 24.
(1st - QUALIFY)
ALBANIA:
Former Sunderland midfielder Lorik Cana captains an Albanian side that could scare some of their supposed 'bigger' opponents on their day.
(4th)
CYPRUS:
The Cypriot league is flourishing, but the same can't be said for their almost neglected national team players, like the legendary Michalis Konstantinou.
(5th)
ICELAND:
Iceland are expected to finish bottom (but certainly not pointless) in this group, although they have a real talent in 22-year-old striker Kolbeinn Sigthorsson.
(6th)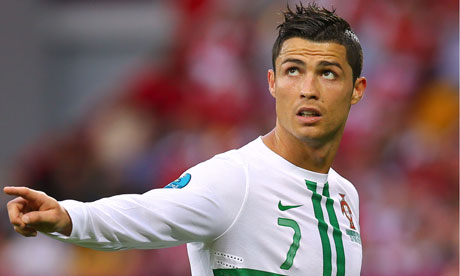 "Is this the way to Brazil?" asks Cristiano Ronaldo.
GROUP F
PORTUGAL:
Thanks to their performances in Poland and Ukraine, we now know that Portugal are NOT just "Cristiano Ronaldo and ten mates". The free-scoring stepover superstar is backed up in a ferocious attack by Nani, and Pepe is at the heart of a sturdy defence built by former holding midfielder Paulo Bento.
(1st - QUALIFY)
RUSSIA:
Russia are capable of going through automatically, and Fabio Capello could do a better job with them than he did with England. Hopes will be pinned on Alan Dzagoev, who was brilliant at Euro 2012, and forward Aleksandr Kerzhakov, who was not.
(2nd - QUALIFY)
ISRAEL:
Often on the cusp of qualifying without taking that next step, Israel's story is unlikely to be rewritten for 2014. As always, their main stars are Premier League veterans Tal Ben Haim, who nearly killed Portsmouth, and Yossi Benayoun.
(3rd)
NORTHERN IRELAND:
Norn Iron are tumbling down the FIFA rankings, and Michael O'Neill's team - seemingly too dependant on an in-form David Healy - won't get close to qualification.
(4th)
AZERBAIJAN:
Araz Abdullayev sums up Azerbaijani football - at 20, he's about as young as his nation, and is still a long way short of what he's capable of.
(5th)
LUXEMBOURG:
Whisper it, because Eric Hoffmann and Luxembourg might not finish bottom this time after some recent encouraging results... but don't bet on it!
(6th)
Greece should get through if they avoid too many of these.
GROUP G
GREECE:
Greece are a long way from their best days, at Euro 2004, but can they still make their struggling compatriots proud. Sokratis Papastathopoulos and young Kyriakos Papadopoulos are at the heart of a sometimes chaotic defence, but coach Fernando Santos has the highly-rated Sotiris Ninis in his midfield.
(1st - QUALIFY)
SLOVAKIA:
Italian-based midfielder Marek Hamsik is the superstar of a Slovak team that is hoping to qualify for back-to-back World Cups. But despite the presence of Martin Skrtel in a stable defence, they may just be edged out.
(3rd)
BOSNIA & HERZEGOVINA:
Bosnia have been so close to qualification for the last two major events before running into Portugal in the play-offs. The goals of striker Edin Dzeko and attacking midfielder Zvjezdan Misimovic should get them to that stage again.
(2nd)
LITHUANIA:
Former Hearts midfielder/diving cheat Saulius Mikoliunas is the star attraction in a team short of ability if not experience.
(4th)
LATVIA:
If Maris Verpakovskis and his team can repeat their heroics of qualifying for Euro 2004, I would be absolutely amazed.
(5th)
LIECHTENSTEIN:
Things were looking up for goalkeeper Peter Jehle and Liechtenstein not too long ago, but now they're back to being small fish in a big ocean.
(6th)
Last chance for England's Steven Gerrard and the golden generation.
GROUP H
ENGLAND:
Roy Hodgson must learn the lessons of this summer if England are to succeed in Brazil, although getting there shouldn't be a problem. This is perhaps the last chance that captain Steven Gerrard and ex-skipper John Terry will have of lifting a major trophy, and as ever, the Three Lions will turn to Wayne Rooney for goals.
(1st - QUALIFY)
MONTENEGRO:
One of the most promising teams in international football, Montenegro will surely make a major tournament soon... but not this time. When the Falcons want goals, they depend too heavily on Stevan Jovetic and the genuinely world-class Mirko Vucinic.
(3rd)
UKRAINE:
Anatoliy Tymoschuk is now the elder statesman of Ukraine following on from Andriy Shevchenko's retirement. Oleh Blokhin is bringing through younger talent such as Yevhen Konoplyanka, but will still be optimistic about qualifying.
(2nd)
POLAND:
Poland have an army of very good goalkeepers like Wojciech Szczesny, although that will obviously not be enough for the White Eagles.
(4th)
MOLDOVA:
Good luck identifying any of captain Alexandru Epureanu and his squad-mates, who are about as good at football as they are at tennis.
(5th)
SAN MARINO:
To sum San Marino up, I'd quite happily take bets on how many goals will be scored past the hapless Aldo Simoncini during the qualifying campaign.
(6th)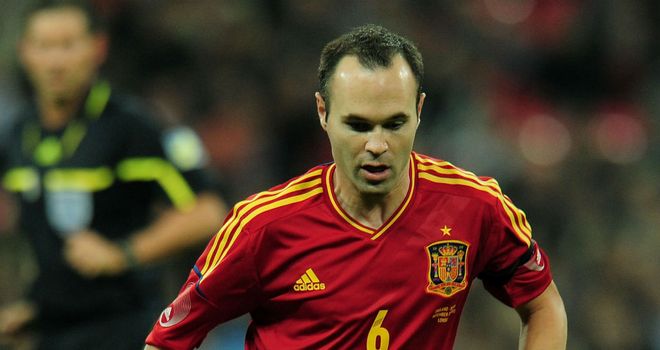 Can the star of Euro 2012, Andres Iniesta, shine yet again for Spain?
GROUP I
SPAIN:
Two Euros and one World Cup without reply for La Furia Roja make them the indisputable world number ones. Vicente del Bosque has a seemingly endless supply of talent to select - Andres Iniesta, David Silva, Iker Casillas, we know all about these players, and we know that they will definitely be contenders in Brazil.
(1st - QUALIFY)
FRANCE:
Didier Deschamps must pick up the pieces after France fell apart again. The former captain would love the current skipper, keeper Hugo Lloris, to consistently stop goals and Karim Benzema to regularly score them to secure qualification.
(2nd - QUALIFY)
BELARUS:
Belarus are perhaps the team that will come closest to even ticking the group's big two. Their best players are former Blackpool mirage of a centre-forward Sergei Kornilenko and ex-Brazilian midfielder Renan Bressan.
(3rd)
GEORGIA:
Teenager Jano Ananidze is the new star of Temuri Ketsbaia's crop of players, whose aim should be to avoid finishing bottom.
(5th)
FINLAND:
New Ajax defender Niklas Moisander must shore up the Finnish back line if they're to avoid dropping from their lowest ever FIFA ranking.
(4th)To summarise, here are the 13 European teams that TDTR has tipped to qualify for World Cup 2014:
Belgium
,
Denmark
,
England
,
France
,
Germany
,
Greece
,
Holland
,
Italy
,
Portugal
,
Russia
,
Spain
,
Switzerland
,
Turkey