When he was young: Rooney scores his first senior goal.
A football star was born 10 years ago today, on 19 October 2002.
It was the closing stages of a Goodison Park meeting between Everton and the reigning Premier League champions, Arsenal, who had been unbeaten in their last 30 league matches. The score was 1-1 when a 16-year-old apprentice skilfully controlled a long ball from Thomas Gravesen, turned around and moved forward before smashing a shot which swerved into David Seaman's top-right corner.
The Gunners' unbeaten run was up in smoke, and Everton victorious thanks to their new local hero.
Commentator Clive Tydlesley told us to
"Remember the name... Wayne Rooney!"
We certainly could not forget it, and a decade on, Rooney is one of world football's biggest names, a millionaire many times over. But when he became the Premier League's youngest goalscorer at 16 years and 360 days old (a record since beaten by fellow ex-Evertonian James Vaughan), he was earning just £80 per week.
He had made his senior debut for Everton two months earlier against Tottenham Hotspur, and some aspects of his first season would be signs of things to come.
He won the BBC Young Sports Personality of the Year award in December 2002, but later that month received his first red card for a poorly-timed challenge on Birmingham City's Steve Vickers. That goal against Arsenal would be the first of eight in his debut campaign, as an unheralded Everton side came close to qualifying for Europe.
The young Scouser would also pick up a few nicknames. His first such one, 'Roonaldo', didn't really catch on and he instead became 'Wazza' after earning comparisons to Paul Gascoigne. Nowadays, his surname is idiotically shortened to 'Roo' by the tabloid newspapers, and some people refer to him by the name of an animated ogre voiced by Mike Myers.
Whatever you called him, you couldn't deny that there was something about him. After a difficult second campaign in which he scored nine league goals for the Toffees, despite them battling against the drop, the 18-year-old became hot property. At the end of August 2004, he became world football's most expensive teenager by signing for Manchester United for around £25million.
His debut for United went into club folklore. On 28 September, he scored a hat-trick and set up a fourth goal as the Red Devils thrashed Fenerbahce 6-2 in the UEFA Champions League. A month later, he brought an end to Arsenal's 49-game unbeaten league record and won the 2004/2005 PFA Young Player of the Year award, an accolade which he would retain the following season.
2005/2006 was Rooney's best campaign to date. He scored 16 league goals for United, and won his first major trophy in the form of the League Cup, but broke his metatarsal against Chelsea, an injury which put his place in England's World Cup squad at risk. In the end, he did take part at the World Cup - and things went well for him as I'll explain later.
The goals continued to flow for Rooney, as he took home the 2010 PFA Player of the Year award, and helped United to win three successive PL titles, a Champions League crown and a FIFA Club World Cup, although the FA Cup has always eluded him.
The closest he got to winning the PL Golden Boot was in 2009/2010, when his 26 goals were trumped only by Didier Drogba of Chelsea. He would beat that total two seasons later, when he found the net 27 times. In the campaign prior to that, he won his fourth league championship, scoring THAT overhead kick against Manchester City in the process.
Although mainly used as a forward, Rooney's long-term career at Old Trafford could be as a midfielder. Rooney has been playing more of a team role in recent years, and when he loses his sharpness in front of goal, he could easily convert into a playmaker.
His club career has been glittering, but his international career less so. His England debut came in an infamous defeat to Australia at Upton Park in February 2003 when he was 17 years and 111 days old, making him the Three Lions' youngest player before Theo Walcott came along. Later that year, he scored his first international goal against Macedonia.
UEFA Euro 2004 was where Rooney announced himself to the world, scoring four goals in the Group Stage. However, in the Quarter Final against Portugal, Wayne was injured, and England went out. Had he been fit, they might have got through, but that's neither here nor there.
Euro 2004 would be Rooney's best international competition to date. He had another nightmare against Portugal in the 2006 World Cup, getting sent off for a stamp on Ricardo Carvalho and again contributing to the downfall of Sven Goran Eriksson's men. He went scoreless in that tournament, and also in the 2010 WC, despite scoring nine goals during the qualifiers.
Euro 2012, which Rooney missed the start off after kicking out at Montenegro's Miodrag Dzudovic, saw the English talisman find the net just once.
So despite having an impressive goalscoring tally at international level of 32 goals in 78 games, not too many of those goals have come in major matches. That said, you can't knock that record, and Rooney could potentially get close to - if not beat - Sir Bobby Charlton's all-time record of 49 England strikes.
Like his celebrity, Wayne's relationship with his childhood sweetheart Coleen has endured and strengthened during the past decade, even though as a teenager he did have relations with, ahem, mature ladies of the night. The pair married in 2008, their first child Kai was born a year later, and a second is on the way.
After a decade of Rooney-mania, have we already seen the striker at his best? At club level, I'd say yes, but at international level, he still has potential to fulfil. It would be a surprise if he didn't finally score his first World Cup goal at Brazil 2014 or become the first Englishman to reach a half-century of international goals.
At 27 years of age on Wednesday, there's still plenty more to come from Wayne Mark Rooney.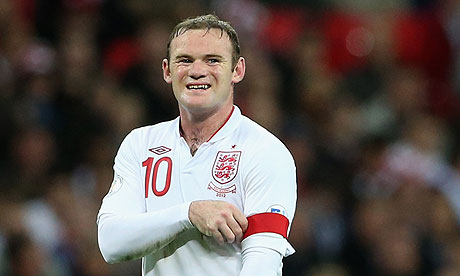 A more mature Shrek captains England against San Marino last week.
WAYNE ROONEY'S CAREER RECORD TO DATE
League:
322 apps, 144 goals
(253 apps, 129 goals for Manchester United)
.
FA Cup:
30 apps, 14 goals
(26 apps, 14 goals for United)
.
League Cup:
18 apps, 6 goals
(12 apps, 4 goals for United)
.
Europe:
71 apps, 31 goals
(all for United)
.
Other Competitions:
7 apps, 4 goals
(all for United)
.
CLUB RECORD:
448 apps, 199 goals
(Cards: 86 yellow, 3 red)
.
ENGLAND RECORD:
78 caps, 32 goals
(Cards: 10 yellow, 2 red)
.