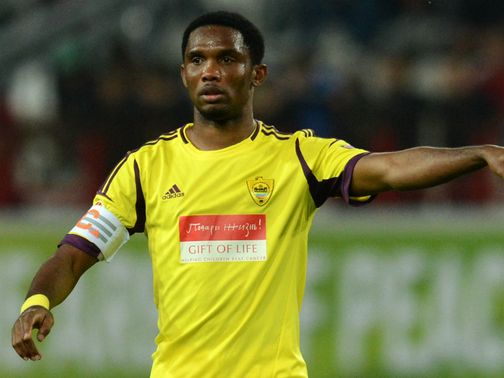 Samuel Eto'o leads the line for big-spending Russian club Anzhi Makhachkala.
Tonight, Liverpool will take on a team with probably one of the longest names in European football in the UEFA Europa League.
They are Anzhi Makhachkala, or to give them their full name, big-spending Russian club Anzhi Makhachkala. And because they are managed by a former Chelsea boss, the English press like to call them Guus Hiddink's big-spending Russian club Anzhi Makhachkala.
As the name suggests, big-spending Russian club Anzhi Makhachkala are very rich - or "super-rich" if you're an 18-year-old college student who thinks The Only Way Is Essex is essential TV viewing. They were the subject of a takeover by billionaire Suleiman Kerimov in January 2011, and a month later announced the eyebrow-raising signing of former Brazil full-back Roberto Carlos. The legendary free-kick specialist is now retired from playing and is currently the team director.
The spending would really begin, though, in the summer. Cameroon striker Samuel Eto'o was bought from Inter Milan for around £21million, and Kerimov handed him a contract worth a ludicrous £345,000 per week - that's over £2,000 per hour!
Since then, he has been followed by ex-Chelsea defender Yury Zhirkov, the prolific Ivorian striker Lacina Traoré, and two more Premier League alumni in Lassana Diarra and Chris/topher Samba.
So, what attracted these star names to big-spending Russian club Anzhi Makhachkala, and life in Dagestan?
Well, er, for a start, they don't actually live in Dagestan. Oh no. Dagestan is a far too dangerous and volatile place to live in, and it also shares a border with Chechnya, so instead, Eto'o and co live and train in Moscow.
They only travel to Makhachkala to play in home games at the 15,000-capacity Dynamo Stadium - that's domestic home games ONLY, as UEFA ordered them to play their home Europa League ties in Moscow's Lokomotiv Stadium.
So far, big-spending Russian club Anzhi Makhachkala's rise to prominence has been a bit similar to Manchester City's in some ways. In 2010, the season prior to the takeover, Anzhi (who we should really call 'Anji' because that's what their name officially is in English) came 11th in the Russian Premier League and were within three points of relegation.
In 2011/2012 - the season in which Russian football began to switch to the traditional winter-summer calendar used in most European leagues - Anzhi broke into the top half and then qualified for Europe with a 5th-placed finish. During the campaign, they went through three different managers before plumping for a big-name fourth in ex-Russia boss Hiddink.
Almost halfway through the 2012/2013 season, big-spending Russian club Anzhi Makhachkala are, not unlike City, flying high at the top of the table.
Also, most of Russia - particularly Moscow - now hates them and their endless supply of cash. Where have we heard that before?
Kerimov is hoping to continue their rise up the football echelons by building a 45,000-capacity ground in Makhachkala, but whether they'll be able to fill it for UEFA Champions League matches is debatable. Obviously, Dagestan is not the most secure venue for a major sports event, and big-spending Russian club Anzhi Makhachkala will surely fall foul of UEFA's Financial Fair Play rules, as the gate receipts and TV rights they get are pitiful compared to what the club pays its players weekly.
So they're just like Manchester City, then.
We'll be hearing more about big-spending Russian club Anzhi Makhachkala in the future, whether they storm to victory in the 2015 UEFA Champions League Final or go bankrupt with debts the size of Kyrgyzstan's GDP.
P.S. A word of warning for Mr Hiddink. If things start to go pear-shaped for big-spending Russian club Anzhi Makhachkala, and a certain Portuguese coach struggles in London, trigger-happy Kerimov might decide to have another change of manager.
That said, Luis Andre de Pina Cabral e Villas-Boas' big-spending Russian club Anzhi Makhachkala is a ridiculous name for a football team, and LADPCEVBBSRCAM doesn't exactly role off the tongue, either.

LADPCEVB - the next manager of big-spending Russ.. okay, I'll stop now.