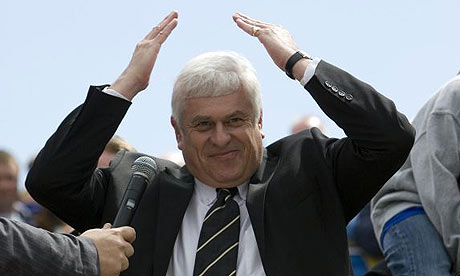 Peter Ridsdale's hands shouldn't be allowed near a club's bank account again.
Peter Ridsdale has been banned from being a company director for seven-and-a-half years - and it's time that he was kicked out of football for at least as long.
Ridsdale is expected to continue in his role as non-executive chairman at Preston North End, his fifth club. However, after what he did at his previous four, especially Leeds United, he should never be allowed anywhere near a football club again.
The ban, which disqualifies him from being a director or managing a company until 2020, came about because a management form of which he and his wife were co-directors, WH Sports Group, went into liquidation three years ago. WHSG owed more than £440,000 in unpaid tax and VAT.
At the time, he was the chairman of his third club, Cardiff City, leaving them just like he did with his other teams - on the brink of financial meltdown.
The story of Peter Ridsdale, professional club-wrecker, began in his native Leeds in 1997, when he became chairman of Leeds United. His policy of spending big initially brought success to Elland Road. In 2000, they reached the UEFA Cup Semi Finals and finished 3rd in the Premier League. That brought them the even greater riches of qualification for the UEFA Champions League.
They got all the way to the semis again before being dumped out by Valencia. However, it emerged that Leeds had borrowed £60million against future gate receipts. In simpler terms, they were effectively gambling on qualifying for the Champions League every season and making an even bigger fortune. But they missed out on the competition for the next two seasons, and then the wheels fell off.
United spent millions upon millions on big-name players, not to mention tropical fish, and by 2003, Leeds had debts of a frankly unbelievable £103million, which would still be considered staggering nine years on. With the club fighting a desperate battle against relegation (which they would ultimately lose the following year), Ridsdale scarpered.
He resurfaced at another Yorkshire club, Barnsley, who had themselves been on the brink of liquidation. After one year as chairman, he resigned in December 2004, with the club nowhere nearer to being in the black. The new chairman refused to criticise Ridsdale, despite the Tykes needing £1million just to survive until the end of the season.
Ridsdale moved on to Cardiff City, eventually taking over from the just-as-controversial Sam Hammam as chairman in 2006. At the time, the Welsh outfit owed £35million and were losing £10million every year according to the man himself.
Under Ridsdale, the Bluebirds chased the Premier League dream, spending millions on players and a new stadium fit for a top-flight club. Their big gamble could have paid off on 22 May 2010 - the date of the Championship Play-Off Final. Cardiff took the lead twice in the first half, but ultimately, Blackpool won 3-2 and they were in the big time.
That was to be Ridsdale's last game at Cardiff, because shortly afterwards, he sold the club to a Malaysian consortium. The club was still in an enormous amount of debt and was battling against a fifth winding-up order when he departed.
Towards the end of 2010, he was back, this time as an advisor - and later acting chairman - at financially-stricken Plymouth Argyle. To be fair to him, he couldn't have done much worse damage to a club that was literally hours if not minutes from being wound up before James Brent took over early in the 2011/2012 season.
On 6 December 2011, Ridsdale became chairman of Preston North End, who were in their first season in League One after a lengthy spell in the Championship. Yet again, here was a club that was saddled with debt, and he has done hardly anything to improve the situation. That said, he couldn't become a director or have too much involvement on the financial side of things because of the risk of being disqualified by the Insolvency Service, which of course he has now been.
A week into his Deepdale tenure, Ridsdale sacked manager Phil Brown, eventually replacing him with the fiery
Graham Westley
. The whole situation at Preston made them one of my tips to be relegated to League Two, but so far, they sit 7th - on the cusp of the League One play-off zone.
Ridsdale cannot, and never intended to, become a director at Preston North End, but executive or no executive, he ruined three clubs financially and worsened things at two others. If either the Football Association or the Football League has the power to ban anyone from holding office at a member club for life, like the Scottish FA did with former Rangers owner Craig Whyte, they should do it for him.
Any fit and proper person test in English football should be more thorough than it already is, to ensure that people like Peter Ridsdale aren't ever allowed back into the sport. And I mean EVER.