In today's edition of Weekend Reflections, we ask whether Queens Park Rangers should sack their manager, discuss Tottenham Hotspur's top-four credentials, and look at football's model professionals.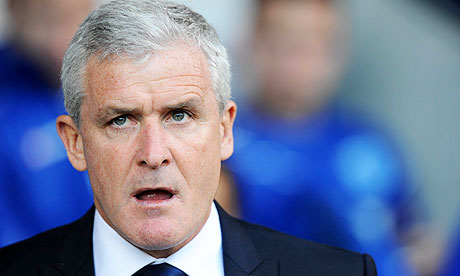 Park + Granero + Cesar = 2 points? DOES NOT COMPUTE.
Sparky's a blown fuse
This summer, Queens Park Rangers secured a number of transfer coups by signing Park Ji-Sung, Esteban Granero and Julio Cesar amongst others.
Those three top-class players should not be playing for a team that is rock bottom of the Premier League with no wins from seven games. Of course, it does take time for a squad to settle once several new players have been added to it, but QPR have already lost to Swansea City and West Ham United at home, and failed to beat Norwich City on their travels. They should have at least got one win from those three matches.
Their latest disappointment came at West Bromwich Albion, who maintained their impressive start to the season with a 3-2 victory.
Time after time, the Rangers defence was cut open, and it took just five minutes for James Morrison to nod West Brom into the lead. Morrison helped to increase that advantage in the 22nd minute, as Anton Ferdinand made a hash of clearing his cross, giving Zoltan Gera a gift-wrapped goal.
Ferdinand was one of the weak links in a far-from-solid defence which also had centre-half Clint Hill acting as a makeshift left-back. Don't get me wrong about QPR, though. Attacking-wise, they were certainly competitive, with Adel Taarabt scoring an excellent first-half goal and Granero opening his QPR account after Youssouf Mulumbu ensured victory for Albion.
If such a talented crop of individuals, who have the makings of a very decent team, can underperform to this extent, you have to say that the manager must take the blame.
QPR have already gone through a lot of managers during their time under foreign ownership. Hughes is the seventh permanent manager at Loftus Road in five years, but even though he hasn't completed a calendar year, his record reads Played 25, Won 6, Drawn 4, Lost 15. Forget Champions League, this form is basically a free ticket into the Championship.
Hoops owner and prominent Twitter user Tony Fernandes has reiterated that he will not sack the former Blackburn Rovers and Manchester City boss, and although his faith in Sparky is admirable, it is more likely misguided.
When Harry Redknapp is on the market, any underperforming Premier League or Championship team - particularly from in or around London - must be thinking about whether a change of scenery is needed.
QPR are the perfect fit for Redknapp - cosmopolitan but with plenty of English players, exciting, full of talented players, and top-four potential. Maybe Fernandes should really think about whether Hughes is still the right manager before he misses out on the in-demand 65-year-old.
Happy days for Jermain Defoe and Steven Caulker (hugging).
Villas-Boas earning his Spurs
Andre Villas-Boas faced a big job when he agreed to take the place of Harry Redknapp at Tottenham Hotspur.
After a shaky start, Villas-Boas seems to have got a hold on things now. Last week's victory over Manchester United gave them new-found belief, and they were always going to come out on top in yesterday's meeting with a dishevelled Aston Villa.
Prior to kick-off, the Portuguese took a big gamble by ending Brad Friedel's run of 310 consecutive Premier League games (stretching all the way back to 2004, when Villas-Boas was just 27) and giving Hugo Lloris his first PL start. The France keeper kept a clean sheet, although he didn't have to do a great deal of work against Villa, who surprisingly didn't play Darren Bent from the start.
The manager praised young defender Steven Caulker as a potential England international earlier in the week, and his faith was repaid after 58 minutes. Jermain Defoe's shot at goal appeared to be going wide before it struck Caulker to gift the former Swansea City loanee his maiden PL goal.
Nine minutes later, Aaron Lennon (not Danny Lennon as an erroneous Skytext report named him) capitalised on a mistake from Villa's Joe Bennett and fired into the far corner.
A 2-0 win moved Spurs up to 5th in the table. Can they stay there? Of course they can, especially with Defoe going great guns and Jan Vertonghen adding a bit more steel to their defence.
Villas-Boas was a risky appointment for Tottenham. Nobody questioned that he was a smart young coach with a bright future, but one of the fears was that he might clash with Gareth Bale like he did with Chelsea's old guard. In fact, Bale is playing just as well under 'Avy Bee' as he did under 'Arry. So far so good, then.
The next Premier League game on the itinerary for Tottenham is on 20 October against... Chelsea. Win this one, Andre, and you'll really silence the critics.
Hahahahaa, @TheRealAC3 really is a #prizetw*t.
The professionals
The 1950s was not a good decade for professional football. This was the decade in which Tom Finney labelled the FA as a "bunch of right buggers", Stanley Matthews stormed out of Bloomfield Road in a huff after being substituted, and Jackie Milburn made a dive that would make Bob Clotworthy proud.
No, wait, I'm getting confused. The above three were all model pros, which is more than can be said for Ashley Cole, Mario Balotelli and Luis Suarez.
Today, I'll look at all three in turn. First of all, I'll have to start with Ashley Cole, who for some reason is
not particularly well-liked by The Sun
. On Friday, Chelsea's left-back brandished the FA as a #bunchoftw*ts on Twitter. The fact that he could say that four days before being due to meet Prince William, President of the Bunch of Tw*ts, is quite frankly #amazeballs.
And then, after Alan Shearer called for him to be banned on Match of the Day, Cashley retweeted a message saying,
"Alan Shearer says @TheRealAC3 needs to be banned for comments. I want his opinion on bans for kicking Neil Lennon in the head. #GlassHouses."
What a choc-ice, as Rio Ferdinand might say.
Needless to say, the Bunch of Tw*ts have now slapped him with a misconduct charge, and are set to ban him from England's World Cup qualifier against
a bunch of no-hopers
on Friday.
Like John Terry, Cole has done his level best to drag Chelsea's name through the gutter. Roman Abramovich is an owner that cares a lot about image, and it remains to be seen how long he can tolerate the troublesome twosome.
Now, how about we discuss Manchester City's enigmatic Italian striker Mario Balotelli? After being substituted against Sunderland, he marched straight down the tunnel - shunning his manager and team-mates - and in double-quick time, he was out of Eastlands and on a plane bound for Italy.
Balotelli, it seems, is so high-maintenance that City might have to hire a psychiatrist for his psychiatrist. He is, of course, a wonderful striker when he's at his best, but a run of five goals in his last 16 appearances indicates that he isn't.
Cristiano Ronaldo isn't exactly a dream to work with, but his record of scoring more than a goal every game justifies the extra work Real Madrid have to do for him. Balotelli does not justify that, and manager Roberto Mancini (who has a love-hate relationship with his compatriot) has a big call to make.
Then, there's the casual racist Luis Suarez. The Liverpool forward's crystal-clear dive in the box against Stoke City proved once again how pathetic he can be.
Stoke manager Tony Pulis called for the Uruguayan to be banned, saying,
"I've been on about and banging the drum about people who fall over and in one incident in the second half, it's an embarrassment. The FA should be looking at this. Give him three games and he will stop falling over."
I'd be interested to hear what Pulis had to say about his centre-back Robert Huth, who stamped on Suarez during the first half. But back to Suarez, and how to solve a problem like him.
Should footballers be banned retrospectively for diving? Yes, but all instances should be treated the same. For example, it's pointless to give a Liverpool player a three-match ban for diving if you're only going to suspend a Chelsea player who does the same for one match.
Or what about imposing a rugby-style sin bin? Make the play-actors stew for 10 or 15 minutes before letting them back into the game.
Whatever the punishment, the FA should take a hardline stance on diving sooner or later.