Another Premier League weekend is over, and once again, a non-footballing matter dominates the agenda. As well as discussing the Kick It Out T-shirt boycott, The Daily Transfer Request will today look at the encouraging signs coming out of Queens Park Rangers, and Southampton's shambolic defence.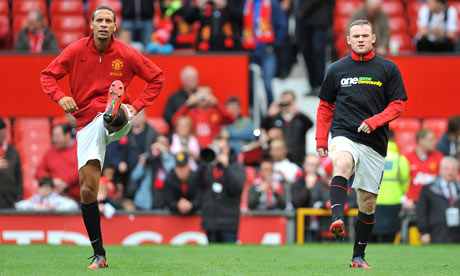 Here's the spot the difference puzzle in Manchester United's fanzine.
You can't silence free speech
This Saturday, Sir Alex Ferguson showed just what sort of person he is.
The Manchester United manager was far from happy that Rio Ferdinand decided against wearing an anti-racism 'Kick It Out' T-shirt prior to United's meeting with Stoke City. Ferdinand was one of several players to join Reading's Jason Roberts in boycotting the campaign, which has been accused of not doing enough to combat racism.
Ferguson called the decision "embarrassing" and said that Ferdinand "let us down" before saying that he will deal with the 33-year-old.
Who does Ferguson think he is to condemn Ferdinand for not wearing a T-shirt for a campaign that he apparently does not support? Surely he's heard of free speech - and that's what the former England defender is advocating by standing by his views! Then again, someone who has held the same lofty position for 26 years might have forgotten a bit about democracy.
The Professional Footballers Association stood by Ferdinand yesterday, with chairman Clarke Carlisle saying,
"We will definitely monitor the situation very closely and make sure Rio Ferdinand's rights as a human being, never mind as a footballer, are not undermined in this position.
"Everyone has a right to free speech – just like you can't coerce anyone into shaking hands, you can't make somebody wear a T-shirt – although I do personally believe that joining in with the campaign is the best way forward."
My personal view on the matter is this. These anti-racism T-shirts always seem to crop up after a major incident has taken place, and it's all well and good wearing something with the slogan "One game, one community" on it, but what's the real point in wearing them?
If a BNP-supporting teenage kid sees a few footballers wearing shirts saying "One game, one community", that won't turn them away from xenophobia, likewise seeing someone in a Fred Perry polo won't encourage them to play tennis. Real action, like custodial sentences for abusers, and competition bans for nations and clubs that have large groups of racist supporters, will do the job.
I sincerely hope that Kick It Out do more to combat racism than just handing out these garments to players. Why don't they actually put pressure on the football authorities to do what it says on their tin - and kick racism out of football?
QPR winger David 'Junior' Hoilett was magnificent against Everton.
QPR finding their range
In my last Weekend Reflections article, I suggested that Queens Park Rangers' poor start to the season was down to their manager, Mark Hughes.
Having watched them play Everton last night, I still believe that. In what was a very intriguing battle at Loftus Road, QPR looked the better side and should have won, but ultimately, they could only manage a 1-1 draw.
It all started so well for Hughes's men, as they scored from a counter-attack in the second minute. Junior Hoilett stormed 60 yards down the pitch before firing a low shot in off Leighton Baines. The Canadian winger would be a thorn in Everton's side with his pace and technical skill.
Hoilett's strike partner, Bobby Zamora, was unlucky not to score a second goal five minutes later, as he only just failed to connect with a low Armand Traore cross.
In the 33rd minute, though, QPR's defensive frailties that have greatly let them down earlier in the season did so again. While defending a Leighton Baines free-kick, the Hoops failed to defend against the aerial threat that Sylvain Distin posed, and the Frenchman's bullet header from Baines's delivery hit the post before going in off the unfortunate Julio Cesar's back.
Moments later, another Everton defender - Phil Jagielka - was given too much room when QPR defended a corner, and the England international thumed a header against the crossbar. After that, the home defence settled, and Cesar would make a crucial save from Nikica Jelavic in the second half.
However, Rangers will feel that they should've won. Everton midfielder Steven Pienaar was sent off after a silly spell in which he conceded a number of needless fouls, and QPR could easily have won a late penalty for Seamus Coleman's mistimed challenge on Hoilett.
I've said something along these lines before and I'll say it again. QPR - with a world-class keeper in Cesar, two excellent creative midfielders in Esteban Granero and the albeit inconsistent Adel Taarabt, and a bargain buy in Hoilett - are more than good enough to avoid relegation. They just need a new defence, and perhaps another change in manager.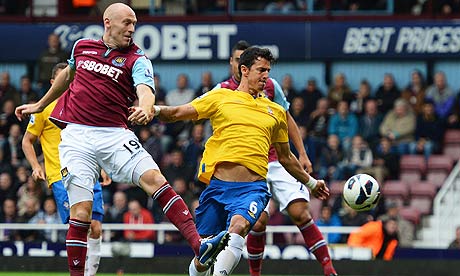 Not only did Jose Fonte handball, but his shirt was without a sponsor.
Saints' defenders from hell
QPR's backline is certainly not the most watertight, but it's almost impenetrable when compared to that of Southampton.
Their 4-1 defeat at West Ham United means that they have conceded 16 goals in four away games. Overall, their tally is 24 conceded in eight.
Southampton had more possession than their opponents during the match, but when they did concede the ball, it was more often than not in front of their own goal. They didn't particularly want to do that against a West Ham team who on the day were at their clinical best - out of nine shots on goal for Sam Allardyce's men, eight were at least on target.
It was a particularly good day for West Ham's local boy done good Mark Noble. The Hammers midfielder scored twice, with his second goal coming from the penalty spot after Jose Fonte - perhaps the best of Southampton's woeful defenders - handled the ball.
The Saints do have some great attacking talents in Adam Lallana and Rickie Lambert. If the table was sorted by goals scored, Southampton would be in upper mid-table with 13. As much as I admire Nigel Adkins' faith in his attacking philosophy, though, he needs the substance to go with the style.
Adkins perhaps spent too much of his transfer kitty in the areas where he didn't need to make a great deal of improvement. Nathaniel Clyne and Maya Yoshida were their only recruits for the defensive line, and neither has started life at St Mary's in particularly great form. Adkins could have done with another, more solid centre-back to go with Yoshida, especially as Jos Hooiveld has been exposed as completely incompetent at this level.
The manager also signed three goalkeepers, but none of them are of the standard required in the Premier League. Former Celtic shotstopper Artur Boruc had a pretty poor debut on Saturday, youngster Paulo Gazzaniga spent last season with Gillingham in League Two, and USA youth international Cody Cropper has to date made zero first-team appearances. The one keeper that the Saints already had, veteran Kelvin Davis, was never going to be reliable in the top-flight.
Overall, then, the south coast outfit have a defence to rival that of the 1993/1994 Swindon Town team that conceded 100 goals in their only PL campaign. At their current rate, Southampton will certainly go close to reaching that unwanted milestone if not surpass it.
Blackpool's entertaining Premier League journey ended after just one season, and it looks like the Saints' dream will be similarly short.