It just wouldn't be a Premier League weekend with another talking point to get angry about. As well as discussing Mark Clattenburg's man-of-the-match display for Manchester United, The Daily Transfer Request today aims fire at Stephane Mbia, Stoke City, Sunderland and the British media in general.
"12 against 9? Now that isn't fair, Mr Clattenburg!"
Clattenburg: The new Howard Webb
It is a well-known myth that referees support Manchester United, and yesterday evening, Mark Clattenburg did nothing to silence those who believe that.
Clattenburg produced one of the most partial refereeing displays in recent Premier League history as he robbed Chelsea of at least one point at Stamford Bridge. After their 3-2 defeat, even some of the Blues' detractors were beginning to feel sympathy for Roberto Di Matteo's side, who until then were unbeaten in the league season.
The first half came and went largely without controversy. The Red Devils stormed into a 2-0 lead after 12 minutes, but Juan Mata - once again a star player for Chelsea - pulled his team level with a spectacular free-kick just before half-time. Ramires would level the scores with a header early in the second period.
In the 63rd minute, Clattenburg dished out a red card to Blues defender Branislav Ivanovic for a professional foul on Ashley Young. Most of the specators at Stamford Bridge were far from happy with the referee, but that decision was the right one, which was more than could be said for another red card incident just six minutes later.
Chelsea's numbers were reduced to 9 when Fernando Torres received a second yellow card for an apparent dive. However, replays showed that United's Jonny Evans made contact with Torres. At best, Torres was a victim of his own reputation. At worst, this was a dreadful decision on Clattenburg's part.
Seven minutes later at the other end of the pitch, a shot from Rafael da Silva was turned in by his United team-mate Javier Hernandez from close range. Hernandez was shown to be offside when Rafael fired his shot, but the goal stood thanks to poor officiating, particularly from the linesman.
Clattenburg was subjected to a complaint by Chelsea midfielder John Obi Mikel, and he gave the Nigerian a booking. Watching the match on TV, I could only laugh in disbelief. Clattenburg has since been accused of racially abusing Mikel in the incident, and also aiming an insult at another Chelsea blue, possibly Mata.
When the young Durham official's Premier League career began, he was lauded as one of the brightest prospects in British refereeing, but then in 2005, he disallowed a clear Tottenham Hotspur goal against Manchester United (that incident kick-started the goal-line technology debate).
In a 2007 Merseyside derby, he upgraded a yellow card for Everton's Tony Hibbert to red after apparently taking the advice of Liverpool skipper Steven Gerrard. Clattenburg also served a lengthy suspension during an investigation into his business activities the following year.
If Clattenburg did racially abuse Mikel and Mata, that's the end of his refereeing career, end of story. And I for one would be among the first to celebrate seeing the back of football's newest 'celebrity referee'.
Stephane Mbia with the shirt he'll be selling on eBay in February.
Juste de passage
When Stephane Mbia signed for Queens Park Rangers, one of my first thoughts was, "This kid's going to be trouble."
I remember that, when he was at Rennes a few years back, the Cameroon midfielder publicly declared that
he wanted to play in the Premier League
. As it happened, he signed for Marseille rather than Arsenal or Everton. Mbia struck me as just another football mercenary who was only interested in signing for a big club for big money.
Mbia's certainly a very good player, and QPR must've thought that they'd secured a coup when he moved to Loftus Road in August. But on Saturday, he single-handedly cost his team-mates a potentially crucial point at Arsenal.
The situation was that it was 0-0 after 80 minutes. Then, after winning a free-kick when fouled by Gunners captain Thomas Vermaelen, Mbia senselessly kicked out at the Belgian, earning him a straight red card. Within four minutes, Arsenal won the game through Mikel Arteta, and QPR had lost again, despite an excellent team display, particularly from goalkeeper Julio Cesar.
Later on, Mbia did little to make up for his rush of blood by saying about his transfer in an interview,
"Marseille needed the money. So I thought why not if it is for their good and mine, but I would never have thought of coming here."
He added,
"I thought they were a Scottish club."
Mbia must have thought he was being transferred to Queen's Park OR Rangers... although if his display against Arsenal is anything to go by, Scottish Division 3 is exactly the right division for him!
Stephane Mbia seems to be another QPR player that is not really in it for the long haul. He's only in it for himself, hoping that he'll get a dream transfer to a really big club. He's just passing through, if you like.
Marc Wilson before the most exciting incident of Stoke vs Sunderland.
Exclusively live on The Grass Channel!
There are some very strange and obscure television channels cropping up on my Sky+HD box, and somewhere in the 880s, near the Pub Channel and Renault TV, there must be a station that just shows highlights of Stoke City and Sunderland matches.
I reckon it'd be called the Grass Channel, because watching those two teams play this season has been like watching grass grow.
On Saturday, Stoke and Sunderland fought out a 0-0 draw that will go down as one of the most memorable matches in history. Here are the highlights:
Stoke's Marc Wilson broke his leg.
I've still got the game on my Sky planner in case you're interested in watching 90 minutes of drama that would rival anything Samantha Womack has ever done in her career.
Despite having signed Adam Johnson during the transfer window, Sunderland are woefully short of creativity and attacking might, and that showed on Saturday, as Martin O'Neill's side didn't have a single shot on target in the whole game. Johnson has struggled to settle at his new club, Stephane Sessegnon is in horrendous form and Steven Fletcher looks like the only Mackems player who knows what a goal is.
Stoke had four shots on target, but their reputation as the Premier League's bad boys continues to grow. They conceded nearly twice as many fouls as their opponents, although at least they tried to win the match, rather than settle for a draw like the Black Cats did.
After nine games, Stoke and Sunderland have six draws each, and I'll be the first to congratulate them on finishing 11th and 12th respectively at the end of another season of mid-table mediocrity.
P.S. I've just noticed that Janine Self, previously of The Sun, now writes for the Daily Mail. Ian Wooldridge must be spinning in his grave.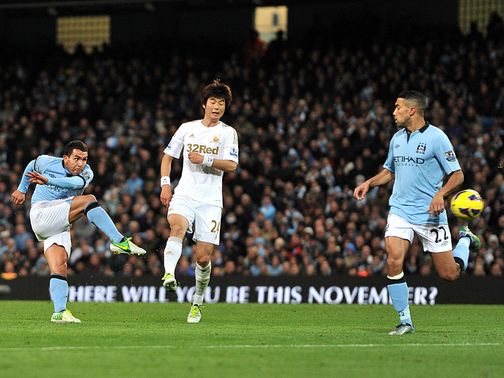 City won 1-0 - that's the City in blue, not the City in white.
A tale of one City
One of my pet peeves in terms of the football media is the way that they often refer to the Manchester clubs as just 'City' and 'United'.
When Manchester City beat Swansea City, all of the articles about the match saw the team names shortened to 'City' and 'Swansea' respectively. The media tried to rub out any reference to Swansea 'City' and almost insisted that the Welsh club was just called Swansea. In their eyes, there was only one City.
For example, the Mail on Sunday's reporter wrote,
"The only clear chance of a dire first half fell to Swansea when Michu burst behind City's backline and was only denied by (Joe) Hart's quick rush from goal and block."
This is confusing. We know that City in this case means Manchester City, but because Swansea are also called City, this can lead some people to scratch their heads and ask: Did Michu burst behind his own team Swansea City's backline?
Surely a better way to avoid confusion when Manchester City play against another City is to refer to Roberto Mancini's champions by one of their nicknames - the Sky Blues (which by the way they've nicked off Coventry CITY), the Citizens, or even Man City.
We've had similar problems when Newcastle UNITED, West Ham UNITED and Leeds UNITED have played Manchester United. Only one team was named 'United' in those matches - and it wasn't Newcastle, West Ham or Leeds.
Also, it's a bit like a politician talking about two eccentric overweight leaders, calling the London Mayor 'Boris' and the deceased Russian President 'Yeltsin'. It's not only confusing, but it's also borderline bias.
I today call on Britain's football journalists to address this issue, so that we no longer have to hear or read about 'Swansea vs City' and think about the same team playing against itself.