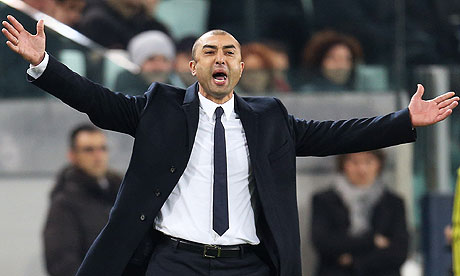 Roberto Di Matteo has been harshly sacked by trigger-happy Chelsea.
Lord Alan Sugar's club might be Tottenham Hotspur, but it seems like Chelsea's owner has bought his catchphrase: "You're fired!"
This morning, Chelsea manager Roberto Di Matteo was sacked by Roman Abramovich. That's right - just six months after leading the Blues to the FA Cup and their first ever UEFA Champions League title, the Italian has been deemed not the right man to take the club forward.
Di Matteo leaves Stamford Bridge with the Blues on the brink of an embarrassing Champions League exit. After being thoroughly outplayed last night by Juventus, who won 3-0 in Turin, the holders need to beat FC Nordsjaelland and hope that Shakhtar Donetsk defeat Juventus to get through the group. Otherwise, it's the Europa League for them in 2013.
This was the culmination of a bad run of form which has seen Chelsea win just two of their last eight matches. They haven't won any of their last four Premier League matches.
After 12 PL matches, Chelsea are 3rd in the table with 24 points - four behind champions and leaders Manchester City. To most title challengers, this is acceptable, as the season is a marathon rather than a sprint and there is still loads of time remaining. But if you're a certain Russian billionaire, your team might as well be in the relegation zone.
It is commonplace in a lot of European countries, like Italy and Abramovich's Russia, to sack a manager at the first sign of things going wrong and quickly replace them. Abramovich - along with Heart of Midlothian owner Vladimir Romanov - has brought this "I want it all and I want it now" culture to British football.
Every team will encounter peaks and troughs in a season. That's football. It's how managers handle the troughs that determines whether faith should be kept in them.
If Manchester United were run in a similar manner to Chelsea, Alex Ferguson would have been sacked at some point between late 1988 and early 1990. Instead of winning the league title many times over and two Champions Leagues in the last 20 years, United would probably now be managed by someone like Danny Wilson in League One.
I would not rule out the possibility of Chelsea sliding further down the table if their instability continues.
Roman's track record when it comes to replacing managers is unrivalled in the Premier League. He has gone through eight managers in nine-and-a-half years - Claudio Ranieri, Jose Mourinho, Avram Grant, Luiz Felipe Scolari, Guus Hiddink, Carlo Ancelotti, Andre Villas-Boas and Roberto Di Matteo. Five of those lasted less than a year.
In a similar way to Henry VIII's wives, you can remember Roman the Terrible's bosses like this: sacked, resigned, sacked, sacked, left, sacked, sacked, sacked.
The way that Di Matteo - the sixth boss to be dismissed by Abramovich - has been treated has been nothing short of despicable. He did make a few tactical faux pas, yes, but anyone who can overturn a 3-1 first-leg disadvantage in the Champions League last 16, and then beat Bayern Munich on their own turf in the Final deserves a lot of kudos rather than a P45.
Because of what he has done at Chelsea, and to a lesser extent West Bromwich Albion, Di Matteo should be able to walk into any PL club and demand a job. If Queens Park Rangers (who aren't exactly the most patient of clubs either) finally decide to get shot of Mark Hughes, they could make a far worse appointment than the softly-spoken former Italy midfielder.
Now that Di Matteo's done for, who will take the poisoned chalice that is the Chelsea manager's job? It's been widely publicised that Abramovich has been almost pleading Josep Guardiola to return from his year-long break in New York. If I were Pep, I'd tell Roman to shove his offer right up his popka.
Guardiola won practically everything possible as Barcelona boss, and the next logical step for him as a manager is either international football or the Premier League. If he were to go for the latter, rather than take over at Stamford Bridge and risk being axed after six months for drawing 0-0 at Norwich City, he should be more tempted to coach Arsenal or either of the Manchester clubs.
Should Guardiola see sense and reject Chelsea, the Blues are likely to turn to Rafael Benitez, who has been unemployed for about two years now. Benitez has a pretty decent Champions League track record, and although his league form isn't that hot, he is capable of getting the best out of £50million striker Fernando Torres, and we all know how much Abramovich loves Torres.
Former Liverpool gaffer Benitez could be offered a contract "on a short-term basis", which to most clubs is "until the end of the season", but in Chelsea terms could be "two weeks".
Other contenders for the job are Mourinho (not the first time he's been linked with a Bridge return), Alan Pardew, Harry Redknapp and David Moyes. Chelsea stalwarts Eddie Newton and Gianfranco Zola have also had their names put forward by Blues supporters.
But if Abramovich continues sacking bosses for only finishing second in a major competition, or for dropping Torres, pretty soon, the only job applications he'll get will be from
kids who play Football Manager
.

The Blues' next manager? Well, he is made in Chelsea!