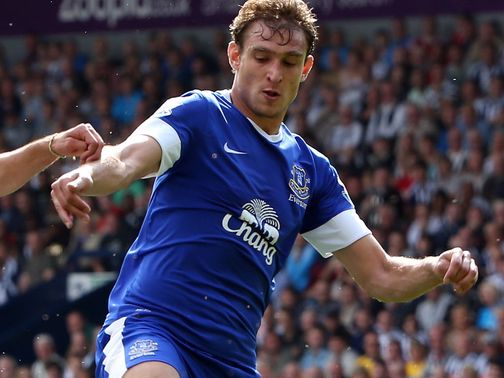 Everton striker Nikica Jelavic: He's hot, then he's cold.
With the Premier League fixtures for October and November now completed, it's time to look at the progress of The Daily Transfer Request's official Fantasy Premier League team.
October was a pretty bad month for the
Nortei Norteys
, who slipped to their lowest overall position to date, but some good performances in November have been cause for encouragement.
GAMEWEEK 7
We made one transfer prior to Gameweek 7, that being the introduction of Ben Foster and the axing of John Ruddy. But against a struggling Queens Park Rangers, West Bromwich Albion keeper Foster conceded two goals and only picked up one point.
All of our starting players scored at least one point, but only captain Nikica Jelavic - who found the net - and midfielder Adam Lallana got more than three. As a result, we only scored 30 goals, and had our lowest weekly ranking to date. Not a fantastic start to the month, to be honest.
POINTS:
30 (299 Overall).
RANKING:
2,345,133rd (1,409,453rd Overall).
GAMEWEEK 8
This week could best be described as average for the Nortei Norteys. 42 points was just below the average, as was our weekly ranking.
Once again, it was a poor choice of captain that cost us dearly. It wasn't Yohan Cabaye or Adam Lallana, who were both on target, or Manchester United's Danny Welbeck, who trumped the duo with a goal and an assist. Had Welbeck been my skipper, his 10 points would've been doubled to 20. But no, it was instead Nikica Jelavic, who scored... one point, ah ah ah, doubled to two points, ah ah ah!
Now if you don't mind, I'm off to call 999 because I think I'm having a cardiac arrest.
POINTS:
42 (341 Overall).
RANKING:
1,301,917th (1,420,434th Overall).
GAMEWEEK 9
And we'll move swiftly on to gameweek 10... oh, you want to know what happened in week 9.
I won't beat around the bush. We were terrible, as not one player scored more than two points, leaving us with our worst overall ranking this season. In fact, we were so bad that there were only around 50,000 players (out of nearly 2.5million) that fared worse than us this week!
Also, Scott Sinclair's lack of games for Manchester City meant that his value was falling faster than Jimmy Savile's reputation. I put on my Abramovich act and wielded my axe for the following week.
POINTS:
14 (355 Overall).
RANKING:
2,443,249th (1,812,066th Overall).
GAMEWEEK 10
The big transfer of the week saw the aforementioned Sinclair shafted, and replaced by Liverpool's teenage sensation Raheem Sterling. He had a solid debut for the Norteys, but it was the performance of other players that caught the eye.
West Bromwich Albion's clean sheet meant big points for Liam Ridgewell and Foster, the latter of whom scored 8 in his last game before a serious injury curtailed his Norteys career. The star performer was Cabaye, whose goal for Newcastle United at Liverpool helped him towards a weekly tally of nine.
45 points is not a particularly bad score - we moved up nearly 100,000 places, and ended up with exactly 400 points after ten rounds. However, our team value dropped below £98million for the first time, so that was a cause for some concern.
POINTS:
45 (400 Overall).
RANKING:
588,345th (1,712,550th Overall).
GAMEWEEK 11
Not a week to remember. Jelavic and David Silva were our top scorers on 7 apiece, but the Norteys only managed 32 points and dropped back down the standings. My choice of Swansea City defender Angel Rangel as captain didn't pay off, as he only had two points to double.
Nothing more to say here, so moving on...
POINTS:
32 (432 Overall).
RANKING:
1,914,941st (1,777,556th Overall).
GAMEWEEK 12
Better - but another golden opportunity missed. Here's what happened: Sterling got two assists, Silva one goal and two assists, and Steven Fletcher one of each. Who did I have as captain? Jelavic, who scored an average one point, doubled to two, compared to Silva's undoubled 16.
As for the overall performance of the team, we scored 52 points, putting us nicely in the middle of the weekly standings. Not bad, but we were Aldershot Town reserves compared to one team who scored an unbelievable 132 points this week alone!
POINTS:
52 (484 Overall).
RANKING:
1,219,263rd (1,745,588th Overall).
GAMEWEEK 13
A serious injury to Cabaye meant that the Nortei Norteys were robbed of the excellent Newcastle United midfielder. His replacement was Michu, who was enjoying a fine start to life at Swansea City. The Spaniard would've scored three debut points had he not been benched, but I wasn't too worried, because for us, this was a solid week scoring-wise.
Two assists (Fletcher and Welbeck) and two clean sheets (Ashley Cole and Matthew Lowton) helped us to pick up a decent enough weekly score of 43 points. The Norteys' steady ascent up the rankings continued.
POINTS:
43 (527 Overall).
RANKING:
778,760th (1,704,112th Overall).
GAMEWEEK 14
I made two late changes to the squad for the midweek Premier League fixtures. Foster and Phil Jagielka were both on their way out. Joe Hart immediately vindicated my signing of him by keeping a clean sheet for Manchester City, and fellow newcomer Steven Caulker justified my decision NOT to start him, as he didn't feature for Tottenham Hotspur against Liverpool.
Meanwhile, Michu scored for Swansea after finally coming into my starting XI, playing a key role in the Norteys' solid 43-point performance. Cole and Lowton also fared well in defence.
Just over a third of the way through the season, and the Nortei Norteys are some way off their end-of-season target of the top million. Our short-term aim is to make sure that we are still in the top 2,097,152 by Gameweek 18, as this will mean entry into the Cup - or at least the Extra Extra Extra Extra Extra Extra Extra Extra Preliminary Round of it.
POINTS:
43 (570 Overall).
RANKING:
1,448,978th (1,701,326th Overall).
So, how is everyone else in our official Ivan Golac Cup league trophy shield vase thing faring? Here are the standings after four calendar months of action:
1.
Tarxien (663)
2.
Semprit FC (661)
3.
Daryoush FC (656)
4. The Nortei Norteys (570)
5.
LepraFC (562)
It's shaping up to be a very close battle between the top three, but at the moment, the Australian team has the advantage. Apparently, their manager supports Manchester City, which reminds me of a stereotypical Aussie question:
"What's your favourite colour, blue?"
Anyway, it's all to play for, so I'll be keeping you updated on the closest title race since, er, the last one.