Football Manager 2013 has been out for nearly a fortnight, and now, having spent some time playing the demo, it's time for me to give my feedback.
Transfer deadline day in Wales with a BBC Radio 2 DJ. Love it.
New features
Perhaps the most significant addition to Football Manager for this season is a new 'Classic' mode. This is a more streamlined version of FM which harks back to the more simpler days of the old Championship Manager series. In this mode, you can apparently get through in a matter of hours rather than days.
Being the type of FM player that likes to go into great detail when building a team and a club, I personally decided to stick with the regular mode when playing the demo. That said, it's a nice addition for wannabe managers who have more important real-life responsibilities and don't have a great deal of time on their hands.
I prefer the challenge modes introduced alongside Classic, which give you a number of short-term missions, like making Alan Hansen eat his words and winning the league with kids, or driving a team threatened with relegation away from the drop zone.
I do like the new staff roles that Sports Interactive have put into the game. You can now have coaches for specific roles in specific squads (senior, reserve, under-18s), and for the first time, you can hire a Director of Football. The DoF's main responsibilities will be to handle contract negotiations, and to buy and sell players - the best could even make AND save you a fortune!
But my favourite new feature is the new transfer deadline day, which allows managers to get involved in the Sky Sports News-style media circus of the 24-hour marathon if they want to. Whereas in previous FMs, deadline day would be so dull that it would send Jim White to sleep, in FM13, there are many, many more transfers done on the eve of the window shutting, so that adds more realism to the game.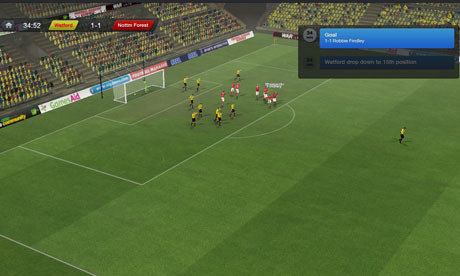 The match engine looks much better than it's ever done.
Improved features
The match engine has been improved a great deal, although it's not perfect. The player animations and the movement of the ball are more realistic, the main director camera shows the game at more angles, and even the spectators seem livelier.
On the flip side, I've seen players hoof the ball hopelessly down the flanks shortly after kick-off far too often, and defenders make too many silly goal-costing errors. Also, sometimes, players still seem to move with more flexibility than breakdancers and contortionists!
The new Twitter-style match feed allows your assistant manager to give you feedback on how the game's panning out. This allows managers to change their tactics accordingly, either to close down a dangerous opposition playmaker, or to hit more long balls forward.
The navigation menus have been tidied up, and the new pop-up menus are useful, especially when deciding to give a player specific duties. In addition, training has been given yet another overhaul, which now allows you to manage training on a week-by-week and a match-by-match basis.
The tone system which was introduced for player talks in FM12 has been implemented to press conferences for FM13. There are more questions asked than ever before (although the questions still get repetitive) and you can now answer, for example, in a passionate, a cautious or even an aggressive manner. I was tempted more than one time to reply to one question by aggressively shouting,
"YES, I TOTALLY AGREE! DAVID WAS ABSOLUTELY FANTASTIC TONIGHT!"
Player talks have been enhanced and you now have more options in terms of things to talk about. Also, in my demo save, my relationship with one of my players deteriorated to such an extent that he even refused to speak to me! If this is a minor new feature, it's one I quite like.
"Christopher Fuller, he's so good! Give regards to Richard Wood!"
My first FM13 career
To test out the Football Manager 2013 demo, I started a career as manager of League One side Coventry City, who had just been relegated but had plenty of good youngsters to choose from.
Pre-season went well, with my Coventry team going through that unbeaten. We didn't lose in the league until our seventh match, and that was part of a mini-blip in which the players seemed to resemble a bag of nerves.
As far as transfers were concerned, we did very little before the transfer window was shut. Although I hired several new staff members, as Coventry's squad already consisted of many players in their first seasons at the Ricoh Arena (some of whom I would never have signed in the first place), all I did player-wise was to sign a left-back on a short loan and sell Carl Baker to Charlton Athletic for £300,000.
That was until our blip in late-September, when I brought Aston Villa striker Andi Weimann in on a three-month loan. What a beast of a player he turned out to be! In 17 games, he scored 12 goals for us, proving to be the archetypal poacher. And guess what? We got him for absolutely nothing - Villa didn't ask for an upfront fee or for us to pay any wages!
Weimann turned our form around, and helped us through a six-game winning streak which put us top of League One for a while. I won the Manager of the Month award for October, and even got Swindon Town boss Paolo di Canio sacked in the process! After our 17th league game, we had 34 points, whereas the real-life Coventry have just 17 points at the same stage of the season.
The rest of 2012 went reasonably well for the Sky Blues, save for a couple of runs of successive defeats. Now, with the New Year just beginning and the demo coming to its conclusion, Coventry City are 2nd in the league. So all in all, not a bad start to my FM13 life!
Summary
Each new edition of Football Manager is hyped up as the best ever, and in my opinion, I have to say that I agree. There are so many new features and improvements to this year's FM that it certainly can't be called a mere 'season update'. With some tweaking, the match engine would be so incredibly realistic that it'd be like watching an actual game.
Consider FM13 to be on my Christmas wishlist, and my days in the outside world numbered!
TDTR Rating:
9/10.
P.S. Normal service will resume once I've guided Romford to the UEFA Champions League.