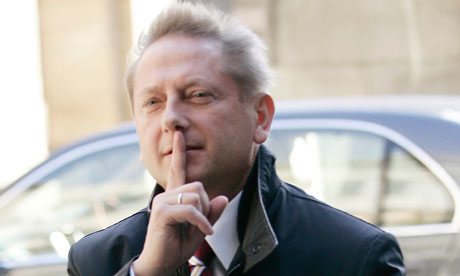 I'm swindling Hearts fans out of their money, but don't tell anyone...
If Heart of Midlothian do, as some supporters fear, go into liquidation at some point in the campaign, they will not deserve any sympathy.
Hearts have received a winding-up order from HM Revenue and Customs over a tax bill of around £450,000. They are already contesting another tax bill of £1.75million, and delays in the payment of wages to players are now commonplace at Tynecastle.
Things look financially bleak for the Scottish Premier League club. The situation is so bad that, on Wednesday, they made
a plea to supporters
, a "call to arms" if you will, urging them to give financial support to keep the club afloat.
The statement read:
"This isn't a bluff, this isn't scaremongering, this is reality.
"Without the support of fans, there is a real risk that Heart of Midlothian Football Club could possibly play its last game on 17 November against St Mirren."
If I were a supporter from the maroon side of Edinburgh, I wouldn't listen to them. Hearts fans who give money to the cause are effectively handing it to Vladimir Romanov, the Lithuanian banker who has owned the club since 2005, and whose recklessness has left the Jambos in this situation.
What Hearts needs is a takeover from a wealthy person who understands what it's like to be associated with the club. But this is Scottish football, and what person of a sound mind would want to invest in a Scottish football club?
In the last decade, we have seen Rangers go under, Gretna wound up, and Livingston relegated from the SPL to Division 3 in just three years because of their finances. Celtic look set to utterly dominate football in the country for many years, and anyone who believes that another club can have a Manchester City-style rise is at best an optimist of the highest order.
Romanov has ruined a club that looked like breaking the Old Firm's dominance in the early stages of his revolution.
He arrived at Tynecastle seven years ago, and at first, the garden was rosy. At the start of the 2005/2006 season, George Burley led the team through a run of ten games unbeaten, which included a breathtaking eight-game winning streak to kick off the campaign. But then Burley was inexplicably sacked, the chief executive resigned (and replaced by Romanov's son), and instead of winning the SPL, Hearts were a poor second behind Celtic and just a solitary point above Rangers. Great work, Vladimir.
Burley would be one of many managers to come and go. The full list of Romanov's bosses reads John Robertson, George Burley, Graham Rix, Valdas Ivanauskas, Anatoliy Korobochka, Stephen Frail, Csaba Laszlo, Jim Jefferies, Paulo Sergio and John McGlynn. That's in just seven years.
Romanov also approved the arrivals of countless Baltic players, some on short loans, from FBK Kaunas (a club which he owns in his home country), and often on unrealistic wages for an SPL club. This practice was scaled down in later years, but the likes of con artist Saulius Mikoliunas did nothing to boost the club's reputation, which had already been damaged by Romanov's comments about referees being bribed.
By 2007, thanks largely to their ridiculously high wage bill, Hearts were in £36million of debts and had to begin selling their best players, such as Craig Gordon and Christophe Berra. On the pitch, they moved further and further away from the Old Firm instead of getting closer. The only trophies that the Jambos have won under their Lithuanian owner are two Scottish Cups from 2006 and 2012.
It now seems that Romanov has withdrawn a lot of financial backing from Hearts and has given up on chasing Celtic, but he is still the owner, and as long as that is still the case, Heart of Midlothian cannot and should not survive in its current state.
As cruel as this sounds, I hope their plea for urgent investment falls on deaf ears. Why should the hard-working supporters of Hearts bail out a wealthy man whose financial dealings would even make Bernie Madoff embarrassed?
Rangers were kicked out of the SPL and a new company was created for a Gers club in Division 3. At the moment, that scenario - grim as it looks - might just be the best case for Hearts and their supporters. Also, the long-mooted restructuring of Scottish football cannot come soon enough for any club in the SPL and the Scottish Football League.