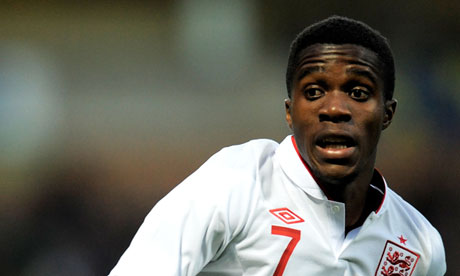 Wilfried Zaha is one of seven potential debutants for England.
England are travelling to Sweden ahead of tomorrow's friendly international in Stockholm, where several players are hoping to win their first caps.
No fewer than seven international virgins are in Roy Hodgson's squad, ranging experience-wise from the tremendously young Raheem Sterling to the late bloomer Leon Osman.
The big headline-maker is someone who is living what would be Britain's equivalent of the American dream if there was such a thing. Wilfried Zaha was born nearly 5,000 miles away from London - in the Ivorian capital of Abidjan - but tomorrow, he could be a senior England international.
Wilfried's family moved to the British capital when he was just four. His talent with a football became obvious at a young age, and he came through the Crystal Palace academy before breaking into their first team in 2010. Since then, he has won two caps for the England Under-19s and five for the Under-21s.
The young winger's senior record with Palace highlights his potential. In 110 appearances, he has scored 14 goals and created assists for 10 others. It's no wonder that clubs of the stature of Arsenal have been sending scouts to watch the 20-year-old, only as of last Saturday, in action.
Zaha will become the first outfield player from the second tier of English football to play for the Three Lions since Jay Bothroyd two years ago. Is the kid's call-up fully deserved, or is it a worrying indicator of the lack of English options in the Premier League? The answer, you could say, is a bit of both.
The top English goalscorers in the current PL season are Jermain Defoe and Kevin Nolan, both with five (the league's top scorers overall are Luis Suarez and Robin van Persie on eight apiece). Then, you have to go down to Peter Crouch and Rickie Lambert on four, and there are just five other Englishmen with three goals. Hodgson doesn't have a lot to choose from.
Then again, if Hodgson wanted a fresh-faced and free-scoring striker from the Championship, why didn't he give Charlie Austin a call? Three years after turning out for non-leaguers Poole Town, Burnley frontman Austin tops the second-tier's scoring charts with an unbelievable 17 goals, and is in a patch that is so
deep purple
that you can almost hear a Ritchie Blackmore solo whenever he puts the ball into the net.
I'm not saying that Zaha doesn't warrant a call-up as much as Austin. He is a mercurial talent, whose career could potentially reach greater heights than Austin, and he certainly doesn't lack self-confidence. In an interview with the Daily Mail, he said,
"Unless I'm looking at (Cristiano) Ronaldo and (Lionel) Messi, I'd never look at someone else and think he's better than me."
Zaha's call-up to the England squad has come amid speculation that he will be picked for the Ivory Coast team for next year's Africa Cup of Nations. Even if he does play for England tomorrow, as the Sweden game is considered to be non-competitive, FIFA's eligibility rulings mean that he can still switch allegiance to the Ivory Coast at some point until he makes his competitive debut for the English.
It's a similar situation to what happened with Victor Moses, who like Zaha is a product of Crystal Palace's academy. Following a tug-of-war between England and Nigeria, Moses - now at Chelsea - opted for his African country of birth.
Carl Jenkinson: From Charlton Athletic to England in 18 months.
Raheem Sterling is also in that boat. Liverpool's 17-year-old winger came to England from Jamaica when he was six years old, and has yet to decide which country he will play for competitively.
A couple of months ago, I wrote
an article
suggesting that it was perhaps too early for Sterling to merit a senior call-up. In my opinion, the situation's changed. His run in the Liverpool first-team has been sustained, and he has performed consistently well, proving the old adage that if you're good enough, you're old enough.
Arsenal right-back Carl Jenkinson, 20, will make his England debut once he receives international clearance from FIFA. The Essex-born defender is currently considered to be Finnish after winning Under-19s caps for his mother's home country, but unlike Zaha and Sterling, he's already made his mind up. He's adamant that he wants to be a senior international with England.
The old boy of England's new guard is Leon Osman, an underrated midfielder who has spent his entire career at Everton, and whose performances have only now received recognition at the age of 31. But when you consider that Scott Parker didn't become a regular for the Three Lions until he left his 20's, Osman still has time to make an impact for his country.
The other three possible debutants are Tottenham Hotspur centre-back Steven Caulker (20), Celtic goalkeeper Fraser Forster (24), and Stoke City captain Ryan Shawcross (25). Caulker broke into the Spurs starting XI this season, Forster has come off the back of THAT memorable win over Barcelona, and Shawcross has long been talked about as England material.
All seven of those newcomers picked by Hodgson deserve to get at least some gametime in Stockholm tomorrow night.
Following England's exit for UEFA Euro 2012, Hodgson has recognised the need to develop some fresh faces for a future assault on a major tournament. You can be sure that there will be plenty more coming into the Three Lions set-up soon.