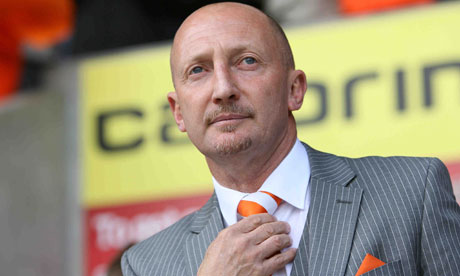 Ian Holloway: half Jose Mourinho, half Tim Vine.
Football has always had characters, and Ian Holloway is one of the biggest of this generation.
Yesterday, Holloway was confirmed as the new manager of Crystal Palace, leaving Blackpool to sign a four-and-a-half year contract at Selhurst Park.
Eagles fans have plenty to look forward to, both on the pitch and off it. His sharp wit and one-liners mean that he is now the country's funniest Bristolian, following Justin Lee Collins' conviction for harassment. In fact, he is often so funny, one would think he was a frustrated comedian.
But like many of us, Holloway has had to put on a brave face amid some challenging obstacles in his life. He greatly regretted not being at the hospital when his father passed away 25 years ago (he was playing in an FA Cup tie for Bristol Rovers at the time). He also has three profoundly deaf daughters, and a TV documentary in 2004 highlighted the stress that he was under when managing Queens Park Rangers.
Here are some legendary quotes from the man affectionately known as 'Ollie':
"I am a football manager. I can't see into the future. Last year I thought I was going to Cornwall on my holidays but I ended up going to Lyme Regis."
Mystic Ian couldn't predict Queens Park Rangers' match against Manchester City.
"Every dog has its day, and today is woof day! Today I just want to bark!"
Holloway celebrates Rangers' promotion to the Championship.
"To put it in gentleman's terms if you've been out for a night and you're looking for a young lady and you pull one, some weeks they're good looking and some weeks they're not the best. Our performance today would have been not the best looking bird but at least we got her in the taxi. She weren't the best looking lady we ended up taking home but she was very pleasant and very nice, so thanks very much, let's have a coffee."
Classic Ollie - this came after a scrappy QPR win over Chesterfield.
"It's all very well having a great pianist playing but it's no good if you haven't got anyone to get the piano on the stage in the first place, otherwise the pianist would be standing there with no bloody piano to play."
Holloway talks about pianos, er I mean defenders being used in midfield.
"I have such bad luck at the moment that if I fell in a barrel of boobs, I'd come out sucking my thumb."
Holloway bemoans his luck, or his lack of it for that matter.
"Sir David Beckham? You're having a laugh. He's just a good footballer with a famous bird. Can you imagine if Posh was called Lady Beckham? We'd never hear the end of it!"
Holloway on rumours of a knighthood for David Beckham.
"I don't see the problem with footballers taking their shirts off after scoring a goal. They enjoy it and the young ladies enjoy it too. I suppose thats one of the main reasons women come to football games, to see the young men take their shirts off. Of course they'd have to go and watch another game because my lads are as ugly as sin."
Ollie on the introduction of FIFA's ban on players removing their shirts during a goal celebration.
"Apparently it's my fault that the Titanic sank."
Holloway said this after Plymouth Argyle fans criticised him against Leicester City.
"I love Blackpool. We're very similar. We both look better in the dark."
Early on in his Blackpool reign, Holloway indicated how much he loved his new club.
"In the first half, we were like the Dog and Duck; in the second half, we were like Real Madrid. We can't go on like that. At full-time, I was at them like an irritated Jack Russell."
Holloway was annoyed after Blackpool drew 2-2 with Crystal Palace.
Reporter:
"Ian, have you got any injury worries?"
Holloway:
"No, I'm fully fit, thank you."
"If he's only worth £4million, then I'm a Scotsman called McTavish."
The offers received for captain Charlie Adam irked Blackpool boss Ian McTavish.