Today, our weekend reflections are on another near-miss for Reading, abhorrent chanting at Old Trafford, and a half-decent midfielder at Everton.
"Back in August, Simon, I had as much hair as Marouane Fellaini."
Wanted: A victory
Reading can't seem to get a win from anywhere at the moment.
On Tuesday, they had that memorable League Cup tie with Arsenal, where they were 4-0 up after 37 minutes, but still managed to lose 7-5 after extra time. Manager Brian McDermott described it as the worst night of his managerial career, when it looked like it was going to be by far his best.
Sunday was their biggest opportunity yet. They were away to Queens Park Rangers, who like McDermott's men had yet to taste victory in the current Premier League campaign. Things were looking up for the Royals on 16 minutes, when Sean Morrison's header came off the crossbar for defensive team-mate Kaspars Gorkss to thump it home.
QPR were distinctly average in the first half, with their only serious effort coming on 37 minutes when Esteban Granero's free-kick was met by a fingertip save from Alex McCarthy. But Mark Hughes' half-time team-talk appeared to do the trick, as Rangers looked better after the break.
Djibril Cisse, he of the dreadful blue hairstyle, clinched a point for QPR in the 66th minute. He controlled a fine cross from Jose Bosingwa before poking it past McCarthy to leave the bald McDermott metaphorically tearing his hair out.
Here is the Royals' sorry tally of missed chances in this season's Premier League:
On 22 August, they led Chelsea 2-1 with just over 20 minutes to go. They lost 4-2.
On 29 September, they took the lead twice against Newcastle United. Each time, Demba Ba levelled, and the game finished 2-2.
On 6 October, they had a 2-0 advantage over an out-of-sorts Swansea City side. Again, they could only draw 2-2.
On 27 October, Reading led 1-0 at half-time against Fulham but managed just a 3-3 draw, although to be fair, they did score a very late equaliser to win the point that they did get.
Then, of course, there was 4 November against Queens Park Rangers.
Yesterday's draw was the fifth time already this season that Reading had blown a winning position in the league, losing them a total of eleven points. Put it this way - if they had held onto their lead every time, they would be 6th in the table now, not 18th.
One positive to come out of yesterday's match, though, was the performance of young English goalkeeper McCarthy. He made a string of fine saves, particularly from Granero and Adel Taarabt, to stake his claim for a regular starting place.
This season, McDermott has been uncertain about his main custodian, with McCarthy and Adam Federici both getting regular outings. But Federici's shambolic showings in recent games, and McCarthy's performance against QPR should make the 22-year-old the favourite to become Reading's permanent number 1.

Robin van Persie: Just because he left Arsenal doesn't make him Jimmy Savile.

Savile row
The issue of racism has reared its ugly head already this season, and now we've had the unwelcome return of some pretty unsavoury chants.
Arsenal's 2-1 defeat at Manchester United was soured by vitriolic abuse used by some supporters from both clubs.
Some United fans at the Stretford End chanted about Arsenal manager Arsene Wenger's oversized coat. Others, more shockingly, compared him to the former (in more ways than one) Sir Jimmy Savile.
"Are you Savile in disguise?"
asked the far from silent minority.
I should point out that some West Ham United fans sung something similar when Wenger's boys recently visited Upton Park.
Some supporters from the away end at Old Trafford were also far from squeaky-clean. A number of Gunners fans branded their former striker Robin van Persie as a
"Dutch Jimmy Savile"
. They didn't just compare him to Savile - in another song, they brought up a case in 2005 where van Persie was arrested after a false allegation of raping a former beauty queen.
It's funny that Arsenal fans didn't chant about this when van Persie was banging in the goals at the Emirates Stadium. And in a way, it's not dissimilar to the disgusting abuse targeted at one of their old boys, Sol Campbell, by the more repulsive followers of Tottenham Hotspur, who used to adore him until he moved across north London.
Relations between footballers and supporters are close to reaching breaking point. We've already had one player in the Championship attacked by a spectator this season. Let's find a way to combat these unacceptable problems before something even more serious happens!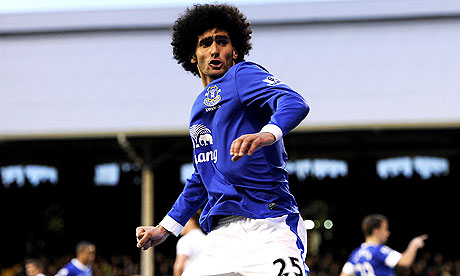 Marouane Fellaini is one of the standout performers of this season.
Marouane's a top Fella
Finally, a word about a midfielder who, even in this early stage of the season, must be considered a candidate for Player of the Year.
Marouane Fellaini is rightly regarded as the main reason for Everton's solid start to the campaign. His two goals, sandwiched by a Tim Howard own goal and a 90th-minute Fulham equaliser from Steven Sidwell, earned the Toffees a 2-2 draw and another point for their tally.
Fellaini now has five PL goals for this campaign, trumping even his team-mate Nikica Jelavic, who was surprisingly ineffective at Craven Cottage on Saturday.
The tall Belgian, whose afro makes him an even bigger presence, proved once again that he is an expert when it comes to latching onto long balls. In the 55th minute, he powered in from Kevin Mirallas' cross, and in the 72nd, he controlled a massive punt from defender Phil Jagielka before scoring with another fierce effort.
It's no wonder that Jagielka described him as "unplayable" in a post-match interview.
"It's not just a case of chucking him up there to collect long balls, he's a really good footballer,"
said the England international.
This last point that I'm going to bring up might be worth noting, considering Everton's strong form in their first ten games (17 points for a team that usually begins strongly) and Manchester City's disappointing form in comparison (just 22 points from 10 for the champions).
It seems to me that, on the new Football Manager 2013 game (OUT NOW), Manchester City almost always sign Fellaini in the first season. Maybe Roberto Mancini should have bought him instead of Jack Rodwell, and as Fellaini isn't English, he might well have been a bit cheaper to boot!