Today, The Daily Transfer Request reflects on the weekend's Premier League action, which included fine performances from City's Spanish maestro, United's brilliant striker with a rubbish nickname, and two Old Trafford old boys done good.
David Silva boards the Manchester City supersub Edin Dzeko.
Silva leaves Spurs bronzed off
Welcome back, David Silva, we've missed you.
The 2012/2013 Premier League season started very slowly for Manchester City's attacking superstar. After Spain's exploits at UEFA Euro 2012, he looked tired in the early stages of the campaign, but after a month's layoff with a hamstring injury, Silva is back to his best.
City were trailing 1-0 at fortress Eastlands to Tottenham Hotspur after Steven Caulker headed home midway through the first half to boost his England prospects. But Silva turned the game around in the second half.
On 65 minutes, Silva picked up the ball on the halfway line and charged forward. His pass, intended for Yaya Toure, was intercepted poorly by Spurs right-back Kyle Walker, who could only divert it to Sergio Aguero. One neat turn past Caulker later, and the free-scoring Argentine was on the scoresheet after tapping past Brad Friedel.
City were level, and two minutes from the end, they secured victory thanks to a Silva pass which could only be described as sublime. He lobbed a pass into the Tottenham penalty area, and Edin Dzeko timed his run to perfection to thwart the Spurs offside trap and power the ball beyond Friedel.
Dzeko has scored five times as a substitute in the Premier League this season. No wonder he's being called a supersub! The Bosnian himself dislikes the nametag, but he's in esteemed company, and I'll be talking about another of his kind later.
Citizens boss Roberto Mancini didn't include Mario Balotelli in the matchday squad, and his gamble paid off. Aguero and Dzeko are world-class goalscorers and more reliable, not to mention professional, than bonkers Balotelli.
As for his counterpart, Andre Villas-Boas took a risk that backfired. It takes a very brave manager to drop Jermain Defoe immediately after he scored a midweek hat-trick, but Villas-Boas did, and he started with Emmanuel Adebayor up front instead.
Adebayor repaid his manager's faith with a distinctly average performance against his former side. Defoe only came on for the Togo international ten minutes before full-time - not too late to make a difference, but if he'd played for significantly longer, things might have been different.
This once again begs the question: Is Andre Villas-Boas ambitious enough and hungry enough to take Tottenham forward?
How many goals have you scored tonight, Chicharito?
Pea shooter
Watching Manchester United when they're 2-0 down in the second half is the complete opposite of watching a Danish crime drama - because you know exactly what's going to happen next.
In episode 11 of The Fergie Years: Season 27, entitled Aston Villa away, the cast stuck to the script and United came back to win 3-2 against Villa, whose own season has made as excruciating viewing as seeing Nadine Dorries in a bikini.
I'll stop the TV analogies, now.
Villa drew first blood in first-half injury-time after Andreas Weimann swept home from a fine Christian Benteke cross. Five minutes into the second period, the Austrian rising star was on target again, having been assisted this time by Gabriel Agbonlahor.
At half-time, Sir Alex Ferguson replaced the anonymous Ashley Young with Javier Hernandez, the Mexican striker whom United insist on naming 'Chicharito', or 'Little Pea'. By the final whistle, Hernandez had left Lambert a little pea'd off.
Enter Manchester's other supersub, of the red variety. Pocket rocket Hernandez staved off the challenge of Villans defender Ciaran Clark and shot through goalkeeper Brad Guzan's legs to make it 2-1 after 58 minutes. Five minutes later, Rafael da Silva's cross found Hernandez at an angle, and his strike deflected in off Villa's Ron Vlaar.
Whenever one of the so-called big teams fights back from behind, the script (sorry) usually requires that they score the winner five minutes before time. And in the 87th minute, Hernandez dived to connect to Robin van Persie's inswinging free-kick, and there was no chance of Guzan keeping his header out.
United were victorious, and they didn't even need Fergie time!
As much as I despise Hernandez's silly nickname, I rate the lad very highly as a striker, and can't understand why he doesn't start that many games for the Red Devils. Now, though, Ferguson has got Hernandez's message, and he will start Chicharito up front in their next PL game against Norwich City.
He has now scored 40 times in 94 appearances during his three seasons at Old Trafford, and a good few of those have come of the bench. Remind you of anyone?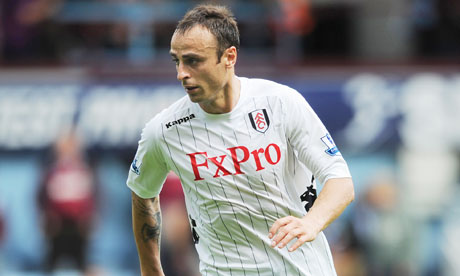 Dimitar Berbatov gets the respect that he deserves at Fulham.
Berbatov's far from Dim
Okay, guys, I'll get onto him in a second, but first, a word about someone else who should've had more opportunities at Manchester United.
Dimitar Berbatov looked a snip at £4million when Fulham bought him on deadline day, and now he's excelling at a team where he is their attacking centrepiece.
The Bulgarian striker scored twice and was the inspiration for the Cottagers' 3-3 draw at Arsenal. At 2-0 down, Berbatov made the Gunners pay for using zonal marking at corners when he headed home from Bryan Ruiz's delivery.
He then set up an equaliser for Alex Kacaniklic, who is turning into one of the Premier League's breakthrough players this season, five minutes from half-time. Fulham went ahead on 67 minutes when Ruiz was fouled in the Gunners' penalty area by Mikel Arteta, who later would miss a spot-kick himself, and Berbatov converted from 12 yards.
Fulham's lead lasted for just a couple of minutes before Olivier Giroud drew level. Arsene Wenger's abject Arsenal would have lost had it not been for Giroud, who continued his upturn in form with two goals.
This season already, Berbatov has scored five Premier League goals in a Fulham shirt, setting up a further three, and there is provision for many more. It's thanks to him, and the equally impressive Ruiz, that the south Londoners are the second-highest scorers in the PL currently.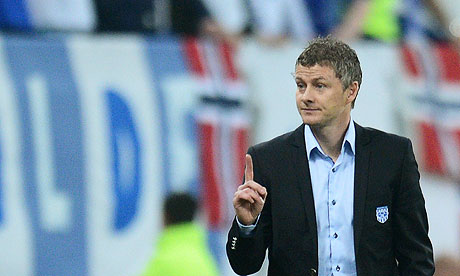 Ole Gunnar Solskjaer: Coming to a Premier League club near you.
Hip, hip, Ole!
I've been alluding to him in this article, and now I would like to pass on my congratulations to Ole Gunnar Solskjaer for winning his second league title in Norway.
I'll be honest, and say that when Solskjaer retired from football in 2007, I didn't have the baby-faced assassin down as a future manager. But even one of the sport's nicest guys would have stuck two fingers up to his critics after leading his first professional club, Molde, to unprecedented success.
At the start of 2011, former Manchester United supersub Solskjaer became manager at the Aker Stadion. He led them, in their centenary year, to their first ever Tippeligaen title. With it came UEFA Champions League qualification, although they failed to make the group stages.
This year, he's done it again. Molde secured the championship with one game to go following a 1-0 victory against relegation candidates Honefoss. The winning goal was scored by yet another player in the Solskjaer mould - the young Nigerian substitute Daniel Chukwu.
The 39-year-old has already been touted as one of world football's brightest young coaches, and now his reputation will only grow.
Despite strong interest from England, Solskjaer showed tremendous loyalty to his employers, notably turning down the advances of Aston Villa this summer. When Blackburn Rovers wanted him, he said no, and they got another Norwegian in ex-Rovers defender Henning Berg, who to be honest is a poor man's Solskjaer.
Ole Gunnar Solskjaer has nothing else to prove in his home country, so where next for him? Whichever Premier League club wins the race to sack their manager first will undoubtedly be interested, but will he move then? Or is he even waiting to take over at Manchester United when a certain Sir Alex Ferguson retires?