With just a few hours remaining in 2012, The Daily Transfer Request looks back at some of the footballing highlights and lowlights of the previous twelve months.
Ravel Morrison is such a nice, well-mannered young gentleman.
JANUARY
January saw the transfer window open for business once again.
One of the first moves of the year saw Manchester United coax midfielder Paul Scholes out of retirement in time for the FA Cup win over rivals Manchester City.
Scholes' performances in the closing stages of the season confirmed what we already knew. Even at 37 years of age, he is still an atrocious tackler.
United also sold one of their young midfielders to West Ham United. Ravel Morrison had long been touted as England's new star middleman, but since then his attitude has led to his career going down faster than, well, Ashley Young.
To say that Morrison is a likeable chap is like saying that Bashar Al-Assad deserves the Nobel Peace Prize.
Even before exiting his teenage years, he's been charged with assaulting not only his girlfriend but also his MOTHER, convicted of criminal damage, admitted two charges of witness intimidation, he's posted homophobic messages on Twitter (on which he's also used more than a few swear words to describe life at Manchester United), and he demanded a £30,000-a-week contract just to stay at Old Trafford.
Big Sam Allardyce quickly realised that he'd made a big mistake in signing Morrison. After one substitute appearance for the Hammers, he was loaned out to Birmingham City. In his first two months at St Andrew's, he made only three appearances.
Since then, he's started to make headlines on the pitch rather than on it, breaking into the Birmingham first-team and insisting on wearing his first name "RAVEL" on the back of his shirt like he's a Brazilian wonderkid. It remains to be seen whether he becomes this country's answer to Kaka or the English Kleberson.
Elsewhere in the transfer window, Blackburn Rovers defender Ryan Nelsen and Everton striker Louis Saha decided that they'd had enough of being injured at their respective clubs, so they decided to join Tottenham Hotspur, where they could be injured alongside Ledley King.
Meanwhile, Bolton Wanderers, who were battling against relegation, signed the United States international defender Tim Ream. He is perhaps best known as the first professional footballer to have been named after a catchphrase from 'The Only Way Is Essex'. Reports that Owen Coyle also wanted to sign Rick Vajazzle and Harry Shuttupp were wide of the mark, although he did formally declare an interest in Kirk Youvegotfakeboobsandyoulookreallynice.
FEBRUARY
6 February was a good day for Harry Redknapp. In the morning, he was cleared, alongside his former Portsmouth chairman Milan Mandaric, was cleared of tax evasion after a lengthy trial.
Then, that evening, Fabio Capello had a hissy fit over the FA's decision to clear John Terry of the England captaincy. Somehow, Capello can't seem to fathom why someone who is on trial for racially abusing an opponent should not lead out England at UEFA Euro 2012. The Italian says arrivederci to Wembley, and resigns with immediate effect.
Now Redknapp, who has long been tipped to become England manager one day, is wanted by many players, pundits and punters to coach the Three Lions at the European Championship.
Whatever happened to Harry at the end of one of the greatest days of his life is unclear. I think it went something like this...
9:00pm: Harry receives a phone call from Prime Minister David Cameron inviting him to a dinner in his honour at 10 Downing Street.
9:15pm: Harry arrives home, finding his son Jamie and daughter-in-law Louise standing at the door. Louise tells Harry that he's going to become a grandfather again.
9:20pm: As Harry heads up to bed, he finds a note on the bedroom door which reads, "Sorry I can't be here tonight, darling, but I've got you something extra special. Love, Sandra"
Harry enters the room, where he finds Shakira lying on his bed, sporting red silk underwear, and with Wednesday's lottery numbers written on her torso.
9:25pm: Harry and Shakira... okay, that's enough.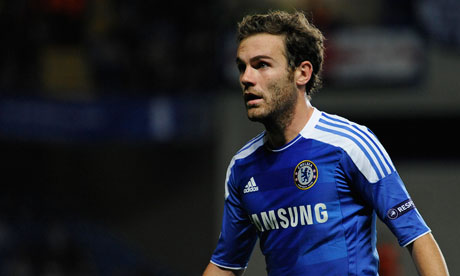 I couldn't find another photo of Andre Villas-Boas. Will this one do?
MARCH
March was the month in which Chelsea finally decided to get rid of manager Andre Villas-Boas.
Villas-Boas came to Stamford Bridge as this 33-year-old managerial wonderkid who would apparently turn Chelsea into multiple-time European champions. Now, with his reputation in ruins and his name reduced to just three letters, he would've been lucky if his next job had been at Leyton Orient.
And here was what they said when they sacked Luiz Felipe Scolari in 2009: "The board would like to place on record our gratitude for his time as manager. We all feel a sense of sadness that our relationship has ended so soon. Unfortunately, the results and performances of the team appeared to be deteriorating at a key time in the season."
When Villas-Boas left the Blues, they were 3-1 down after the first leg of their UEFA Champions League tie with Napoli. But his replacement Roberto Di Matteo wrote the perfect script for a feelgood against-the-odds sports movie by winning the tie in extra time, knocking out Barcelona in the semis, and then defeating Bayern Munich on penalties in the Final. In Munich.
Surely Di Matteo was the right man to take the Blues forward, and lead them to unprecedented success? Er, maybe not...
Elsewhere, one of Villas-Boas' Portuguese countrymen, a retired semi-pro footballer, sued the Baptist Church for ruining his chances of playing for Manchester United. If he was successful, he would've set a precedent. Prince William was looking at this case keenly, in case he had a claim to sue his grandmother for wrecking his chances of playing for Aston Villa.
APRIL
On 30 April, Vincent Kompany's header late in the first half gave Manchester City a 1-0 win over Manchester United.
The result put City top of the Premier League on goal difference going into the final two games of the season.
Sky Blues boss Roberto Mancini, who is very much a glass-half-full type of guy, talked up his team's chances of winning the league afterwards, saying, "This result changes nothing; we still have to win the last two games. United are favourites."
Mancini should bottle his optimism and sell it to manic depressives like Professor Brian Cox and Nigel Adkins. He could make millions! Hell, he could make enough money that he doesn't have to work in Manchester anymore and instead retire to Corsica!
And if anyone is wondering what happened to Richard Keys after he was sacked by Sky Sports... I am saddened to tell them that he passed away suddenly in April.
On the morning of 5 April, Keys' lifeless body was discovered at his home in London. He was found collapsed beside a copy of the Daily Mirror, in which Lawrie Sanchez predicted that there would be a female manager in the Premier League within ten years.
The coroner determined that Richard Keys had died from fatal hilarity.
"AGUEROOOOO!!!!" The goal that nearly gave Martin Tyler a cardiac arrest.
MAY
13 May produced arguably one of the greatest finishes to a British football season.
Wait, come back!
Anyway, I'll refresh your memory. It's 4:50pm at the City of Manchester Stadium, and Manchester City are losing 2-1 to Queens Park Rangers. The latter have battled bravely despite having Joey Barton sent off for doing his best impression of Mario Balotelli on caffeine. With local rivals United beating Sunderland, City know that only a win will get them the Premier League title they crave so much.
This dramatic win for Manchester City quashed rumours that the Premier League was actually a TV drama written by Sir Alex Ferguson and the people who created Friday Night Lights. Ferguson himself showed great restraint in not accusing the referee of being biased towards City by allowing for some added time.
Half an hour later, Citizens captain Vincent Kompany triumphantly lifted the Premier League trophy, despite valiant attempts of a a fully-kitted John Terry - shinpads and all - to hijack the celebrations and take the limelight for himself.
I hear that John's also got something big planned for round about June next year. I don't know why, though.
JUNE
UEFA Euro 2012 gave the BBC and ITV another chance to fight over who would present the best coverage of the tournament.
Usually, it's the BBC that come out on top, usually because their presenter doesn't have to say after a commercial break, "Welcome back to Euro 2012. Join us after the break for more adverts."
But this year, it's been very, very different. ITV knocked out the Beeb in the first round - indeed, in the first few seconds of the first round. While Adrian Chiles and co spent the entire tournament in Poland and Ukraine, Gary Lineker's team were located for the group stage in the popular Krakow suburb that is, erm, Salford.
The BBC's chief airtime-waster Alan Hansen, who hasn't won any punditry competitions since he was trumped by some kids in the 1990s, predicted that Germany, Holland and Portugal would all make it to the Semi Finals. That prediction looked at the very best incredibly risky as those three teams were all in the same group, and only two of them could get to the Quarters... unless Hansen had discovered a UEFA loophole which could see the Germans buy out Greece's place in the last eight.
As for the rest of the pundits in Auntie's squad, Alan Shearer was dull as ditchwater, Mark Bright tried to shoehorn in a plug for lastminute.com, and I couldn't understand anything that Mick McCarthy said. After the tournament, the BBC's only half-decent pundit, Lee Dixon, left the Corporation and signed for... ITV.
So from now on, I'd like to see ITV and ITV alone host coverage of the major tournaments. Just as long as they don't create another 'comedy' series starring Alistair McGowan to go with it.
Ryan Giggs stands next to United's new Chinese-American goalkeeper.
JULY
Manchester United signed a sponsorship deal with Chevrolet which will see its shirts emblazoned with the logo of the US car brand.
But wait, Chevrolet won't appear on United shirts this season, or even next season. This deal does not start until the 2014/2015 season, and runs right up until the 2020/2021 season. There's forward thinking, and then there's FORWARD THINKING.
In fact, by the time this deal begins in two seasons' time, United might even have done a deal with ANOTHER company to sponsor their shirts from 2021/2022 right up until the 2050s!
Just two months earlier, Chevrolet agreed to become the Red Devils' official car sponsor. What football club needs a car sponsor? Does this deal mean that all of the United players have to drive Chevys to the training ground, or is it okay if the new kid at Old Trafford wants to drive to Carrington in a Ford Focus?
Other than Chevrolet, Manchester United also have sponsorship deals with AON, Nike, DHL, Betfair, Singha Beer, Casillero del Diablo, Thomas Cook, Hublot, Turkish Airlines, Smirnoff, Epson, Mister Potato, STC, 3, PCCW, TM, Globacom, VIVA, Turk Telecom, MTN, Honda, Airtel, Zong, Beeline, and Globul. Surely it's only a matter of time before they find a new sponsor to become their "Official Sponsors' Sponsor", if you know what I mean.
There are a lot of clubs in football that struggle to attract even one sponsor. For United to have over 25 is absolutely incredible.
Oh, and by the way, UEFA Euro 2012 came to an end. Who won it? Meh, some half-decent Spaniards.
AUGUST
The farce that was the 'Great Britain' football team finally came to an end at London 2012.
I knew all along that having a GB football team at the Olympics was not a good idea. It could have potentially led to FIFA forcing through plans to merge the four home nations into a joint British team. If all went well for them and they came away from Wembley with a gold medal, the FA themselves might have said, "You know, why not? We've got nothing to lose."
Unpredictably, the Scottish and Northern Irish FAs went all huffity puffity and didn't want their players involved, and neither did the Welsh, but they in the end allowed Aaron Ramsey and Neil Taylor to make it an England & Wales men's team at the Olympics.
The team, inevitably branded with the US-style Team GB tag, won their group which also included Team Senegal, Team Uruguay, and Team United Arab Emirates. Next up in the Quarter Finals was Team South Korea, but fortunately, that match didn't work out as planned.
It came down to a penalty shoot-out after a 1-1 draw, and after Daniel Sturridge became the latest Englishman to rue Yosef Dagan's invention, Ki Sung-Yueng became my new favourite player by putting South Korea through and killing the GB experiment stone dead.
Now, it appears that there will never be another Great Britain men's football team at the Olympics again, and it's unlikely that the Home Nations will join up to create another women's side. As a proud Englishman who sticks by his national team through thin and thin, I'm absolutely delighted.
Meanwhile, back in South Korea, one excited fan - Park Jae-Sang - was so delighted to see his country beat the British that he created a very extravagant dance for a song that would become, erm, quite popular. You might know what one I'm talking about.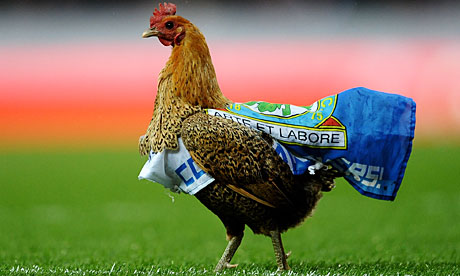 Meet Steve Kean's replacement as manager of Blackburn Rovers.
SEPTEMBER
If you want to know how to run a football club, look at what the Indian owners of Blackburn Rovers do at Ewood Park. Then do the complete opposite.
In May, Blackburn kept the faith in Steve Kean, despite him leading the club to their first relegation from the Premier League since 1999. Four months later, they decided that, even though he had put them in a good position to win promotion straight back from Championship, it was time for the Scot to be sacked. Venky's move in mysterious ways.
After failing to persuade Harry Redknapp that a 65-year-old Londoner should end his career at a failing club in the north-west, the people who promised to bring Ronaldinho to Ewood Park chose another ambitious manager of great stature. But Josep Guardiola wasn't interested, so they got Henning Berg instead.
It took Venky's a month to offer Berg the job after Kean was sacked. It took them less than two to sack him when they realised that: A) he was completely incompetent, B) a chicken could've done a better job, and C) their timing was as spot-on as the man who bought tickets to Michael Jackson's This Is It tour on 25 June 2009.
Also in September, John Terry decided that he had enough of hijacking sporting celebrations, and retired from international football to spend more time with his families.
This came shortly after he received an invisible handshake from Queens Park Rangers defender Anton Ferdinand, with whom he gets on like a house on fire. He also received the same treatment from QPR captain Park Ji-Sung.
After the Olympics and Paralympics, it was good to see that football too was in the mood for sportsmanship.
OCTOBER
It was appropriate that on the eve of Halloween, the Madejski Stadium witnessed a defensive rocky horror show worthy of Richard O'Brien.
This was Reading boss Brian McDermott's first match against his former club Arsenal as a manager. It couldn't have got off to a better start, as the Royals led the League Cup Round 4 clash by 4 goals to 0 after just 37 minutes. The Gunners, whose first XI's combined age was younger than my 79-year-old grandmother, were in complete and utter disarray.
When Theo Walcott scored just before half-time, it was perhaps little more than a consolation.
When Olivier Giroud headed in Walcott's corner after 65 minutes, Reading fans were still nervous but hopeful of finally closing out a victory.
Then Laurent Koscielny made it 4-3 with just one full minute left on the clock. There would be four minutes of injury-time. Then came a fifth. And a sixth. Reading were through to the Quart... WHAT'S THIS? Arsenal have equalised!
Some of the Gunners players were so ecstatic that they thought they'd won, and threw their shirts into the crowd, then had to embarrasingly ask for them back. Meanwhile, some Reading players could have been forgiven for wanting to throw themselves off a cliff (of the Dover variety rather than fiscal).
They felt a bit better in injury-time when, after conceding the lead to Arsenal, they pulled it back to 5-5 after 119 minutes. Surely they would force penalties at least!
Erm, no. One goal in the final minute from Walcott, and another in injury-time from Marouane Chamakh meant that the Gunners won 7-5 to book a place in the Quarter Finals, where they would coast to victory over Bradford City, or at least that's what every man and his dog thought would happen.
Once again, Reading had thrown away a winning position. The Berkshire club had got to the point where, even if they led five-man Truro City 17-0 with five minutes to go, they still couldn't be entirely sure of getting that 'W'. No wonder Brian McDermott always seems to be looking at the floor whenever he gives interviews.
Zlatan Ibrahimovic defeats England on his own and silences the critics.
NOVEMBER
You don't mess with the Zlatan.
Sweden's talisman, so good that he is known only by his first name, has long been criticised by the British media for being lazy and arrogant. In one match against England, he made them do a 180-degree turn on how they view Mr Ibrahimovic.
Not content with merely scoring a hat-trick in the opening match at Stockholm's new stadium, he added a fourth goal in injury-time - and what a belter it was.
If you don't remember that goal, either you're a goldfish or you're an Englishman whose memory is as selective as Sir Alex Ferguson's.
British football journalists, who were previously very quick to dismiss him as he'd never played in England and wasn't Spanish, rushed for their dictionaries to find words that adequately described not only the goal but Ibrahimovic himself. In their eyes, Zlatan was now a demi-god who would have single-handedly beaten the Three Lions even if he didn't have 10 team-mates with him.
If Joe Hart had any words to describe Ibrahimovic, they would not be printable. The England goalkeeper had a shocker with that goal - coming well out of his area to head away a long ball, allowing Ibrahimovic to tee up what would be regarded as one of the greatest strikes in history.
In the first half of the year, Hart hardly put a hand wrong. People were talking about him in the same context as world-class shotstoppers like Gianluigi Buffon and Iker Casillas.
But since the summer, he seems to have been struck down with England Goalkeeper Syndrome. David Seaman had it. So did David James. Robert Green was half-decent until he was laid low with it in Rustenburg.
This season, Hart has not been Mr Reliable. He's made plenty of schoolboy errors, and is better known for criticising his team-mates and being wise after the event rather than actually being wise during the event.
England Goalkeeper Syndrome is contagious, so surely it's only a matter of time before young Jack Butland gets infected and becomes the new Massimo Taibi.
DECEMBER
UEFA went off their rocker this month by announcing that Euro 2020 will be staged in multiple countries.
Oh yes, that makes absolute sense. My austere 30-year-old self would love to shell out my family's savings on supporting England in the European Championship.
I'm looking forward to watching Gary Neville's Three Lions play group matches in Georgia, the Czech Republic and the German Mediterranean (formerly Greece), before going to Norway for the last 16, Portugal for the Quarter Final, and Wembley for the Semi Final, in which we lose to Germany on penalties. Great idea, that, Michel!
And finally, Queens Park Rangers' new manager Harry Redknapp has claimed that his team can avoid relegation from the Premier League this season, despite winning just one match so far and being eight points from safety.
I'll give you time to pick yourself off the floor after rolling on it laughing your Party Rockin' a** off.
Here are some other wise 2013 predictions from mystic Harry:
David Cameron will go overboard with Olympic fever and call a referendum asking if the full name of the United Kingdom should be changed to "Team GB".

William and Catherine will name their first child after the country's favourite grandmother -

Agnes Brown

.

72-year-old veteran singer Cliff Richard will enjoy a chart renaissance after becoming a rapper and changing his stage name to 'Fiscal Cliff'.

Portsmouth will be taken over by someone with money and a good human rights record.

Someone in the country will vote Liberal Democrat in a by-election.

During his tour of the UK, Michael Bolton will be arrested as part of Operation Yewtree over his 1995 song

Can I Touch You... There?

Scotland will qualify for the 2014 FIFA World Cup.

Christopher Fuller will finally find a girlfriend. (Now you're just being silly, Harry!)