In a Christmas Eve edition of Weekend Reflections, Sir Alex Ferguson accuses a Swansea City defender of attempted murder, Chelsea give Aston Villa eight sacks of coal, and Reading continue to struggle in their search for some good fortune.
Robin van Persie tries to rugby-tackle wannabe murderer Ashley Williams.
OT boss goes OTT
Last week, Sir Alex Ferguson gave away some secrets about why he has been so successful as Manchester United manager.
One tip he didn't hand out to others though was this piece of advice, "When your star striker is hit in the face, get absolutely furious and demand that the opposition defender is hung, drawn and quartered, and his name treated in the same manner as Jimmy Savile's".
That's what happened at the Liberty Stadium. where United were held to a 1-1 draw by Michu, er I mean Swansea City.
In the 75th minute, Red Devils striker Robin van Persie was brought down near the Swansea penalty area by Nathan Dyer. While prone on the floor, an attempted clearance from Swans captain Ashley Williams hit the Dutchman in the face.
van Persie immediately got up, and almost tried to strip the Wales skipper of his shirt, he was so furious. The yellow card came out for both Williams and van Persie, and the red mist descended on Ferguson.
Using his world-renowned sense of perspective, Old Trafford emperor Ferguson calmly said,
"In the van Persie situation you can clearly see that he could have been killed. The FA has got to look into it regardless that he has been given a yellow card. He should be banned for a long time because that was the most dangerous thing I've seen on a football field for many years.
"Robin is lucky to be alive. He could have had a broken neck."
If you look at the incident clearer, you might think that Ferguson's comments were a little over the top. Williams wouldn't have deliberately hurt van Persie - as a defender, it is natural for someone in his position to clear a loose ball as soon as it enters his penalty area.
As for Williams' clearance potentially killing Robin van Persie, that's preposterous. Such an impact would have, at worst, knocked him unconscious for a little while. Players have suffered worse injuries when being struck square in the face by a ball that was hit with more power, so in comparison, that incident was rather tame.
Another part of Ferguson's complaint also falls down. It can't have been the most dangerous thing he's seen on a football pitch for many years if he also witnessed Roy Keane's horrific career-ending challenge on Manchester City's Alfie Haaland in 2001 or Eric Cantona's kung-fu kick on a Crystal Palace fan six years earlier. But I supposed they were your players, Sir Alex, so it doesn't really matter, huh?
With the New Year fast approaching, I've predicted three things that Sir Alex will say in 2013:
Antonio Valencia is knocked out after a clash of heads with Tottenham Hotspur's Gareth Bale. Ferguson says, "Bale's a mass murderer like Anders Breivik. He should be jailed for life."
Wayne Rooney twists his ankle after being tackled by a Stoke City player. Ferguson says, "They should bring back public hangings for people like Ryan Shawcross."
Rio Ferdinand falls down the stairs at home and breaks his arm. Ferguson says, "This is part of Chelsea's grand plan to destroy all life on Earth as we know it."

"Thanks, Rafa. Shame none of the fans are so grateful."
Boring, boring Chelsea
It took a while to get going but Chelsea have finally hit their stride under Rafael Benitez.
In their last four games on European soil, the Blues have scored 22 goals - eight of those came last night against an Aston Villa side who have well and truly had the wind taken out of their sails after a mini-resurgence.
We always knew that Chelsea's attack could potentially be the deadliest in the Premier League, but this was something else. But for a missed penalty, they would have matched the record PL win of 9-0 by Manchester United against Ipswich Town in 1995.
Stamford Bridge erupted after just three minutes, when Fernando Torres headed in Spanish compatriot Cesar Azpilicueta's cross. Two unlikely goals from defenders David Luiz and Branislav Ivanovic gave the Blues a comfortable 3-0 lead at half-time, but not many people could foresee just how easily it would get for Benitez's side.
Villa's manager Paul Lambert likes to field a young team, but his boys' relative lack of experience compared to the international superstars of Chelsea would tell in the second half. Just two of Lambert's starters, keeper Brad Guzan and winger Brett Holman, were older than 24, and apart from Clark, none of his defenders had much PL experience before this season.
Frank Lampard, making his 500th Premier League start, scored Chelsea's fourth goal on 58 minutes to move closer to becoming the Blues' record goalscorer. Ramires added a fifth after 75 minutes, and referee Phil Dowd made life even worse for the Villans by giving away some silly penalties. Oscar converted one of them, but Lucas Piazon missed the other not long after Eden Hazard increased the lead to 7-0.
Ramires finally put Villa out of their misery with an eighth goal for Chelsea, and his second for himself, in the closing stages.
Despite seeing their team enjoy their most comfortable win since they lifted the Premier League by putting eight past Wigan Athletic two years ago, a large number of Chelsea fans still weren't happy with Benitez. To them, Roberto Di Matteo is still the guvnor.
Ain't no pleasing them.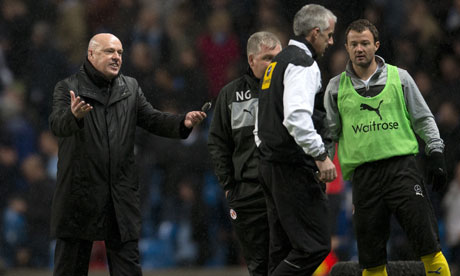 Reading boss Brian McDermott is not pleased with the referee.
Unlucky Royals
Spare a thought for Reading fans this Christmas.
After being robbed of a point in heartbreaking fashion by Manchester City on Saturday, Reading will be bottom of the Premier League table on Christmas Day. In 20 previous seasons of the PL, just one team that occupied 20th spot on Jesus's birthday has managed to survive at the end of the campaign.
In the second minute of second-half injury time at the City of Manchester Stadium, Citizens midfielder Gareth Barry unfairly jumped on Royals defender Nicky Shorey to reach David Silva's cross and head it home. Delight for City, but despair for Reading, who have picked just 9 points from 18 games.
If there was much justice in the world, Queens Park Rangers would have been the team sat at the bottom of the heap when Santa gives out his presents. Why do I say this?
Reading do have great difficulty in defending good positions, but at least they play as a team and play with spirit. Any team who can go 4-0 up against a strong Arsenal side, whether they hold onto it or not, deserves respect, and the same goes for their manager Brian McDermott. He has not shied away from playing attacking football just because the opponents are of better quality now than they were in the Championship.
QPR, in contrast, are no so much a team as 11 expensive men brought together and told,
"Here are some matching jerseys to wear, and that green field there is the pitch. Play on it."
Rangers were at real risk of going a whole Premier League season without winning while Mark Hughes was manager. Harry Redknapp has come in and got them back on the right track (QPR only lost by one goal against an out-of-form Newcastle United team in midweek), and he has quickly identified the massive wages paid to overrated players as a problem.
José Bosingwa stormed out of Loftus Road when he was told to sit on the bench for a game earlier this month against Fulham. The former Chelsea full-back, who has been one of the worst summer signings of this season, earns £65,000 per week. Bosingwa sums up why QPR's big plan to spend their way into the UEFA Champions League is backfiring and getting them a one-way ticket back to the Championship.
After the mess of a half-season they've had so far, QPR deserve to go down. Reading need to improve in the New Year, obviously, but if their battle against relegation is futile, at least they're going down with more dignity than the Hoops.