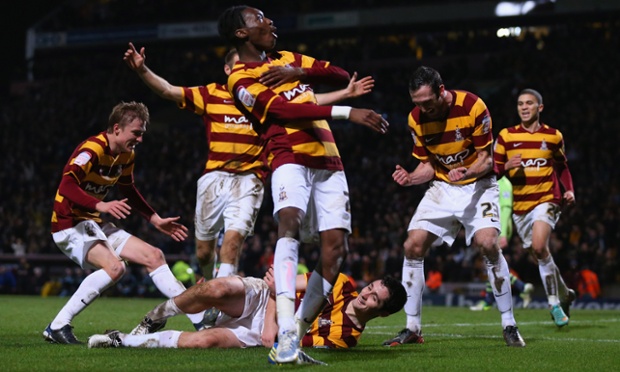 Bradford City: a 'fourth-rate' league team but a first-rate knockout team.
History will be made one way or another on 24 February when Wembley hosts the League Cup Final.
For once, you won't be seeing Chelsea, Liverpool or Manchester United. This year's finalists are Bradford City and Swansea City, who have both overcome massive odds in the past decade and have been richly rewarded with a trip to Wembley.
There are some who feel that the magic of the FA Cup is fading, but the successes of Bradford and Swansea have brought it back into the second domestic cup, a tournament which for several years has been viewed by many of the bigger teams as second-rate.
Bradford's achievement of getting to the Final is, quite simply incredible. In doing so, they have reached their first major cup decider since 1911 and have become the first team from the fourth tier of English football to reach a Wembley Final. The only other team from the Football League basement division to play in a League Cup Final were Rochdale in 1962, but that Final was played over two legs and, in the cup's early days, some of the bigger teams didn't even enter.
Their Round 1 tie against Notts County, in which they needed extra time to get through, hardly got any column inches in the sports pages. Their Round 2 win over Watford, in which they came from 1-0 down after 83 minutes to win, raised a few eyebrows.
Then, they pulled off an even more incredible comeback against Burton Albion - trailing 2-0 to Burton Albion with eight minutes left, Nahki Wells scored twice to force extra time, in which Stephen Darby got the winner. After that, the Bantams stunned two Premier League sides, Wigan Athletic and Arsenal, by continuing their exemplary record in penalty shoot-outs to advance to the last four.
Bradford pulled off a shock 3-1 home win over Aston Villa in Leg 1 of the Semi Final, and in the end, that would prove decisive. Villa could only win their home leg 2-1, meaning that the Yorkshire club's dream became reality.
This Bradford team has plenty of headline makers. Goalkeeper Matt Duke, who has survived a bout with cancer, put in two particularly outstanding performances against Arsenal and Villa. Captain Gary Jones has shown plenty of grit in the heart of midfield, consistently being their best outfield player. Then, of course, there's the prolific little and large strike partnership of Bermudan youngster Wells and local hero 'Big' James Hanson.
Since being relegated from the Premier League in 2001, Bradford have suffered all sorts of financial problems and have quickly dropped down the leagues. The hometown club of magician Dynamo was even at risk of disappearing on more than one occasion. But now they've got an estimated £1million windfall to look forward to - a sum that secures their financial future for several years.
Top scorer Michu has been a vital cog in the Swansea City machine.
Swansea can sympathise with Bradford's former plight. On 3 May 2003, they would have been relegated from the Football League had James Thomas not scored a hat-trick against Hull City. One of the members of their squad on that historic day was Leon Britton, who next month will play for the Swans in their first major cup Final.
In the last ten years, the Swansea board have made a string of shrewd managerial appointments. Kenny Jackett led them into League One, Roberto Martinez into the Championship, and Brendan Rodgers into the Premier League. When Rodgers left for Liverpool last summer, some of the Swans faithful feared that his work would've been unravelled, but if anything, Michael Laudrup has made this team even better!
The news that their bargain signing, free-scoring attacking midfielder Michu, has signed a new long-term contract will have warmed the hearts of many a Swansea Jack. The Spaniard has played a key role in this cup run, which has seen Swansea reach the Final a year after Welsh rivals Cardiff City did so.
They had a fairly straightforward win over Barnsley in Round 2, but Crawley Town were anything but pushovers in Round 3. Swansea trailed 2-1 with just over a quarter of an hour left but snatched a dramatic late winner. In the last 16, the Swans swept aside Rodgers' new Liverpool team 3-1 to book a Quarter Final meeting with Middlesbrough, whom they edged out 1-0 thanks to a late Seb Hines own goal.
Michu and Danny Graham both scored for Swansea in Leg 1 of the Semi Final as they shocked Chelsea at Stamford Bridge. Laudrup's men then managed to hold on at the Liberty Stadium in a controversial 0-0 draw to make their own piece of history.
As well as Michu and Graham, plaudits should also go to the club's German goalkeeper Gerhard Tremmel. Although not regarded as the number 1 keeper at the Liberty, Tremmel has been very dependable throughout his team's cup run and definitely deserves to retain the gloves for Wembley.
Most Wembley Cup Finals in recent years have been rather humdrum affairs between two of the elite five or six teams in the Premier League. But this one is genuinely exciting, as both teams will be absolutely determined to add some major silverware to their trophy cabinet, and neither is afraid of playing attacking football. What's more, one way or another, we will have a fairytale ending in 31 days' time.