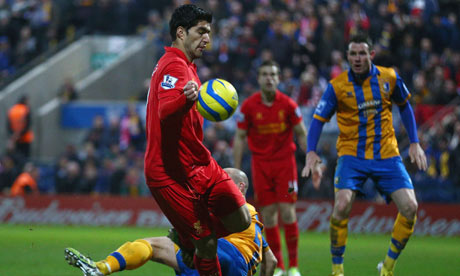 Mansfield has its new Public Enemy Number 1 in Luis Suarez.
After 131 years, the FA Cup is sadly losing its lustre.
Yes, there were magnificent Round 3 victories for Conference Premier duo Luton Town and Macclesfield Town over Championship giants Cardiff City and Wolverhampton Wanderers on Saturday. But Sunday's meeting between an even smaller David and an even bigger Goliath left a bitter taste in the mouth.
Plucky Mansfield Town, also of the Conference, were losing 1-0 at home to Liverpool after 59 minutes, and had started the second half strongly. But then, in the hometown of Rebecca Adlington, Reds striker Luis Suarez went all Frankie Boyle on the hosts and left them distraught.
A shot from Suarez ricocheted off Mansfield goalkeeper Alan Marriott, sending the ball back to Uruguayan, who then blatantly patted down the ball to allow him to tap home the follow-up with ease.
What followed next was just as offensive to the Stags' supporters, if not even more so, as he celebrated by kissing the wrist of his offending right hand. The Field Mill faithful reacted by chanting,
"Cheat!"
The romance of the FA Cup, this was not. If anything, this was Suarez throwing his spouse's clothes out of the front window and yelling at them that he never wishes to ever see them again.
Mansfield did claw a goal back late on to only lose 2-1, but at the end of the night, they were the moral winners by default.
When asked if Suarez should 'fess up' - as the idiotic youth of today call it - to the handball, Liverpool manager Brendan Rodgers said,
"It's not Luis's job to own up.
"It's not been deliberate as it's pushed up and hit his hand. It's up to the officials to decide that."
Rodgers' astonishing response was sad but true. This may be Luis Suarez the serial offender we're talking about, but the majority of Premier League players would have done exactly the same things in his situation. Even the Mansfield boss Paul Cox, who had every right to be furious, admitted that he would've accepted it if one of his players had cheated their way to a goal.
Mansfield owner John Radford wasn't so honest, and claimed that his team had been cheated out of a lucrative replay at Anfield. His views were echoed by his wife, and Town's chief executive, Carolyn Radford, who said,
"I've absolutely enjoyed the day but I have to say it is a little bit like it's been stolen from us. Whether it's deliberate or not, I really do feel that it should be sorted out.
"It should be clarified and sorted out as soon as possible because obviously it wasn't in our favour and we should be going through to a replay at least."
There is a precedent for this. In Round 5 of the 1999 FA Cup, Arsenal beat Sheffield United 2-1, but only after Nwankwo Kanu had created a controversial winner. After the ball had been kicked out of play due to an injury to a United player, Arsenal attempted to give it back to Blades keeper Alan Kelly, but Kanu - who'd only just arrived in English football and perhaps wasn't too aware of these customs - intercepted and set up an easy goal for Marc Overmars.
In a remarkable but understandable gesture, Gunners boss Arsene Wenger offered to replay the tie, which Arsenal won, also by a 2-1 scoreline.
This was just 14 years ago, but sadly, there is now very little sportsmanship left in football, so a Field Mill replay won't take place unless the FA insist on it.
Do I feel there should be a replay? I'm not sure. In 1999, Sheffield United were on the way to a 1-1 draw when they were cheated, so their protests were founded, but yesterday, Mansfield were very likely to lose whether or not the Suarez goal counted. That said, you can never be confident about how matches would've gone if certain things had or hadn't taken place.
In the likely event that the result stands, Suarez should at the very least be banned from doing to Oldham Athletic in Round 4 what he did to Mansfield Town in Round 3 and Ghana in the 2010 FIFA World Cup.