The weekend is over, so let's reflect. Erm... it was snowing a little, wasn't it? In all seriousness, there's plenty to talk about in the Premier League: Round 48 of Ferguson vs Referees, the new series of ALF the supersub, and the beginning of Southampton's post-Adkins diet.
Sir Alex Ferguson - before Simon Beck peed him off.
The fury of Fergie
If you're one of those 53 people who bought Pippa Middleton's new book, you will have found out that,
"A turkey can serve a large party because of its size."
Like we didn't know, Einstein!
Well, like Pippa Middleton, Sir Alex Ferguson's rants at referees are becoming very tiresome and tedious.
The Manchester United boss fired his latest verbal bullet at assistant referee Simon Beck after the linesman missed an apparent foul by Steven Caulker in the 63rd minute of their 1-1 draw at Tottenham Hotspur.
The incident saw United striker Wayne Rooney tripped by his England team-mate Caulker in the Spurs penalty area. There's little doubting that the Red Devils should have had a penalty, but despite referee Chris Foy having a clear view of it, Foy saw nothing wrong and instead referred to Beck.
Ferguson was also adamant that his full-back Rafael da Silva was fouled in the build up to Spurs' stoppage-time equaliser, yet neither Beck nor Foy did anything. As a result of play going on, Clint Dempsey cancelled out Robin van Persie's opener for United. While the Tottenham senior team executive director Andre Villas-Boas went nuts on the pitch afterwards, his Manchester United counterpart Ferguson went ballistic.
He cried,
"Rafael was fouled in the build-up to their goal. It was a clear foul but we didn't get it. There was no way we were going to get a decision from the linesman.
"It was a clear penalty earlier. He (Caulker) has put his leg right in there. The linesman is facing it. For me, he had a very poor game.
"We have got history with him. He never gave offside with (Chelsea striker) Didier Drogba at Old Trafford (in a 2010 league game) when he was three yards offside. Everyone remembers that. I certainly do."
Everyone remembers that - yeah, right, Sir Alex. I don't recall that, but I do recall
most
of
your
rants
at
referees
.
This has gone on for far too long. While Sir Alex Ferguson will go down in history as English football's greatest winner, he will also go down as its worst loser, and it's about time that the FA cracked down hard on him. Just because he has had an honour bestowed on him by the Queen and his name isn't Sam Allardyce doesn't mean he should be immune from punishment.
Reading star Adam Le Fondre is the Premier League's new striking sensation.
ALF Monet
In the recent past, we've seen plenty of strikers rise up the leagues and become big-hitters in the Premier League.
The most recent of those was Grant Holt of Norwich City. But this season, we have seen Adam Le Fondre shine for Reading.
The 26-year-old, who sounds like he should be from Jersey but is actually from Stockport, has taken Edin Dzeko's honour of being the PL's most prolific supersub this season. On Saturday, he single-handedly won three points for the Royals against an out-of-shape Newcastle United team.
Things weren't looking too great from Reading's perspective at half-time. Yohan Cabaye had put Newcastle into a 1-0 lead after 35 minutes. Another 35 minutes followed, and the scoreline was unchanged, so Reading boss Brian McDermott made the decision to take off Danny Guthrie and throw on Le Fondre.
Le Fondre only went and scored the equaliser a minute after coming on! Jimmy Kebe's cross into the Newcastle area evaded the Magpies defender Mike Williamson, allowing Le Fondre to slide the ball in and level in fortuitous style.
If that was lucky, his second goal was far from that. Six minutes later, Jobi McAnuff's cross was headed back by Kebe to Hope Akpan, who then miscued, but the ball still fell to Le Fondre, and ALF - as he is nicknamed at the Madejski Stadium - squeezed it past Tim Krul to bag the points.
McDermott said of Le Fondre, who is now on 10 goals for the season,
"When you have Adam Le Fondre coming off the bench like that, the second goal was top-drawer finish. A couple of years ago he was playing for Rotherham and what he is doing now for us, I'm just so proud of him."
He added,
"Adam cost us £300,000. You couldn't buy his right sock for that now."
Having scored his way up the leagues from Stockport County to Rochdale to Rotherham United, Le Fondre has shown that the most natural finishers will succeed at any level. Who knows, if he keeps this up, the calls of 'Le Fondre for England' may begin to sound rather serious.
One more fact about Le Fondre before I move on: his actual first name is Glenville. Now you know.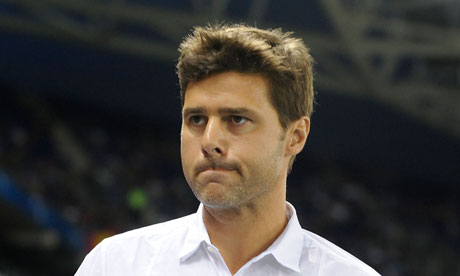 Mauricio Pochettino has suddenly replaced Nigel Adkins as Southampton boss.
Making plans without Nigel
Markus Liebherr was the Swiss-based businessman who posthumously led Southampton from League One to the Premier League.
Nicola Cortese could be the Swiss-based businessman who leads Southampton from the Premier League to the Championship. That's what could happen if the Italian banker's decision to harshly sack his manager Nigel Adkins is a gamble that backfires.
If the former Scunthorpe United boss lost his job earlier in the season, when the Saints were really struggling and shipping goals left, right and centre, it would have been more understandable. But after a run of five games without defeat which included very creditable draws against Arsenal and Chelsea, Cortese has apparently decided that Adkins can't cut it anymore.
The Liverpudlian left the Saints 15th in the Premier League, and had built a squad perfectly capable of keeping the south coast club in the top flight for many years to come. He also took advantage of Southampton's fine youth set-up, transforming left-back Luke Shaw into a first-team regular at the age of just 17.
However, he did spend £28.5million in the summer transfer window, and obviously Cortese wanted more bang for his bucks. Their biggest purchase, Gaston Ramirez, has had a slow start to life at St Mary's and is only just starting to hit his best form. Likewise, Jay Rodriguez has shown plenty of promise but his tally of five PL goals this season is trumped by Rickie Lambert's ten.
With Adkins sacked, who did Cortese appoint as his replacement? Mauricio Pochettin-who?
Mauricio Pochettino is best known in this country for conceding the penalty that resulted in England beating his native Argentina at the 2002 FIFA World Cup. A solid centre-back in his younger days, he went into management with La Liga side Espanyol in 2009. Although he didn't fare too badly at Barcelona's other club, he was sacked in November when they dropped to the bottom of the Spanish top flight.
Pochettino speaks very little English and has never worked in the UK before, but his good record when it came to developing young players at Espanyol seemed to attract Cortese's attention.
In fact, Pochettino's quote that he had been 'researching' the Southampton team for several weeks seemed to suggest that Cortese had appointed him as manager-in-waiting some time before Nigel Adkins officially received his P45. If that's the case, Adkins - one of the genuine nice guys of football - has been treated in a far from nice manner by Southampton.
Southampton, who are only just coming to terms with the fact that their best manager in many years has been replaced by a little-known upstart from Argentina, play their first match of the Pochettino era against Everton tonight. The 40-year-old needs to get off to a good start if he's to avoid becoming the Rafael Benitez of the south coast.