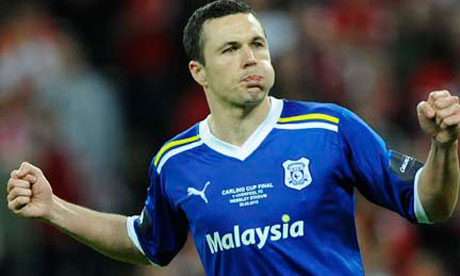 This was what Cardiff City looked like before their soul was sold off.
If I was a Cardiff City supporter, I'd be thinking long and hard about whether owner Vincent Tan has the interests of the club at heart.
Last May, the Malaysian businessman suggested that Cardiff change their home colours from blue to red. The chairman Dato Chan Tien Ghee then intervened, saying that the Bluebirds would remain as they were - blue. But a month later, Tan defied his chairman and went ahead with the change.
Now, nearly three quarters of a year after using his Asian magic to somehow turn Bluebirds into Dragons, he is considering making an even more dramatic change. As of next season, Cardiff City could be no more - their new name could be Cardiff Dragons.
You couldn't make it up.
Tan has already alienated a number of hardcore Cardiff fans, and split the Cardiff City Stadium into three sections - one for the away fans, one for the diehard Bluebirds who won't give up their old jerseys, and one for the Cardiff supporters who have bought into their red-coloured rebranding.
His main reason for changing the colour of the shirts was that red was considered lucky in his part of the world - south-east Asia. Erm, Vincent, what about the part of the world that contains the most Cardiff City fans, namely, Cardiff? Do the locals have less say about their own club than thousands of Malaysians who are obsessed with Premier League giants such as Manchester United or Liverpool, but couldn't name their national team's star centre-forward?
There was already a team in Wales that had the nickname of 'The Dragons', but perhaps Tan was more interested in lining Peter Ridsdale's pockets than investing in Wrexham, a club that had fallen on hard times and really needed the money.
Tan threatened to withdraw his investment if the switch from blue to red didn't go through, but it did, and Cardiff as a result have been richly rewarded both financially and on the pitch. They lead the Championship by eight points, and have a game in hand on nearest rivals Watford and Hull City. The chance of there being two Welsh sides in next season's Premier League is looking very strong.
His next move, should the team from the Welsh capital make it to English football's promised land, is to turn Cardiff City into Cardiff Dragons, even though there is already
a club of that name
in existence (albeit in the gay-friendly football leagues).
Worryingly for some Cardiff supporters, he talks about this next step in business terms, saying,
"We will think about it [the name change] when we know the final result of this season. Then we will think what's the best way to brand it.
"A few were upset but like in any business if we get 80% or 75% of the customers happy, with 20-25% not happy, that's fine. If they don't want to come to support our business, that's fine. We need the majority."
He added,
"Have Cardiff achieved any success under this Bluebirds brand? So why do we hold onto something that hasn't achieved much success?"
Because it's history. Newcastle United haven't won anything for over 40 years, but they'll always be the Magpies, even if Mike Ashley changes their name to Sports Direct FC, their colours to red and blue with yellow polka-dots, and their nickname to 'The Cockney Massive'.
Tan comes across as a brand-obsessed businessman who could make Mike Ashley look conservative. Merely changing the colours, nickname and name might not be enough if he and his Malaysian 'customers' get their way.
By the time they break into the PL top ten, he could have dropped the Cardiff part of their name. If they qualify for the Champions League, he could move them to a brand new 120,000-capacity stadium about 7,000 miles away in Kuala Lumpur. And, by 2030, when they could have at least one Club World Cup in their trophy cabinet, the closest thing they will have to a Welshman in their squad is an American left-back who saw Tom Jones on his farewell tour.
Supporting a super-rich and successful club is one thing. But what would Cardiff fans rather have - a soulless and traditionless club that has bought its way into the Premier League, or a team with history that is bravely battling it out in the Championship?