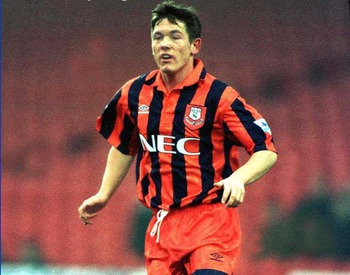 Billy Kenny: One player whose career was disappointingly short.
There was an interesting mini-article in the middle pages of The Sun last Saturday.
The story surrounds a nine-year-old player, signed up to Stoke City's youth academy, who has scored more goals for his Under-10s team this season than Stoke's first-team have in the Premier League.
Connor Sargeant
has been tipped for a bright future by Potters boss Tony Pulis after finding the net 47 times for his club Porthill Rangers.
Connor, who bases his skills on Cristiano Ronaldo, obviously looks like one for the future. But of course, we can't afford to get ahead of ourselves. We most certainly won't see Connor make his senior debut until the next decade, if at all, because there are so many footballers who look absolutely amazing when they're at primary school and are barely good enough for the Isthmian League when they become adults. Only the very best succeed in the cut-throat business that is professional football.
For every Lionel Messi who breaks through, there are countless players that don't. Some of those could have been the next big thing if something hadn't happened, or their attitude had been that little bit better.
I'm talking about football's lost talents. When we think of wasted talents, we think of players like Paul Gascoigne and Nii Lamptey - but they had full, if unfulfilled, careers. What about those who seemed to be on the one-way road to stardom, only for their careers to be cut short at such a young age?
Today, I'll look at a selection of those who could, and perhaps should, have been among football's elite:
Dani
Dani was a promising teenager at Sporting Lisbon in 1996 when West Ham United loaned him in for a while. However, the Portuguese striker - who was very much a hit with the ladies - frequented nightclubs too often for Harry Redknapp's liking, and the wheeler-dealer wheeled him back after two goals in nine Premier League games. Spells at Ajax, Benfica and Atletico Madrid followed, as well as nine senior caps for Portugal. Dani was released by Atletico in 2003, when he was 26, and having failed to find a new club, he retired several months later.
Duncan Edwards
We can't talk about lost talents without mentioning THE great lost talent - Duncan Edwards. The Dudley-born wing-half had established himself as a key player for Manchester United and England by the time he was 21 years old. Then, on the way home from a European Cup tie on 6 February 1958, the plane carrying the United team crashed on takeoff after a refuelling stop in Munich. Seven of the Busby Babes were killed instantly, but Edwards was in hospital for 15 days before he too succumbed to his injuries. Had he lived, and resumed his playing career, we would probably be talking about Edwards being England's World Cup-winning captain, and perhaps also the greatest ever footballer, rather than Pelé or Diego Maradona.
Niccolo Galli
The son of a former Italian international goalkeeper, Galli was destined for great things as a defender. He started out with papa Giovanni's old club Fiorentina before being signed by Arsenal in 1999. The Gunners' academy boss Liam Brady called him a "an intelligent and skillful defender", and the Italian national youth coaches felt the same way, capping him at Under-17s and Under-18s level. But on 10 February 2001, while continuing his development on loan at Serie A side Bologna, Galli was killed in a motorbike accident. He was only 17 years old.
Wayne Harrison
In March 1985, Liverpool signed a 17-year-old Oldham Athletic starlet called Wayne Harrison for £250,000. Five years later, he was worthless. A series of unfortunate events, ranging from him crashing through a greenhouse to suffering a double hernia, resulted in him having no fewer than 23 operations. The fatal blow for his career came in 1990, when he tore his cruciate ligaments in a reserve game. He was just 22 years old, and hadn't played a single senior game for Liverpool.
Kane Jackson
At six years old, Manchester boy Kane Jackson was tipped for the top by none other than United legend George Best. That was in the mid-1990s. Jackson got too much too young - he had an agent, a lawyer, a sponsorship deal, and was the subject of a six-figure transfer bid before he was anywhere near leaving primary school. Kane eventually cracked under the pressure, giving up the game when he was 16. As of 2011, he was working as a driver for a pharmaceutical firm.
Michael Johnson
At 24 years old, it's a bit early to call Johnson a lost talent, but at the moment, he is just that. He broke into the Manchester City first-team in 2006 and was soon regarded as an England captain in the making. Alas, a string of unfortunately-timed injuries stalled his development, and a change of attitude for the worse didn't help matters. Last month, after a photograph surfaced of Johnson looking far from athletic, City revealed that they had released him some time ago after just 37 league games. You can read more about Johnson's demise
here
.
Billy Kenny
As a 19-year-old in 1993, Kenny as regarded as so talented that his Everton team-mate Peter Beardsley called him "The Goodison Gazza". Sadly, comparisons with Paul Gascoigne on the pitch would soon be made off it. While recovering from a lengthy injury lay-off, the midfielder started taking cocaine, and his drug problem got so bad that the Toffees sacked him a year later after less than 20 appearances. Kenny tried to rebuild his career at Oldham Athletic, but his cocaine addiction got out of control, and it brought an end to his professional playing days at the age of just 21.
Gigi Meroni
Imagine if Nicola Cortese accidentally ran over Gareth Bale while on a business trip to Southampton in 2006. Well, that's basically what happened to Italy's answer to George Best. Meroni was an elegant right-winger for Como and then Geona before he signed for Torino in 1964, aged 21. He was a nightmare for opposition defenders, and won six caps for Italy - one of those in the Azzurri's ill-fated FIFA World Cup campaign of 1966. In October 1967, he was celebrating with a team-mate following a 4-2 win over Sampdoria when the pair were knocked down by a car. The team-mate survived, but Meroni died aged just 24, having suffered horrific injuries. The driver of the car was a teenage Torino fan called Attilio Romero, who would, some 33 years later, become president of Il Toro. Insert your own punchline.
Kaz Patafta
Some readers may be asking, "Who?", but to Aussies, he was their Michael Johnson. A technically-gifted attacking midfielder, Patafta shone for Australia at the FIFA Under-17 World Cup in 2005, and a year later signed for Benfica. He played just three league games for the Portuguese giants before being loaned back to Australia by Melbourne Victory. Three more years in the A-League, this time at Newcastle Jets, followed before he was released in 2011, aged just 23. He hasn't found another club since.
Sonny Pike
Luke 'Sonny' Pike was English football's ultimate unfulfilled talent - his career ended before it even got started. Signed up at the tender age of seven by Ajax's world-famous youth academy, he attracted an unprecedented amount of press coverage before anyone outside Croxteth had heard of Wayne Rooney. Sadly, it all went pear-shaped for Pike in 2000, when he suffered a nervous breakdown, his parents' marriage collapsed, and he was axed by his Dutch club. After a few years in semi-pro football, Pike moved away from the game.
Kiyan Prince
Another English youngster whose professional career never got going, but in this case, it was for tragic reasons. Kiyan was a prolific goalscorer on the books of Queens Park Rangers when he was stabbed to death on 18 May 2006, at the age of only 15. A player who had been tipped for future international recognition with England was gone in one horrific attack. A Somali refugee, Hannad Hasan, was convicted of Kiyan's murder in 2007.
Antonio Puerta
Puerta made his debut for Sevilla in March 2004, and the wing-back would soon establish himself in his hometown club's senior side. He was a double UEFA Cup winner with Los Rojiblancos in 2006 and 2007, and also picked up a Spain cap in between. But on the first game of the 2007/2008 La Liga season, against Getafe, Puerta collapsed in the 35th minute. He regained consciousness, and walked off the pitch into the dressing room, where he collapsed again. Puerta had suffered a heart attack, and died three days later at the tragically young age of 22.
James Will
Will was an anomoly - a talented Scottish goalkeeper. In 1989, he was the dependable custodian for the FIFA Under-16 World Cup hosts as they reached the Final, where they lost to Saudi Arabia on penalties having led 2-0 at half-time. Will was at Arsenal at the time, but he couldn't break into the first-team, and left the Gunners in 1994. A season back in Scotland with Dunfermline followed before the disillusioned keeper called time on his professional career while just about in his mid-20s.
This was Sonny Pike when he was English football's hottest starlet.