Ryan Giggs is still crazy for Manchester United after all these years.
It was perhaps fitting that, on St David's Day, one of Welsh football's all-time legends announced that he would be extending his career by at least one more year.
Two days before he makes his 1000th senior appearance, Ryan Giggs signed a new one-year contract at Manchester United. This new deal will take him past his 40th birthday in November, and will put him in an elite band of one-club players who have served their team beyond the point that life is said to 'begin'.
There was speculation that this season would be his last, as United boss Sir Alex Ferguson slowly fazes out the Red Devils' old guard in favour of young and exciting talents. But a couple of outstanding performances in recent matches have put an end to those rumours, and next season will be his 24th in the first-team.
The 'Welsh Wizard' has nothing more to prove in his career, having won near enough everything that he possibly can at an English club. But after putting pen to paper on his new contract, he said,
"I am feeling good, enjoying my football more than ever and, most importantly, I feel I am making a contribution to the team.
"This is an exciting team to be part of, with great team spirit, and we are again pushing for trophies as we head towards the business end of the season."
Even though Giggs' image is not as clean-cut as it used to be, due to some newspapers revelations which I will not elaborate on as I don't want to be sued to death by his lawyers, there's no doubting that he is a role model on the pitch for any aspiring footballer. There are few players in world football who can show such unflinching loyalty to one club, and also seamlessly adjust their playing role as their fitness, and importance to the first-team, steadily declines with age.
Ryan Giggs was a United first-team regular at a young age.
Ironically, Giggs could have been a Manchester City stalwart. In 1987, when he was on the verge of joining City's school of excellence, the then Ryan Wilson was approached by Manchester United's young manager, who at the time was trying to make a name for himself in England following unprecedented success at Aberdeen. Signing Wilson on his 14th birthday would be undoubtedly one of Alex Ferguson's best transfer deals in his Old Trafford reign.
In 1989, Wilson represented England schoolboys, playing for them at Wembley against Germany. But despite others believing otherwise, he could never have played for the Three Lions internationally. Wilson, who at the age of 16 changed his surname to Giggs when his mother remarried, was born in Cardiff and both of his parents were Welsh, so he was always going to wear red internationally. He only played for England at schoolboy level because he was educated in Salford.
Giggs made his senior debut on 2 March 1991 - that was 22 years ago tomorrow - as a substitute in United's 2-0 home defeat to Everton. Two months later, he scored his first goal on his maiden start in, of all matches, the Manchester derby. The next season was the winger's first as a regular feature for the senior United team, although he also captained the FA Youth Cup-winning side that would be known as '
Fergie's Fledglings
'. You might have heard of some of his team-mates.
After Giggs helped Manchester United win the newly-established Premier League in 1993, the sporting media started to become seriously excited about this fresh-faced teenage sensation. He was arguably the first British footballer to capture the public imagination in such a way since United's boy wonder from three decades earlier, George Best, who once quipped,
"One day they might even say that I was another Ryan Giggs."
Two PFA Young Player of the Year awards, won in 1993 and 1994, underlined the youngster's potential. And as the boy became a man, he started to create a reputation for scoring some sublime goals. In 1999, he came up with arguably the best of the lot -
this excellent solo goal
against Arsenal which put the Red Devils into the FA Cup Final, and introduced his adoring female fans to his chest hair.
By the time he was 30, Giggs had helped his team win eight Premier League titles, as well as three FA Cups and the 1999 UEFA Champions League. In that memorable Barcelona final, Giggs set up Teddy Sheringham's dramatic late equaliser, and United fans know what happened next.
Giggs finally won his record ninth English title in 2007, and he followed that up with another Champions League crown the following year. It was round about this time that Ferguson brought Giggs from the wing to the centre of midfield.
2009 was the year that Giggs made his 800th appearance for Manchester United and lifted the PL trophy for the eleventh time. Even though he was no longer starting on a regular basis, he picked up the PFA Player of the Year award as well as the BBC Sports Personality of the Year. In both cases, it could be argued that he only received those accolades to honour him for his long career, rather than because he was particularly brilliant over the previous 12 months.
Giggs took his United appearance tally to 900 in February 2012, and a year later kept up his unmatched record of scoring in 23 successive English top-flight seasons, including all 21 Premier League seasons. There is no stopping the Welsh wizard, even as he approaches his 40th birthday.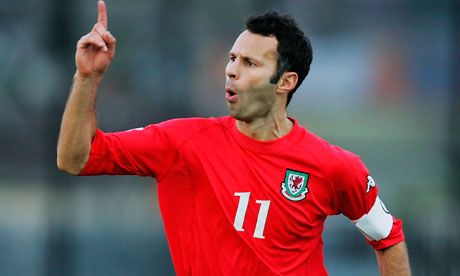 Sadly, Giggs did not quite hit the heights for his native Wales.
His international career started in 1991 against Germany. Although he would go on to win 64 caps for Wales, that number was limited because he didn't play in any friendlies for the nine years that followed his debut.
Giggs scored the first of 12 international goals in 1993 while playing against Belgium. His career with the Red Dragons, like Best's with Northern Ireland, did not see him feature at a major tournament, putting him among the greatest players not to have had the fortune of playing at the FIFA World Cup.
It was while playing for Wales that Giggs picked up the only red card of his otherwise unblemished career. What's more, his dismissal against Norway in 2001 was for two bookable offences. He stepped down from Wales duty in 2007 to focus on his United career.
However, that wasn't the end as far as his international playing days were concerned. Last summer, Giggs accepted a call-up from Stuart Pearce to play for Team Merchandise, aka 'Great Britain', at the Olympic Games football tournament. He captained the host nation in London as they crashed out in the Quarter Finals to South Korea, so again, Giggs came away without a medal at international level.
That said, I doubt Giggs will worry too much about that, as his trophy cabinet is so full that cleaning it is almost certainly a full-time job.
Ryan Giggs OBE, the most decorated footballer that this country has ever seen, will surely add even more silverware to that cabinet before he finally decides to call it a day. He remains well on course to win an incredible 13th league championship this season, so he has been anything but unlucky for Manchester United.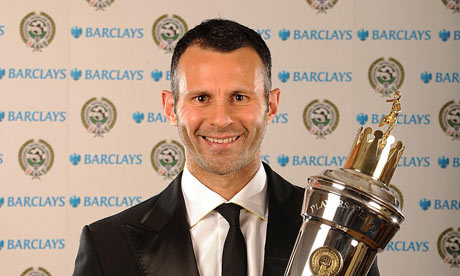 2009 was a very memorable year for the evergreen Welsh wizard.
RYAN GIGGS' HONOURS TO DATE
With Manchester United:
12 Premier Leagues
(from 1993 to 2011),
4 FA Cups
(1994 to 2004),
4 League Cups
(1992 to 2010),
8 Charity/Community Shields
(1993 to 2010),
2 UEFA Champions Leagues
(1999, 2008),
one UEFA Super Cup
(1991),
one Intercontinental Cup
(1999),
one FIFA Club World Cup
(2008)
Individual:
2 PFA Young Player of the Year awards
(1992, 1993),
PFA Player of the Year
(2009),
BBC Sports Personality of the Year
(2009),
Match of the Day's Goal of the Season
(1999),
Order of the British Empire
(2007)
RYAN GIGGS RECORDS
Most appearances for Manchester United
(931)
Most appearances in Premier League
(612)
Most assists in Premier League
Oldest UEFA Champions League goalscorer
(aged 37 years and 289 days against Benfica in 2011)
RYAN GIGGS' CAREER RECORD TO DATE
League:
652 apps, 114 goals
FA Cup:
73 apps, 12 goals
League Cup:
39 apps, 12 goals
Europe:
149 apps, 29 goals
Other Competitions:
18 apps, 1 goal
MANCHESTER UNITED RECORD:
931 apps, 168 goals
WALES RECORD:
64 caps, 12 goals
GREAT BRITAIN RECORD:
4 caps, 1 goal
ONE MORE RYAN GIGGS FACT
Ryan Giggs' career has spanned 22 years - but there is an incredible 37-year gap between his oldest and youngest Manchester United team-mates! Bryan Robson was born on 11 January 1957, while Nick Powell was born on 23 March 1994.