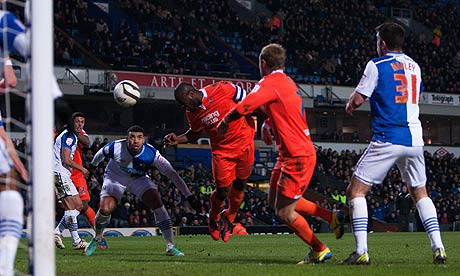 Powerful defender Danny Shittu heads Millwall's FA Cup class of 2013.
Millwall are just 90 minutes away from their second FA Cup Final in less than a decade.
The Lions defeated Blackburn Rovers 1-0 in last night's Quarter Final replay at Ewood Park, with their captain Danny Shittu enhancing his cult status by heading home the winner after 42 minutes. Kenny Jackett's men will now fancy their chances of pulling off a Semi Final shock against Wigan Athletic at Wembley next month.
Millwall is a club which I have a special affinity for, because the first game that I ever witnessed live was their Division 1 game against Leicester City at The Den in November 2002. I've been supporting them as my second club after Arsenal ever since.
In my first full season of following the Lions, Millwall made it all the way to the 2004 FA Cup Final. At the Millennium Stadium, they put on a brave display against Manchester United (who knocked out Arsenal in the semis) before ultimately losing 3-0.
Their run to the Final earned them their first ever games in European competition against Hungarian side Ferencvaros in the following season's UEFA Cup. But since their grand day out in Cardiff, the Bermondsey club's fortunes have changed greatly. They were relegated from the Championship to League One in 2006, shortly after future Dragon's Den star Theo Paphitis sold the club.
2007 was a big year for Millwall, as American businessman John Berylson bought the club, and then several months later appointed Jackett as his team's new manager. Their arrivals are two key reasons why the Lions returned to the Championship in 2010 and have not been relegated from it since. Berylson and Jackett give some stability to a club which, aside from defenders Paul Robinson and Alan Dunne, has a completely different team to that which reached the FA Cup Final nine years ago.
While the Class of 2013 stand just one match away from the biggest cup game in English football, I will answer the question: What happened to the Lions of 2004?
Andy Marshall
(Goalkeeper)
Because the excellent Tony Warner was injured, it was former Norwich City and Ipswich Town goalkeeper Marshall who went in goal for the Final. After staying at The Den for two seasons until their relegation in 2006, he spent the next three years at Coventry City. Marshall's last senior appearance came for the Sky Blues in 2009, after which he moved on to Aston Villa. He hasn't played a single game for Villa, where he is primarily seen as a mentor to the younger keepers, but is still registered as a player at the age of 37.
Marvin Elliott
(Defender)
Youth team graduate Elliott played at right-back for the Lions in Cardiff, but is mainly a midfielder. He made over 100 appearance for Millwall until leaving them in 2007 for Bristol City. He has since played over 200 games for the Robins, and two years ago, he earned his first international caps with Jamaica.
Matt Lawrence
(Defender)
'Shaggy' captained Millwall on their big day against Manchester United. He was at The Den for six years between 2000 and 2006, having previously turned out for Wycombe Wanderers and Fulham. The right-back then featured for Crystal Palace, and then Gillingham, before dropping out of the Football League at the end of last season. Aged 38, Lawrence is still playing, but for Whitehawk in the Ryman League.
Darren Ward
(Defender)
They once called Ward 'the Beckham of Peckham', and Millwall fans have seen him the former Watford and Crystal Palace centre-back play for the club in two different spells. The first, between 2001 and 2005, was far more successful than his second, which started in 2010 and ended earlier this year when he moved to Swindon Town. Ward was briefly co-caretaker manager at Swindon after Paolo Di Canio's temper got the better of him.
Robbie Ryan
(Defender)
Former Irish youth international Ryan played at left-back for Millwall for seven years, but was one of the first players to leave after their FA Cup exploits. He was on such low wages that, in the summer of 2004, he signed for Bristol Rovers instead. He was there for three years before retiring from the game after spells at several non-league clubs including Welling United and Croydon Athletic. Nowadays, the man who marked Cristiano Ronaldo in the FA Cup Final works as a cable linesman on the London Underground.
Paul Ifill
(Midfielder)
Brighton-born Ifill was snapped up from non-league Saltdean United in 1998, and in a successful seven-year spell at Millwall made over 250 appearances in all competitions for the Lions. The Barbadian international right-winger then sought greater riches at Sheffield United and Crystal Palace before moving to New Zealand in 2009. He has been a key member of the Wellington Phoenix team for four seasons now.
Dennis Wise
(Midfielder, player-manager)
One of the hardest men in the Premier League era, Wise signed for Millwall in 2002 after previously playing for Wimbledon, Chelsea and Leicester City. He was then appointed as player-manager a year later following the departure of Mark McGhee, and the 37-year-old led Millwall to their first major final. He abruptly left The Den at the very end of the 2004/2005 season, and after ending his playing days at Coventry City had short managerial spells at Swindon Town and Leeds United. We won't talk about what he did at Newcastle United afterwards.
David Livermore
(Midfielder)
Livermore is the only member of the 2004 FA Cup squad that is still at Millwall... albeit, in a non-playing capacity. The former Arsenal trainee enjoyed seven years in midfield for the Bermondsey boys before leaving in 2006. After a very brief stint at Leeds United, he spent the rest of his league career at Hull City, Brighton & Hove Albion and Barnet, and was then appointed player-manager of non-league Histon in 2010. At the start of this season, the 32-year-old returned to The Den as a coach.
Peter Sweeney
(Midfielder)
Scottish-born winger Sweeney broke into the Millwall first-team as a teenager in 2002, and played a big part in their run to the FA Cup Final. Since leaving for Stoke City in 2005, he has had a pretty nomadic career. Yeovil Town, Walsall, Leeds United, Grimsby Town and Bury have all had the Glaswegian on their books at some point, but now he can be seen at AFC Wimbledon, having signed for them in January.
Tim Cahill
(Forward)
The Australian midfielder was the centrepiece of this Millwall team, and scored the winning goal in the FA Semi Final against Sunderland. In 2004, after a transfer to Crystal Palace fell through, he signed for Premier League stalwarts Everton, where he established himself as one of the league's best attacking midfielders. Cahill left Goodison Park for New York Red Bulls last year, and is next year hoping to play for Australia in a third FIFA World Cup.
Neil Harris
(Forward)
The word 'legend' is primarily used at The Den to describe Neil 'Chopper' Harris. He played for the Millwall between 1998 and 2004, and again between 2007 and 2011, with a three-year spell at Nottingham Forest in between. Harris, who survived testicular cancer early in his playing days, is the Lions' record goalscorer with 138 goals in all competitions. In 2011, he was transferred to Southend United, where he still plays aged 35.
Barry Cogan
(Midfielder, substitute for Ryan)
Cogan was one of several Irish youngsters to come through Millwall's youth setup in the late-1990s and early-2000s. The midfielder did not develop as expected, though, and after just 24 league games, he left Millwall in 2006 to sign for Barnet. A season at Gillingham followed before he dropped into non-league football with Grays Athletic, Crawley Town, and his current club Dover Athletic.
Curtis Weston
(Midfield, substitute for Wise)
In the 89th minute at Cardiff, Weston became the youngest ever FA Cup Finalist at the age of 17 years and 119 days. Sadly, Curtis did not fulfil his potential, and joined Swindon Town in 2006 before moving on to Leeds United. He then enjoyed four seasons as a regular in midfield for Gillingham, but now plays for Barnet.
Mark McCammon
(Forward, substitute for Harris)
McCammon's two-year stint at Millwall between 2003 and 2005 was not a successful one in terms of goals - he only scored twice in 23 appearances. The Lions were one of 13 different clubs that the Barbados international striker has played for. Without a doubt the unhappiest spell he had was at Gillingham, as you'll find out in
this article from July
. Since successfully claiming that he was unfairly dismissed by the Gills, he has been all but unemployable as a footballer.
Marvin Elliott (far left) tackles Paul Scholes in the 2004 FA Cup Final.