Weekend reflections is back after a two-month absence with The Daily Transfer Request's view on the second-most professional McManaman in football, and the least professional Russian-Nigerian in the beautiful game.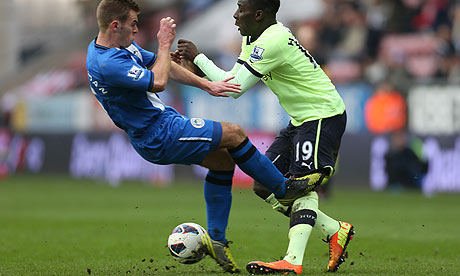 Tekken 7: Premier League edition, featuring new character Callum McManaman.
McMan...ARGHHHH, MAN!
Wigan Athletic defeated Newcastle United yesterday to boost their survival hopes, but their 2-1 victory was upstaged by a horrific tackle from their young forward Callum McManaman.
McManaman, who is a 'distant relative' of former England and Liverpool midfielder Steve, made a horrific lunge on Newcastle star Massadio Haidara just over ten minutes into the game. It was a true striker's tackle, with McManaman's right foot clashing with the left knee of Haidara. The Frenchman never stood a chance.
The 21-year-old wanted to make an impact in his first Premier League start, and he did just that. But as a result of his tackle on Haidara, the Newcastle full-back's season is over, and his whole career could easily have been put in jeopardy.
I'll admit that when I first heard of Haidara, I thought he was Japanese. That seems rather ironic now, because McManaman seemed to come in at him like one of the combatants in a Japanese fighting video game like Tekken or Street Fighter.
Newcastle were incensed that McManaman's tackle on their man went unpunished - not even a yellow card was shown by referee Mark Halsey. At half-time, Magpies coach John Carver went over to confront the Latics youngster, and nearly started a riot in the process. Carver was sent off, which was what should've happened to McManaman.
Wigan manager Roberto Martinez tried to put the youngster's tackle down to fresh enthusiasm rather than any recklessness or aggression. Newcastle boss Alan Pardew was not so forgiving, saying, "
The pictures speak for themselves. I thought it was an awful challenge and I was 60 yards from the incident."
McManaman is one of the very few players to have come through Wigan's youth set-up and played for the first-team in the Premier League. Even though he made very little impression on the top-flight before he put his mark on Haidara's leg, he has played a larger role in Wigan's run to the FA Cup Semi Finals.
If he is given a three-game ban, which the FA is likely to hand to him retrospectively, then he will miss their Semi Final meeting with Millwall at Wembley on 13 April.
Here in the UK, we are very critical when people carry out criminal or aggressive acts, and the perpetrators aren't given any sympathy. But if CNN get wind of this, they'd probably say that Callum McManaman's
"promising" career had been "ruined"
. Then, their glamorous young reporter would have claimed at the FA's disciplinary meeting that it had been "incredibly difficult" to watch as "this young man literally watched as his life fell apart".
As for Haidara, he'll hardly get mentioned, although there's bound to be one hack who mistakenly refers to him as Japanese. Bloody stupid Yanks.
West Brom's Peter Odemwingie in his new position as bench-warmer.
'Wing it
When West Bromwich Albion's Peter Odemwingie tried to make history by becoming the first footballer to sign for a new club without his current team's permission, he effectively burned his bridges with the Baggies.
Now, he has - to all intents and purposes - shut the border, declared war on West Brom, and started preparing nuclear missiles for launch.
The Soviet-born Nigeria international yesterday used Twitter to fire another shot at his employers for dropping him to the bench in recent games. The straw that broke this particular camel's back came on Saturday, when he made only a 23-minute cameo as a substitute at Stoke City in a 0-0 draw that was nothing if not a cure for insomnia.
On Sunday, Odemwingie went all Piers Morgan, tweeting,
"Keeping me on the bench now is worst [sic] than what they did on the 31st [January]. New advisers told me to take say its all my fault cos it's better or me."
He followed that up with this,
"Former Albion sporting director [presumably Dan Ashworth] in the presence of the new [Richard Garlick] and Manager [Steve Clarke] apologised to me in private. Publicly not good? Come under my cloud."
I could copy the rest of Odemwingie's rants here if I wanted to, but I plan on going to bed tonight.
West Brom fans hit back at the 31-year-old, with
Mike Russell
tweeting,
"please shut up Peter, you may not realise, but it's not all about you. Your constant moaning is tedious!!!"
When another supporter said that he should be sacked, Odemwingie replied,
"That's my wish."
When Peter Odemwingie came to this country in 2010, I had him down as a respectful individual who had coped with the horrific racist abuse he received in his native Russia with dignity. But once again, my personal view on an exceptionally-talented footballer has turned 180 degrees.
Odemwingie won't be short of suitors when he can next be sold in the summer. Queens Park Rangers tried to sign him on Deadline Day, when he left the Midlands for an impromptu drive around west London, and if they stay in the Premier League for next season, they could well make another bid for him.
If Harry Redknapp wants a prolific striker who has scored 30 times in two-and-a-half Premier League seasons, that's fine by him. But unless he also wants another ticking time bomb who could be just one rejection away from going on hunger strike, then he should look elsewhere. After all, he's already got Adel Taarabt.