Last Sunday, I revealed the names of the six players that I will consider for The Daily Transfer Request's Player of the Year award.
I will now look at all six nominees in greater detail, explaining why they have been nominated ahead of other possible contenders.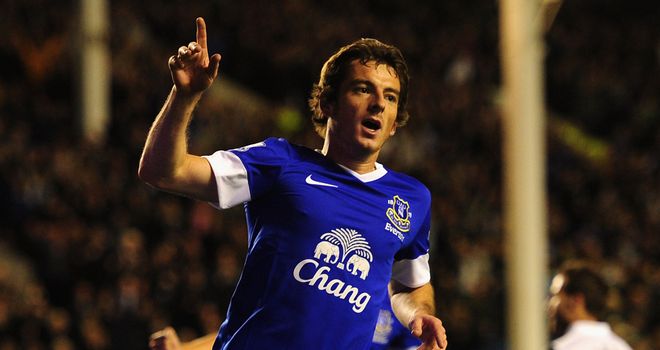 Leighton Baines is an attacking full-back who has made very few mistakes.
Leighton Baines
(EVERTON)
Everton's excellent start to the Premier League season, and their sustained challenge for a European place, was largely down to two players: Leighton Baines and Marouane Fellaini. The latter would definitely had been nominated if his form hadn't dipped in the second half of the season, but Baines has been consistent throughout the campaign, so he gets the nod from me.
This is Baines' eighth season in the top flight, but this has been the year in which he has firmly established himself as one of the Premier League's leading defenders. You can count the number of mistakes that the 28-year-old has made this season on one finger, and that's why so many people now regard him as being England's best left-back ahead of Ashley Cole.
As well as his defensive qualities, Baines has become well known for his prowess as an attacking full-back. He has scored five PL goals, and created assists for five others as well. His deadliness when it comes to set-pieces, especially free-kicks, has earned him comparisons to another top-class left-back from the recent past, Roberto Carlos. Baines is not quite as renowned as the Brazilian legend, but he has had a blinding season and does not deserve to be off the PFA Player of the Year shortlist.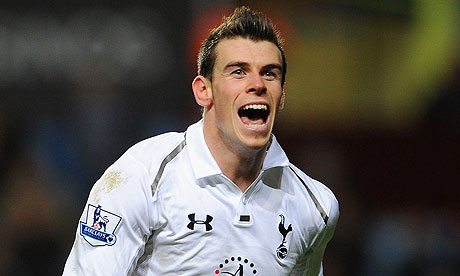 Left-foot virtuoso Gareth Bale can make a monkey of defenders.
Gareth Bale
(TOTTENHAM HOTSPUR)
In the past two seasons, Gareth Bale has absolutely blitzed the first half of the Premier League campaign, and then dropped off in the New Year. You can't say that about him this season. He has been very much the talisman of a Tottenham Hotspur team that is seriously challenging for a top-three finish, and with it, an automatic place in next season's UEFA Champions League group stages.
The former left-back has been converted into a free-scoring midfielder, and his clinical finishing - which was at its best between late January and early March - has put him amongst the favourites to win the PFA Player of the Year. Any out-and-out striker would be satisfied with at least 20 goals a season, but Bale has already found the net 28 times in all club competitions, and he's far from finished.
23-year-old Bale was injured against FC Basel earlier this month, but in his comeback game last Sunday, he transformed a 1-0 deficit against Manchester City into a 3-1 win for Spurs. In recent years, the Wales international has rounded his game and is now seen by a certain Zinedine Zidane as the best player in European football. If that's the case, this might be Bale's last season in the Premier League - with several continental giants ready to offer silly money to Daniel Levy - but what a season it has been!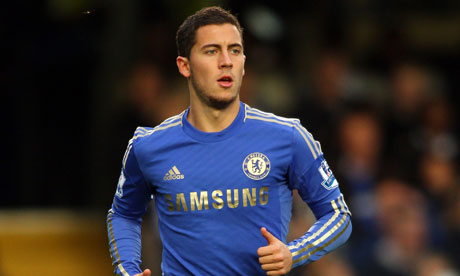 Eden Hazard has had a very impressive first season in English football.
Eden Hazard
(CHELSEA)
Chelsea's biggest signing of the summer has lived up to his £32million price tag so far, and at the age of just 22, the best is yet to come from Eden Hazard. The Belgian is possibly the most controversial selection for this award, but he has demonstrated that he is as prolific with setting up goals as he is with scoring them. Without him, the Blues would perhaps struggle to qualify for the UEFA Champions League.
The attacking midfielder has scored a couple of sublime long-distance goals this season, and his pace can leave centre-backs coming up in rashes. I remember early on in the opening day match against Wigan Athletic that Hazard stormed past Ivan Ramis as if he wasn't there, and then set up the easiest of finishes for Branislav Ivanovic. That was a sign of things to come from a player who, in a few years time, will surely be up there with the very elite.
There was, of course, one blot in Hazard's Chelsea copybook. His mindless confrontation with a Swansea City ballboy in the League Cup Semi Final was a reminder that he's still young and still needs to grow up a little before he can become a Stamford Bridge great. But with nine goals and as many assists in his first Premier League season, this wonderkid is certainly heading in the right direction.
Juan Mata has been involved in nearly 50 Chelsea goals this season!
Juan Mata
(CHELSEA)
After winning the UEFA Champions League and the European Championship, and participating in the Olympic Games, Juan Mata was given a well-deserved break at the start of Chelsea's league season. The Spanish wizard has been all the better for it, as after a sublime campaign, he is now seen as one of the Blues' key players. I'd go as far as to say that he is their most important player full stop.
Mata has built on a promising first season at Stamford Bridge, and come out even better in his second. He has scored 18 goals in all competitions, and has made so many assists that I've lost count! The hard-working forward has also built up an almost telephatic relationship with Chelsea's two new kids on the block, Oscar and the aforementioned Eden Hazard. Mata is the oldest of the trio, and even he is only 24, so those three players can form a frightening midfield team for the best part of the next decade.
His passing ability is second to hardly anyone in the Premier League, and a similarly small number of players can have as much influence on a match as Mata. It's no wonder, then, that so many loyal Blues are comparing him to arguably Chelsea's finest ever player, Gianfranco Zola. For a man who looks uncannily like Andre Villas-Boas, who is hardly a legend at Stamford Bridge, that's not bad going.
There are not many deadlier finishers in the PL than Luis Suarez.
Luis Suarez
(LIVERPOOL)
In the 1950s and 1960s, Luis Suarez was a creative and high-scoring playmaker for Barcelona and Inter Milan, and was regarded as one of the best European midfielders of his generation. The Spaniard was also a class act. The current Luis Suarez is just as talented a footballer as his namesake, and even more deadly in front of goal, but he also far surpasses the original for controversy.
The Uruguayan forward is, quite simply, the only reason why Liverpool aren't in mid-table obscurity. His tally of 23 goals in the Premier League this season is surpassed only by a certain Dutchman that I'll be talking about a bit later on. Of those 23 goals, the best came against Newcastle United, when he chested a 65-yard long ball, rounded the keeper and then finished with comfort. It's those moments of brilliance that set 26-year-old Suarez apart from his team-mates.
However, his candidacy for the PFA Player of the Year, and certainly also the TDTR Player of the Year, has been put under question by the fact that controversy seems to follow him. In the past, he's been found guilty of racial abuse, given opposing fans the finger and kept out a certain goal with his hands. Sunday's bite on Branislav Ivanovic will be the final straw for many, but when the decisions are made over who gets the big awards, will his obvious talent shine through rather than his many character flaws?
Robin van Persie has been THE deciding factor in the title race.
Robin van Persie
(MANCHESTER UNITED)
Last year, Arsenal's captain Robin van Persie was named PFA Player of the Year, and I was one of those who agreed with that decision. After a prolific first campaign at Manchester United, in which he has won his first English league championship and looks set to pick up another 'Golden Boot', will van Persie be top dog for the PFA and me again?
Holland international van Persie doesn't look like matching his 30-goal Premier League tally from his final year at the Emirates Stadium, but 24 strikes this term have propelled his new club to a commanding victory in the title race. His second goal against Aston Villa on Monday, which effectively sealed the championship, was so sublime that I've agreed to give it a last-minute nomination for the TDTR Goal of the Year.
Something else which stands the 29-year-old apart from his peers is the quality of his shooting. In the PL, he's scored from less than a third of all his shots on target! He's also better than a lot of other leading strikers in terms of creating chances - he has an impressive tally of eight assists so far. As the crucial final piece of the jigsaw that is a brilliant Manchester United team, van Persie is the clear-cut favourite to win the TDTR Player of the Year... but anything could happen before the season is over and I make my final choice!
Special mentions
Like with the PFA Player of the Year award, I could only have six nominees for the TDTR Player of the Year gong. If I could have picked eight, then Swansea City's Michu and Everton's Marouane Fellaini would also have been in the running for sure.
Michu cost Swansea just £2million and came into England as a free-scoring attacking midfielder. We didn't know exactly how free-scoring he would become. He was the first goalscorer of the new Premier League season, and in all competitions, he has found the net 21 times in 38 games. His impact on English football has been so great that he has even been considered for a Spain international call-up, despite playing just one season in La Liga before moving to the Liberty Stadium.
Marouane Fellaini has been one of Everton's star attractions for five years now, but this season, he's taken his game to a different level. The versatile midfielder has racked up 11 goals and five assists in the Premier League, and being 6ft 4in tall, he is also a constant aerial threat. The Toffees may miss out on UEFA Champions League football this season, but I'm confident that the big-haired Belgian will be playing in that competition very soon.
Michu and Fellaini can both consider themselves very unlucky to have missed out on a big award nomination, but their disappointment will perhaps spur them on to play even better in the future.