Sweet: Callum McManaman books Wigan Athletic a second trip to Wembley.
Wigan's most famous sons are perhaps the 1990s alternative rock band The Verve, whose biggest hit was "Bitter Sweet Symphony".
Bittersweet sums up my feelings after witnessing Richard Ashcroft and co's hometown club reach the FA Cup Final at the expense of Millwall. It feels sweet because a team that has only been a Football League member for 35 years has made it to the biggest game in English football, but it also feels bitter because Millwall fans have once again sullied the reputation of their beloved club.
I'll start with the sweet. Wigan Athletic played in an unfamiliar red strip in their first FA Cup Semi Final, but it certainly brought them plenty of luck at Wembley Stadium, where - of course - another team had some pretty good fortune with it 47 years ago.
The first goal took a while in coming, but they broke through after 25 minutes. The two best Latics players on the day in my opinion teamed up perfectly on that occasion, as Arouna Koné's lofted cross was clinically finished by Shaun Maloney.
Millwall battled on, particularly in the second half, when Wigan goalkeeper Ali Al Habsi was forced into a number of crucial saves to keep the Lions at bay. The Omani international has been replaced as Wigan's first-choice keeper in the league by on-loan Joel Robles, but when it comes to the FA Cup, Al Habsi is still the number 1, and he once again performed brilliantly.
With 12 minutes to go, Wigan wrapped it up with a goal from their youth team product Callum McManaman, who has certainly made his mark on top-level domestic football this season, as Massadio Haidara will testify.
Reaching the FA Cup Final represents the fulfilment of the dream of many Wigan fans. Those who were around 40 years ago witnessed their team play at Wembley in the FA Trophy Final, which they lost in extra time to the now-defunct Scarborough.
Back in those days, Wigan Athletic were a non-league club playing Northern Premier League fixtures at Springfield Park. They tried (and failed) to win election to the Football League no fewer than 34 times, and even tried to enter the Scottish League in 1972! Six years later, they finally got their wish and replaced Southport in the Football League.
Wigan managed to win promotion to Division 3 after just four seasons in Division 4, but when they were relegated back to the bottom tier in 1993, life became tough for them. It wasn't until 1995, when footballer-turned-businessman Dave Whelan purchased the Latics, that the club's fortunes turned around again.
Athletic were promoted back to the old Division 3, which was then called Division 2 and is now League One, in 1997. A couple of years later, they moved into the house that Whelan built - the JJB Stadium, which has since been renamed as the DW Stadium. They then entered the Championship in 2003 before reaching the promised land of the Premier League in 2005.
Wigan have defied the odds to stay in the PL for eight consecutive seasons, and they have also experienced a major cup final, the 2006 League Cup Final, which they comprehensively lost to Manchester United. But the FA Cup Final is a different kettle of fish. Four decades after playing against teams like Ellesmere Port Town, Netherfield and South Liverpool on a regular basis, Wigan are now preparing for the biggest match in their history against either Chelsea or Manchester City, back at the 'Venue of Legends'.
The Latics fans at Wembley behaved with a lot of dignity, which is more than can be said of some Millwall 'supporters'. Everything was hunky dory until Wigan went 2-0 up, at which point some 'bushwackers' decided to mark Baroness Thatcher's death by repeating some of the thuggish scenes of some Lions fans during the Thatcher era.
Groups of spectators in the Millwall sections of Wembley fought with police officers, not to mention themselves. Stewards took time to try and control the violence as women and children were left in tears. When ESPN showed pictures of a young Millwall-supporting girl crying, that really made me question my continued backing for a club that I have supported since a school trip to The Den a decade ago.
"Why do I bother supporting them now?" I asked myself. I would always try to defend my second team whenever the issue of Millwall hooliganism is brought up, and the problem with violence isn't as bad as it was in the 1980s, but I can't defend them on this occasion. This was an FA Cup Semi Final at Wembley for goodness sake! The least one would expect from the 30,000-odd Lions at the national stadium was that at least 99% of them would be on their best behaviour.
I should stress that the Millwall players are totally blameless, along with the majority of their supporters. But the people that I really feel most sorry for are the chairman John Berylson, CEO Andy Ambler, and the other directors and executives at The Den who try their level best to make their south London club famous for all the right reasons. Their hard work is being done by a thuggish minority who try to break their compatriots' noses and take police officers' helmets away from Wembley as souvenirs.
Sadly, newspapers like the Daily Mail will take this as an opportunity to tar all Lions fans with the same 'bigoted violent fascists' brush, when in fact they should be congratulating Wigan on a magnificent achievement.
Wigan Athletic do get a lot of stick for having a controversial chairman, a half-full stadium and a squad that has more nationalities than Brad Pitt and Angelina Jolie's children, but they really are living the dream. They are an inspiration for any regional league team who, 40 years down the line, will want to be even half as successful as the Latics are now.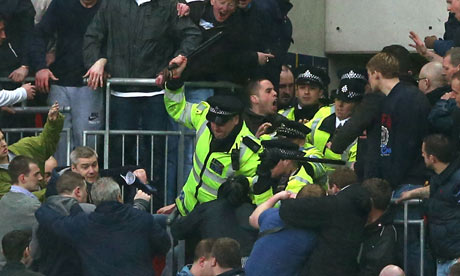 Bitter: Millwall fans drag their club's reputation through the mud once more.