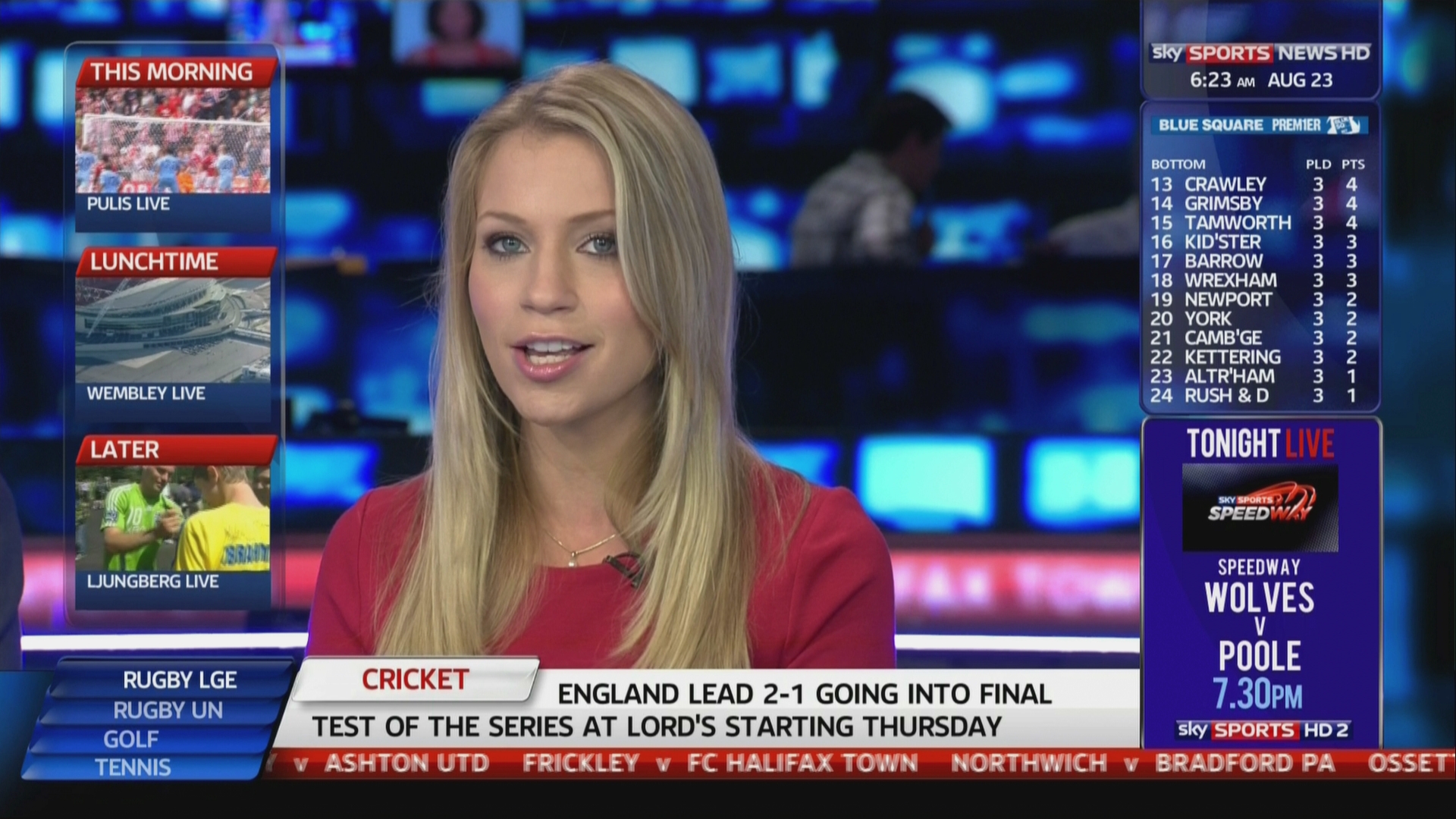 Sky Sports News then...
...and Sky Sports News now!
I don't know if you've noticed, but Sky Sports News has introduced another new look today.
The new on-screen graphics look very crisp and much clearer than before. All in all, it looks great! I'm surprised that they've introduced it now, right at the finishing straight of the football season rather than in the off season like they usually do, but maybe they've got something even better planned...
It's a far cry from 1998, when most of the Premier League's players were still English, the glamorous female presenters of today were still at school or university, and it seemed that only the Japanese and the Americans had HD TV. But some things never change, like Mike Wedderburn presenting in the mornings. You can watch the very first promo video, featuring our Mike, on the wonderful
TVARK
.
Indeed, TVARK - just like YouTube - has plenty of Sky Sports News videos from days gone by, so it's worth a look if you want to reminisce about when the likes of James Munro and Dan Lobb were presenting.
As this year marks the 15th anniversary of the launch of Sky Sports News, I think this is as good time as any to look back at some of the channel's most memorable moments.
When I started watching SSN in the early 2000s, it looked very much like this: very white, very blue, and not exactly great in HD. However, it did have some fantastic intro music! Here's a typical introduction from 2004, before they replaced it with The Chemical Brothers, and before Di Stewart left to become a below-average golf presenter instead.
Two years on, and Sky Sports News looked even bluer! This is a 2006 interview with Macclesfield Town's new manager at that time, a certain Paul Ince.
In 2009, Ed Chamberlin was just another news presenter in the Sky Sports ranks. Here, he made a classic blooper, trying to interview the Steve McClaren's FC Twente manager Steve McClaren when the wally with the brolly was talking to another journalist! It didn't stop him from getting the top job of anchoring Sky's Premier League coverage two years later, though.
Soccer Saturday has been part of the Sky furniture since long before News Corporation's TV arm even thought about a 24-hour sports news channel. Jeff Stelling and the gang have been entertaining us for close to two decades, and one of Soccer Saturday's all-time highlights is this great moment from 2010:
To this day, I don't believe Chris Kamara has ever known exactly what happened at Fratton Park on 3 April 2010!
Of course, though, it wasn't all fun and laughter on Sky Sports News. One of the most memorable moments I've ever witnessed on SSN was Yorkshire football reporter Bryn Law
breaking down live on air
when talking about his recently-deceased friend Gary Speed in 2011.
Sky Sports News has always been well-known for giving jobs to young and attractive female presenters, and the queen bee of them was without a doubt Georgie Thompson. Georgie was, especially in the mid-2000s, the poster girl of the channel, until she started dating Dec out of Ant & Dec and started believing in her own publicity. Here she is on her final SSN shift in December 2011, as Julian Warren and Jim White give her the perfect send-off.
Thompson moved on to Sky's new F1 channel for the 2012 season, but she has since left the corporation and is expected to join BT Sport in the next few months.
And finally, here's something from earlier this season, as Jim White makes light of Joey Barton's French accent and Kirsty Gallacher can't contain herself.