Five days on from the end of the Premier League season, it's time to look back at The Daily Transfer Request's pre-season predictions to see where I went right... and where I went wrong.
In the days building up to the big kick-off, I looked at all 20 Premier League teams and predicted where they would end up on 19 May. To find out exactly what I said at the time, click on the links for Part 1, Part 2, Part 3 and Part 4.
I will now look at all of the teams once again, from top to bottom, and explain why I got certain predictions spot on and why some of the others were further off the mark than
this
.
Rio Ferdinand "merked" my belief that Manchester United's defence was leaky.
1. Manchester United
(Predicted 1st, no change)
I said at the very start that Manchester United
"are hungrier and show more togetherness than City"
, and I was right. While Roberto Mancini was losing the Eastlands dressing room, Sir Alex Ferguson was building a younger, more dangerous team.
My prediction that United would win the title was made before they rubber-stamped the signing of top scorer Robin van Persie, but his arrival from Arsenal only made me more confident that my prediction would come true. After all, I said,
"One marquee signing can really make the difference"
, and van Persie
WAS
the difference maker.
My only doubts about the Red Devils was that their defence was rather leaky. To be fair, though, Rio Ferdinand has been excellent in the centre of defence since his early-season slump, and David de Gea has - as predicted - become a more dependable goalkeeper.
2. Manchester City
(Predicted 2nd, no change)
Before the season began, I said that Manchester City had to show no mercy against other top teams if they were to have a good chance of retaining the Premier League. While the Citizens were unbeaten against teams like Arsenal, Chelsea and Liverpool, they suffered damaging losses against Everton and Tottenham Hotspur late in the season, and their April win over United was merely payback for a more decisive reverse in December's derby.
Apparently, Sergio Aguero and David Silva were
"unstoppable at their best"
. Well, in that case, they weren't unstoppable this season. Aguero's PL goal count dropped from 23 last season to 17 this, and Silva was arguably even more disappointing. The Spanish winger only managed eight assists this term, compared to the 15 he made to steer City to championship glory.
You can also forget my belief that
"opposing teams dread going to the City of Manchester Stadium"
. Five teams took at least a point from City's home ground this season compared to just the one in the previous campaign - in fact, Manchester United and Norwich City both came away with all three points.
3. Chelsea
(Predicted 3rd - no change)
Cracking Manchester's stranglehold was indeed a tough ask for Chelsea. They lost to both Manchester sides in the Premier League this season, and their victory at Old Trafford came when the trophy had already had '2012-13: Manchester United' engraved on it.
I was spot on with regards to Chelsea's strengths. Their solid defence was the third best in the PL, and they conceded four goals fewer than the champions. Winger Juan Mata had a brilliant season by all accounts, and Eden Hazard lived up to his £32million transfer fee. The Blues were, however, lacking in alternative centre-forward options to Fernando Torres, and although they were scoring enough goals from midfield, new arrival Demba Ba came in useful after joining from Newcastle United in January.
Roberto Di Matteo was not given much of a chance as Chelsea boss, but the Stamford Bridge did not - as feared - go off the rails with another change of manager. In fact, Rafael Benitez led them to 3rd place in the league, an FA Cup Semi Final, and glory in the UEFA Europa League. As far as interim managers go, Benitez did a pretty fine job. Fact.
4. Arsenal
(Predicted 4th - no change)
"If the injury crisis of the last campaign does not repeat itself, the Gunners should continue their fine record of qualifying for 15 successive Champions Leagues."
I said that in the second paragraph of my Arsenal preview, and in truth, the Gunners did not have another injury crisis, and they did qualify for a 16th successive UEFA Champions League. However, they didn't leave much room for manoeuvre.
Arsenal were rejuvenated by their summer signings - to some extent. Santi Cazorla was the driving force of his new team from the start, and although striker Lukas Podolski was at his most deadly during the middle of the season, the less expensive Olivier Giroud came good towards the end, and the Frenchman finished the campaign with one more goal than his German team-mate.
5. Tottenham Hotspur
(Predicted 7th - 2 places better)
Who said that Tottenham Hotspur were at risk of going backwards under Andre Villas-Boas? Oh, wait, it was me. What a blooper that was. Villas-Boas came within one Newcastle United goal against Arsenal of delivering UEFA Champions League football to White Hart Lane, and the demanding Portuguese manager brought the best out of Gareth Bale rather than alienated him, like I thought he could have.
Here's another glaring error from Yours Truly:
"And even if they lose Modric, they still have a deadly attacking midfielder in Rafael van der Vaart."
That's the same Rafael van der Vaart who joined Luka Modric in leaving Tottenham early in the season. Villas-Boas made up for losing van der Vaart by adding Clint Dempsey to his squad, and Dempsey arguably made a bigger contribution to Spurs' attack than the Dutchman would've done had he stayed.
"Fuller said that I would be a failure at West Brom? Who's laughing now?"
6. Everton
(Predicted 8th - 2 places better)
Ahead of the new season, I typed these words of Everton,
"Toffees fans can expect another solid if unspectacular season under David Moyes's stewardship."
Solid it was, but it was also quite spectacular in places. A blistering start, contrary to my prediction, saw Everton launch a surprise challenge for a UEFA Champions League place. In the end, they were unlucky not to qualify for Europe at all.
My description of Marouane Fellaini as a midfield lynchpin was never truer this season - he was absolutely the key reason behind Everton's impressive form. The brilliant Belgian will surely follow the Toffees' sought-after Scottish manager, as I described David Moyes, to Manchester United in the summer, and he will be greatly missed at Goodison Park.
7. Liverpool
(Predicted 5th - 2 places worse)
Brendan Rodgers has, to some extent,
"rejuvenated a Liverpool that looked stale under Kenny Dalglish at times"
. Youngsters like Raheem Sterling and Suso have been like a breath of fresh air for Liverpool, especially in the first half of the season. I said before kick-off that big things were expected of Sterling, although to be honest, I didn't expect him to be a senior England international by now!
However, it wasn't the happiest of first seasons for the Reds' new manager. A very poor start was not significantly improved upon - as far as I'm aware, Liverpool didn't break into the top six at all this season, let alone the top four. 7th was as high as they got. That proves correct my pre-season summary that Rodgers could not expect to finish in the top four at the first time of asking.
8. West Bromwich Albion
(Predicfed 17th - 9 places worse)
Steve Clarke, I can only apologise. I severely doubted the Scot's managerial credentials until West Bromwich Albion made a sensational start to proceedings. Although the Baggies could not sustain that form, they did at least blow in the water my prediction that they would be relegation candidates without the stability that former manager Roy Hodgson gave them.
When I came to writing up my preview, I stated that Clarke was renowned for building strong defences. In fact, they conceded four more league goals than last season, but 59 is still a reasonably low number of goals to let in. West Brom didn't need improving at the back, but they certainly did up front, and Clarke addressed that by signing three strikers. Romelu Lukaku was fantastic, but Yassine El Ghanassy and Markus Rosenberg... were not.
9. Swansea City
(Predicted 11th - 2 places better)
Hands up those of you who thought Swansea City were going to suffer second-season syndrome. A few of you, then. I don't wish to gloat, but I never thought Swansea were going back down to the Championship, because they had too much attacking quality to be relegated. They may have only scored as many goals as relegated Wigan Athletic, but the deadliness of Michu up front spurred them to a top-half finish.
Manager Michael Laudrup continued the free-flowing attacking game that predecessor Brendan Rodgers advocated, and in fact improved on it. Unlike last season, when Swansea's heads dropped as soon as they went a goal behind, they showed their fighting qualities more often, as plenty of late goals earned them crucial points, and they even fought back from conceding the first goal to beat Wigan Athletic 3-2 in April!
10. West Ham United
(Predicted 13th - 3 places better)
West Ham United were always
"the strongest of the three promoted sides"
, both on paper and in reality. Sam Allardyce's no-frills approach to management saw the Hammers finish well clear of the drop. As I said in the summary,
"Big Sam doesn't do relegation battles."
I will always own up when I get things wrong, and in hindsight, the sentence
"Their away form's good, but they really need to sort things out at home"
couldn't be more inaccurate if I added that West Ham played their home games at Downton Abbey. The Hammers won nearly half of their matches at Upton Park, but on the road, they won just three times and scored a pathetic eleven goals. Their away form's actually far from good!
Allardyce was a little hit and miss with his bargain signings. Midfielder Mohamed Diame was a fantastic Bosman acquisition, but Modibo Maiga hasn't justified the £7million fee that Big Sam paid for him, nor did Alou Diarra for his £2million price. I thought very highly of defensive midfielder Diarra to begin with, but after three PL appearances for the Hammers, he ended the season on loan at Rennes.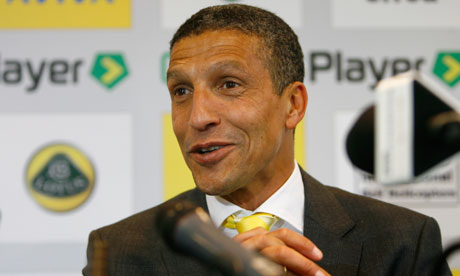 Norwich finished comfortably in mid-table - no wonder Chris Hughton;
11. Norwich City
(Predicted 15th - 4 places better)
Chris Hughton picked up where Norwich City's former manager Paul Lambert left off, and proved that he was just the man to ensure that they didn't get second-season syndrome. The Canaries may not have had as much breathing space as they did last season, but they did end up finishing one position higher.
Hughton's tactics weren't as pretty as Lambert's, and the stats prove that. Norwich didn't score as many goals as they did in 2011/2012, but the number of goals that they conceded was also markedly reduced. You couldn't exactly say that Hughton was getting his tactics wrong.
With their new, more pragmatic approach to the game and hardly any big stars in their team, Norwich have proved once again
"that you don't need superstars to stay in the most glamorous league in football"
, like I said when predicting them to finish clear of the bottom three.
12. Fulham
(Predicted 14th - 2 places better)
Yours Truly wrote at the start of his Fulham preview,
"Fulham fans are anticipating another season in mid-table under the guidance of Martin Jol"
, and that prediction was right on the button. I also said, though, that if they kept hold of Clint Dempsey and Moussa Dembele, they could even challenge for a top-seven finish. They couldn't keep either midfielder, and in the end, the Cottagers had to settle for finishing just outside the top half.
I thought that Fulham's two new strikers, Mladen Petric and Hugo Rodallega,
"could either be absolute bargains or unmitigated disasters"
. Petric scored just five goals, and Rodallega only three, with both being totally outstripped by fellow new signing Dimitar Berbatov. Therefore, they are more suited to the latter category, and Fulham need to sign a half-decent sidekick for Berbatov next season.
13. Stoke City
(Predicted 13th - 3 places better)
Stoke City didn't stagnate like I feared pre-season, but a poor end to the season brought a sense that major change was perhaps needed ahead of the next campaign. That change came at the top, with Tony Pulis' departure coming after the manager led his team to yet another lower mid-table finish, well clear of relegation.
I wrote that Stoke were particularly effective at home. In truth, their performances at the Britannia Stadium were not bad but not great, although their home form was much better than their away form, which was pretty awful. Just two of their wins came from outside of the Potteries.
While the Potters had a meaner defence than Europa League qualifiers Tottenham Hotspur, their attack was about as deadly as Paul O'Grady tickling you with a feather duster. Last season, Stoke were the PL's worse team when it came to scoring goals, and this season, they would have repeated that feat had Queens Park Rangers not been even more impotent.
14. Southampton
(Predicted 18th - 4 places better)
"If they start badly, it could set the tone."
Those were my exact thoughts on Southampton before they started the season by losing six out of their first eight matches, conceding 24 goals in the process. I also said in my preview,
"The St Mary's club are good when it comes to holding leads, although that will be tested this season."
Indeed they were. They threw away leads against both Manchester clubs in August - in fact, they were 2-0 up on United before Robin van Persie decided to steal the show.
At that point, Southampton were looking odds-on for relegation, and the owners' love affair with happy-go-lucky Nigel Adkins died down. Mauricio Pochettino came in, but despite having as much grasp of the English language as I have of Spanish, he guided the Saints up the table. They lost just two of their final ten league matches, thus blowing to smithereens my pre-season fears.
In the Weaknesses section of the Saints preview, I wrote,
"St Mary's is home to a number of talented kids like left-back Luke Shaw. However, you can't look at the squad and pick out a player that is bona-fide Premier League class."
Nine months on, and you can pick out a few players of Premier League class in the Southampton squad. One of them is Luke Shaw, who before this campaign had made just one senior appearance in the FA Cup.
15. Aston Villa
(Predicted 12th - 3 places worse)
Aston Villa came 16th last season, but I thought that they looked like a team that could
"steadily work their way back up the table under an excellent young coach"
. Paul Lambert took them from 16th all the way up to 15th - a whole one-place improvement! That said, though, this season could've gone much, MUCH worse.
I genuinely feared for the Villans' long-term Premier League future at the early stages of the season, especially with goalkeeper Shay Given in such low spirits after his UEFA Euro 2012 horror show. However, there were some positives to come out of Villa Park this season. Brad Guzan proved a very worthy replacement for the declining Given, defender Matt Lowton's late rise up the English football echelons continued, and the arrival of Christian Benteke late in August gave Villa a talented goalscorer of the highest quality.
I should also point out that I expected bright things of Andreas Weimann, and the young Austrian was Aston Villa's third-highest goalscorer in the PL this season. I also put Gary Gardner in the same category, but sadly, a cruciate ligament injury meant that he only played in the very first game and the very last game of the season.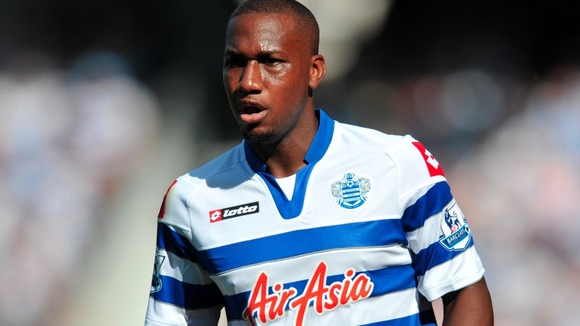 QPR's Junior Hoilett was one of the best worst free signings of the season.
16. Newcastle United
(Predicted 6th - 10 places worse)
"Can Newcastle boss Alan Pardew live up to increased expectations at St James' Park?"
Our survey said... (BUZZER) Newcastle United, who came within a whisker of a potential Tuesday night trip to Barcelona last season, came within a whisker of a potential Tuesday night trip to Barnsley this season. I was one of many who just could not foresee Pardew's Black and White army getting into a relegation battle, especially not with their legion of French stars.
Perhaps, in hindsight, they bought too many French players too quickly. Full-back Mathieu Debuchy hasn't lived up to expectations, Gabriel Obertan looked like the polar opposite of a player signed by Manchester United years ago, and Massadio Haidara suffered a serious injury early on in his St James' Park career. I also said at the start of the season that
"few Britons know about midfielder Romain Amalfitano"
... and, er, that hasn't changed a bit.
"Were there to be a spate of injuries, Newcastle might have to depend on inexperienced youngsters"
was another thing that I said when looking at the Magpies squad. Although there wasn't exactly an injury crisis on Tyneside, the Geordies did suffer some significant losses. I previously mentioned Haidara, but Dan Gosling was also a long-term absentee, and Ryan Taylor played just once before suffering not one but TWO cruciate knee injuries! Taylor's absence was another key reason for Newcastle's decline.
17. Sunderland
(Predicted 9th - 8 places worse)
Having previously said that Sunderland were good for the top half under Martin O'Neill, the Ulsterman immediately proved me wrong by leaving them good for relegation when he was sacked in March. He was replaced by Paolo Di Canio, who quickly turned the Stadium of Light into a media circus but managed to keep the Mackems up due to Wigan Athletic's own failings.
Sunderland needed a prolific goalscorer before the start of the campaign, so O'Neill brought in Steven Fletcher. He started the season so strongly that he single-handedly carried the Black Cats through their first few matches, but after scoring five goals in September alone, he only found the net six times in subsequent months. With Fletcher's form going south, Sunderland clearly lacked another quality centre-forward, which is why I think the decision to sell Fraizer Campbell to Cardiff City in January was a bemusing one.
18. Wigan Athletic
(Predicted 19th - 1 place better)
Far too often, Wigan Athletic have borrowed from Lady Luck, and now they have paid the price. Sooner or later, the Latics were going to be relegated, and the sale of Victor Moses to Chelsea robbed them of their talisman. Their goalscoring record did improve enough thanks to the excellent signing of Arouna Koné, but it still wasn't enough for the FA Cup winners to avoid dropping into the Championship.
In the previous campaign, Roberto Martinez kept the Latics' head above water after overseeing famous victories against Manchester United and Arsenal amongst others. Following their latest great escape, how many points did Wigan manage to pick up against the eventual top four this time around? ZERO. Yes, they may have taken four points off 5th-placed Tottenham Hotspur, but even the other two relegated teams did better against the big guns!
Ahead of this campaign, I said that goalkeeper Ali Al-Habsi had greatly improved over the previous 12 months. Well, he undid his good work by contributing to the joint-worst defensive record in the PL, and he was replaced as number 1 midway through the season by Joel Robles.
19. Reading
(Predicted 20th - 1 place better)
Nine months ago, I raved about how great a signing Pavel Pogrebnyak was for Reading, and how great a loss it was for Fulham. Well, just like the old Soviet liquidators, I must clean up the mess made by the prediction that blew up in my face. Pogrebnyak found the net just eight times - even Adam Le Fondre, in his very first season as a Premier League player no less, scored six more than the former VfB Stuttgart striker.
It isn't just the disappointing Pogrebnyak that should be blamed for Reading's failure to stay up. A defence which I called watertight ended up as the joint-worst in the division. It was never a good idea to have 30-something Ian Harte as one of their regular full-backs, especially when he had the pace of a superglued slug.
20. Queens Park Rangers
(Predicted 10th - 10 places worse)
Oh dear, where do I start?
"QPR... should finish considerably clear of danger"
Erm, no.
"Ex-Blackburn Rovers forward David 'Junior' Hoilett could be the best free transfer this summer."
Wrong again.
"The revolution under wealthy businessman Tony Fernandes is finally underway."
And it's over in a flash.
Queens Park Rangers' squad had more changes than David Bowie's image, but only two of their 17 new arrivals could be considered to be heroes, namely Julio Cesar and Andros Townsend. One could also identify Loic Remy as a successful signing... if you were really going to push the definition of a successful signing.
In summary, QPR had a dreadful season. And on that note, I bid you adieu.