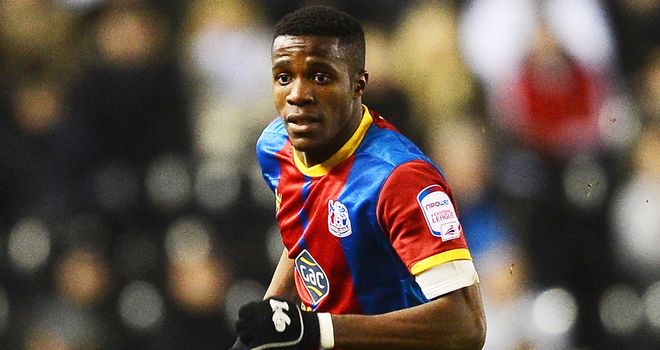 Will Wilfried Zaha's last Crystal Palace game be one to remember?
Around £120million, and a place in next season's Premier League, is up for grabs this afternoon in the Championship Play-Off Final. Will Crystal Palace or Watford reach the promised land?
Both teams have prior experience of winning Play-Off Finals to reach the top flight, but neither has graced the Premier League for several years. Whatever happens, one of this season's big success stories will have a fairytale ending at Wembley.
Crystal Palace are play-off veterans, having gone up to the top division via that route in 1989, 1997 and 2004. Since the formation of the Premier League, they've never stayed up for more than one season, but they only have to look at the last two Championship Play-Off Final winners - Swansea City and West Ham United - to see what is achievable.
Ian Holloway won the Play-Off Final as Blackpool manager in 2010, but three years on, doing the same with the Eagles would be just as great an achievement. The charismatic Bristolian, whose Blackpool team lost last year's Final to West Ham, has taken a Crystal Palace team that Yours Truly tipped for relegation to a 5th-place finish, and to the very brink of promotion.
Holloway will again have to contend with the loss of the Championship's top goalscoer, Glenn Murray, who suffered a serious cruciate injury in the first leg of the Semi Final against Brighton & Hove Albion. Former Norwich City striker Aaron Wilbraham will take his place up front, but defender Jonathan Parr and captain Paddy McCarthy are also ruled out through injury.
39-year-old striker Kevin Phillips is on the bench today, and this could well be the final match of an eventful career. It will definitely be Wilfried Zaha's last match for Crystal Palace before the exciting young England international completes his £15million transfer to Manchester United.
Whoever edited Watford's Wikipedia page deserves a British Comedy Award.
Watford's season has been a remarkable one. They missed out on automatic promotion to Hull City on the final day of the regular season. Then, deep into injury-time in their Play-Off Semi Final second leg against Leicester City, with the aggregate scores level, they conceded a penalty. Manuel Almunia saved from Foxes midfielder Anthony Knockaert, and about half a minute later,
Troy Deeney scored at the other end
. Watford were on their way to Wembley!
They are now within 90 minutes of a return to the Premier League. Their previous two stints, in 1999/2000 and 2006/2007, were both earned by winning Play-Off Finals, but neither lasted more than one season.
Watford's rise up to 3rd place in the Championship has not been without controversy. Gianfranco Zola's Hornets have exploited a loophole in the loan system allowing them to bring in several players on loan from Udinese and Granada, who like the Vicarage Road club are owned by Giampaolo Pozzo. Without such players as Almen Abdi and Matej Vydra, it's unlikely that Watford would've finished in the top half, let alone the top three.
After taking his team to a training break in Marbella (which is not that far from Granada), Zola will today name an unchanged squad from that which started against Leicester. Deeney and Vydra will be up front, but Zola is still undecided on a couple of places, which means that Matt Briggs and Jonathan Hogg could potentially miss out to the benefit of two more Udinese rejects.
I really should be impartial about this game, but to be honest, I am anything but. Watford's journey to Wembley has come at the expense of their soul, and Vicarage Road is now no more than a finishing school/dumping ground for Udinese. Crystal Palace will have my full support this afternoon, and my head as well as my heart says that they will edge this one.
TDTR PREDICTS:
Crystal Palace 2-1 Udinese 'B'
Troy Deeney is one of the few Watford players actually contracted to them.