David Beckham and Michael Owen will both retire later this month.
I was very surprised, and I'm sure many of you were too, when David Beckham announced that he was to retire from playing.
After nearly four months at Paris Saint-Germain, Beckham will bring the curtain down on a two-decade career in a Ligue 1 game at Lorient on 26 May.
Just four days ago, the 38-year-old became the first English footballer to win league championships in four different countries. The former Manchester United, Real Madrid and Los Angeles Galaxy star, who also featured for Preston North End and AC Milan, will go down as one of the best British players of his generation.
The London-born midfielder began his professional career with United in 1992 - the year that he was part of the famous FA Youth Cup-winning squad that became known as Fergie's Fledglings. He would make 394 appearances in eleven seasons for Alex Ferguson's team, and won the Premier League six times as well as the UEFA Champions League in 1999.
In 2003, he became the latest superstar signing of Real Madrid's Galactico project, linking up with some of the great players of his era - Zinedine Zidane, Luis Figo, Ronaldo, Raul, Roberto Carlos. He would also win a league title in Spain, but not until his final season (2006/2007), when Real tore the championship from Barcelona with an excellent comeback win against Mallorca.
Becks' next destination was Los Angeles, as he signed a very lucrative deal with their Major League Soccer team. It was wins all round as Galaxy won the MLS Cup in 2011 and 2012, Beckham continued to excel on the pitch, and soccer became more popular in the United States during his time there. He also had two loan spells at AC Milan during the 2009 and 2010 off-seasons, although
the second didn't end too well
.
On deadline day of January 2013, he made one last transfer, and it was - unsurprisingly - to another wealthy and ambitious club. Well, it was hardly going to be Scunthorpe United, was it?
This is what you could've done, David, if you decided to stick around...
Typically, his time in France has ended with yet another league championship, which has cemented his reputation as one of British sport's most prolific champions of recent times.
Beckham gets a load of stick for all sorts of reasons (
selling himself out
,
letting himself be pictured in his undercrackers
, giving his kids ridiculous names...), but you can't accuse him of not being professional or a role model, and those traits weren't more evident when he was playing for England.
After making his England debut in 1996, Beckham went on to make 115 appearances for the Three Lions, captaining them 59 times and scoring 17 goals. Arguably the best of those 17 goals came on the afternoon on 6 October 2001, when England were losing to Greece in a game that they needed to win to qualify for the FIFA World Cup,
he did this
.
Beckham is the most high-profile of a number of recent England football stars to retire this year. Before this month began, the retiree with the biggest reputation was Michael Owen.
Owen burst onto the scene as a teenage scoring sensation at Liverpool in 1997, and a year later, he announced his arrival on the world stage with
this wonderful solo goal
for England against Argentina.
By the age of 22, he was a Ballon d'Or winner, and he was on course to break Bobby Charlton's England goals record of 49. However, a string of injuries meant that he only got as far as 40, in 89 caps, and by the time he moved to Real Madrid in 2004, he had already peaked.
Owen's time at Real lasted just one season, and he returned to the Premier League with Newcastle United before finally winning a league title with Manchester United in 2011. After being released by the Red Devils last season, he tried to prolong his career at Stoke City, but a grand total of eight appearances and one goal for the Potters suggests that he would've been better off retiring there and then.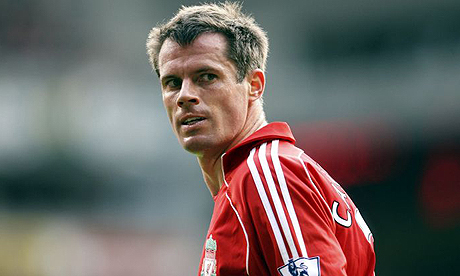 We will also be saying goodbye to Jamie Carragher...
Michael Owen made his Liverpool debut in the same 1996/1997 season as Jamie Carragher, a centre-back who would turn out for the Anfield side 736 times, scoring five goals (and even more own goals!). Carragher would also lift the Champions League trophy in 2005 and play 38 times for England, although the Premier League has always eluded him.
Unlike Owen, who was burnt out long before his current age of 32, Carragher is bowing out at the top, aged 35. He has been a regular starter for Liverpool over the last sixteen seasons and has decided to retire before he is reduced to a bit-part player by manager Brendan Rodgers.
A fourth England ace who will call it quits very shortly is Paul Scholes, Manchester United's very own one-club man. Scholes has played 717 matches for United since 1994 and won all sorts of trophies with them. He briefly retired from playing in 2011 before coming back last year, but has now decided to hang up his boots for good.
Scholes started out as a forward before becoming a tough-tackling midfielder, and one of the best players in recent years to play in the middle of the park. Although his disciplinary record left plenty to be desired, many footballing luminaries have lauded him for his style of play, especially his pinpoint passing, and also for his attitude on the pitch.
As well as being a consummate professional, Scholes comes across as being considerably more humble than most footballers nowadays, although you can't describe his England career as 'humble'. In 66 appearances, he scored 14 times before retiring in 2004 to prolong his United career and spend more time with his family.
For Beckham, Owen, Carragher and Scholes to all retire in the same year is quite remarkable. It really is the end of an era in English football, especially when you consider that, with Beckham, Owen and Scholes all forming part of the 1998 FIFA World Cup squad, the only member of that team who will still be playing next season will be Rio Ferdinand. He is the last man standing from my first experience of being disappointed by England.
Blimey! I'm 23, and already I'm starting to feel old!
...but Rio Ferdinand is still going at the age of 35!