Last night, the Daily Telegraph and the BBC were reporting that one of the greatest managers in football history was about to announce his retirement.
This morning, it has been confirmed that Sir Alex Ferguson will step aside as Manchester United boss at the end of his 27th season at Old Trafford.
In footballing terms, this is a breaking news story that only comes about once in a generation. This is the end of an era not just at Manchester United, but also in English football. When he leaves his post and steps up to the United board, he will have left a massive hole that will be difficult to fill, even if a certain Portuguese coach is annonited as his successor.
Unless you have been living in a cave since 1986, you do not need to be told how successful Sir Alex Ferguson has been at United. He is undoubtedly the most successful British football manager of all time, and in a quarter of a century, he has transformed a sleeping giant into a soccer superpower with nearly 40 more honours than they had before he came on board.
This is Sir Alex's journey from a young and talented Scottish coach to world domination:
Ferguson brought incredible success to Aberdeen before heading south.
1941-1986: Pre-United
Alexander Chapman Ferguson was born in Govan, Glasgow on New Year's Eve 1941. 16 years later, he made his senior football debut as a striker for Queen's Park. While playing for the amateur club, he worked in the Clyde shipyards as an apprentice tool-worker. He continued to do so when he joined St Johnstone in 1960, but four years later, he turned professional with Dunfermline.
Three prolific years at East End Park followed, and then Ferguson got the chance to play for his boyhood heroes, Rangers. He was at Ibrox for two years, but his time there came to an end after a poor performance in the 1969 Scottish Cup Final against Celtic. Ferguson was blamed for one of Celtic's four goals in the Final, and Rangers froze him out of their first-team until he was transferred to Falkirk.
During the 1970s, Ferguson was promoted to player-coach at Falkirk, but he left in 1973 after being stripped of his coaching responsibilities by the club's new manager. After a season with Airdrie United, he retired from playing in 1974 at the age of 32.
Ferguson decided to move into management, initially with East Stirlingshire, where he cut his teeth from June to October. He then received an offer from St Mirren, which he accepted after taking advice from the man who was at the time Scotland's most reputable manager, Jock Stein.
In 1977, St Mirren - who were struggling in the second tier when Fergie arrived - were promoted to the Premier Division as champions of Division 1. The average age of the Buddies' team was just 19, and their captain Tony Fitzpatrick was only 20, so you could say that they were the original Fergie's Fledglings!
After a major falling-out with the club board, Ferguson was sacked in 1978. He took over at Aberdeen in June, and turned them into champions of Scotland just a couple of years later, in 1980. A strict disciplinarian, he brought the best out of his team, and although the Dons would not win another league title until 1984, an even more prestigious trophy was heading to Pittodrie.
The date - 11 May 1983. The venue - Gothenburg, Sweden. The match - Aberdeen vs Real Madrid in the final of the European Cup Winners' Cup. Eric Black gave the Dons an early lead before Juanito equalised from the penalty spot. There were no more goals in normal time, so extra time followed, and eight minutes from the end, Peter Weir took possession from Real. He hit a long ball to Mark McGhee, whose subsequent cross from the left wing was headed in by substitute John Hewitt. Aberdeen were the winners of a major European trophy for the very first time.
Ferguson won two more Premier Division titles at Aberdeen in 1984 and 1985, and stayed with them despite offers from Arsenal, Rangers and Tottenham Hotspur. In the latter year, he got an unexpected chance to manage Scotland at a FIFA World Cup following the shock death of Stein from a heart attack. Like many others before and since, he tried to get the Scots out of the Group Stage alive, but like all of them, he didn't succeed. His tenure as national coach ended after just ten matches.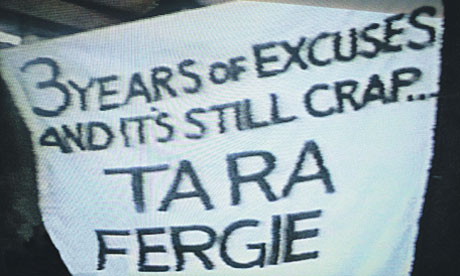 This was what some Manchester United fans thought of Fergie in 1989.
1986-1992: Destination Old Trafford
On 6 November 1986, Alex Ferguson left Aberdeen for pastures new. His destination was Manchester United. The Red Devils had got rid of 'Big' Ron Atkinson after they slumped to 21st in the English Division 1 table. His first two results were not that promising - a 2-0 defeat to Oxford United and a 0-0 stalemate at Norwich City - but when United beat Queens Park Rangers two weeks after Ferguson's appointment, their fortunes steadily improved. They finished the campaign in 11th place after Fergie tightened discipline and curbed the drinking culture at the club.
In his first summer as United boss, Ferguson brought a number of new faces to Old Trafford - among them were Steve Bruce, Viv Anderson and, er, Jim Leighton. Although United dramatically improved as a result (they finished 2nd), they were still a long way behind local rivals Liverpool.
1987/1988 was promising for Manchester United, but the following season, it looked like being a false dawn. The Red Devils ended up 11th again in 1989, and Fergie splashed the cash once more, for Paul Ince, Gary Pallister, and his future assistant Mike Phelan. The 5-1 loss at Manchester City that September represented a new low point for the Ferguson regime at Old Trafford, and fans were soon holding up banners saying "Ta Ra Fergie".
Manchester United were just outside the relegation zone at the start of 1990, and they were on a seven-game winless streak when they faced Nottingham Forest in Round 3 of the FA Cup. A goal from Mark Robins saw United through to the next round, and their cup run would extend all the way to the Final, where they overcame Crystal Palace to win their first piece of silverware under Ferguson's management. If it hadn't been for that Robins goal at the City Ground, the chances were that Ferguson would have been sacked.
An inconsistent United team came 6th in the 1990/1991 Division 1 table, and their manager looked abroad in search of players for the first time. Ukrainian winger Andrei Kanchelskis would spend four years at the club, but a more significant impact would be made by a Danish goalkeeper by the name of Peter Schmeichel.
The Red Devils led the table for much of 1991/1992 before ultimately losing out to Leeds United. However, there was much to be encouraged by in terms of the youth players. Lee Sharpe had been a hit since his signing from Torquay United in 1988, but he was just two of many exciting talents at Old Trafford. In 1992, Manchester United won the FA Youth Cup with David Beckham, Nicky Butt, Ryan Giggs and Gary Neville - all future regulars for the senior team. Phil Neville and Paul Scholes would soon make their way into the first-team picture as well.
United players mob Eric Cantona after he inspired them to the 1994 Double.
1992-1998: Kings of England
Manchester United started the first ever Premier League season rather slowly, and Alex Ferguson was under pressure again. That was until one day in November, when he received a phone call from Leeds boss Howard Wilkinson. Somehow, he managed to turn an initial Leeds United approach for Denis Irwin into a Man United swoop for the Whites' French maestro Eric Cantona. That was the big turning point.
Cantona was a major influence in the second half of the season as United (Manchester, not Leeds) surged to the top of the PL. On 2 May 1993, Leeds lost against Oldham Athletic, and Ferguson was broken the news that he had won the title whilst playing golf. It was United's first league title for 26 years. Another period of red dominance, this time from Manchester as opposed to Liverpool, was underway.
1993/1994 brought about United's first ever domestic double, as the FA Cup was added to the Premier League. With Cantona in free-scoring form and young midfield hardman Roy Keane brought in to replace the declining Bryan Robson, it seemed that nothing would stop them from making it three titles in a row. Except Cantona.
The fiery Frenchman took leave of his senses after being sent off against Crystal Palace in January 1995, performing a kung-fu kick on a loud-mouthed Palace supporter. Cantona was banned for nine months, by which time Manchester United had ceded the championship on the final day to big-spending Blackburn Rovers.
Shortly before Cantona's capitulation, Ferguson once again spent wisely in the transfer market. swapping Keith Gillespie and £7million for Newcastle United hotshot Andy Cole. However, the following summer was tougher for Fergie, as he let Ince, Kanchelskis and Mark Hughes leave, and after failing to sign any big-name replacements, he decided to promote his Fledglings instead.
On the first day of the 1995/1996 season, a young Manchester United team lost 3-1 to Aston Villa. That prompted Match of the Day pundit, and former Liverpool defender, Alan Hansen to utter the immortal lines,
"You can't win anything with kids."
Nine months later, and Hansen was consuming the biggest humble pie ever made.
Newcastle United had stormed to the top of the Premier League, and were ten points ahead of the Red Devils by Christmas 1995. Eventually, in a battle of minds, Newcastle boss Kevin Keegan cracked, Ferguson stayed composed, and Manchester United ate into the Magpies' lead before pinching the title on the final day. Shortly afterwards, Cantona scored the winner in the FA Cup Final, and United had done the double Double.
Another Premier League title was wrapped up in 1997, but Cantona's sudden retirement hit United hard, and the following season would end without a new trophy in the Old Trafford cabinet. It was time for Ferguson to delve into his transfer budget once more.
Three was a magic number for Alex Ferguson and Manchester United in 1999.
1998-2003: Trebles all round
Alex Ferguson spent a lot of money in the summer of 1998 - nearly £30million, in fact, on Aston Villa striker Dwight Yorke, PSV Eindhoven defender Jaap Stam and Swedish midfielder Jesper Blomqvist. The first two were instrumental in United's success in 1998/1999, but it was the club's existing stars that stole the show.
It was extra time in the FA Cup Semi Final that Ryan Giggs lit up Villa Park with one of the greatest solo goals ever seen in English football. That goal secured a dramatic win over Arsenal, and after beating the Gunners to the Premier League championship weeks later, United won the FA Cup Final 2-0 against Newcastle. A third domestic double was nice, but what Manchester United really wanted was a Treble. And that meant beating Bayern Munich in the UEFA Champions League Final on 26 May.
It was United's second European Cup Final, and it came 31 years after Best, Charlton and co lifted the trophy at Wembley. However, with injury time left to play at the Nou Camp, it didn't look like Ferguson's team were going to repeat that feat. Bayern were 1-0 up thanks to Mario Basler's free kick and looked as solid and resilient as your typical German team.
Ferguson had earlier brought on Teddy Sheringham and Ole Gunnar Solskjaer in a bid to, at the very least, force extra time. In the first minute of added-on time, Sheringham took full advantage after Bayern failed to clear away a corner. That was the equaliser, but a couple of minutes later, with literally just seconds left on the clock, United pulled victory from the jaws of defeat. Beckham's corner was flicked towards the far post by Sheringham, and there was Solskjaer to toe-poke it in and complete the most incredible comeback in European Cup Final history.
Ferguson returned to England with an unprecedented three major trophies in one season for Manchester United. Just over a fortnight later, he became Sir Alex, as a knighthood was bestowed on him by the Queen.
The next two Premier League titles were won comfortably. In 1999/2000, they finished 18 points ahead of Arsenal, but they failed to defend the Champions League or the FA Cup, the latter because they withdrew to take part in FIFA's Club World Championship. They returned from that tournament in Brazil trophyless, and with many accusing them of disrespecting football's oldest cup competition.
The 2000/2001 Premier League was won by a 10-point gap from Arsenal, although again, victory in any of the cups was not forthcoming. After winning English football's top flight three years in a row, Ferguson brought in Juan Sebastian Veron and Ruud van Nistelrooy - the latter would've joined a summer earlier had he not suffered a serious knee injury. He also sold Stam to Lazio after falling out with the Holland defender over comments made in his autobiography, and replaced him with the ageing Laurent Blanc.
van Nistelrooy was an immediate hit, but Veron was a £28million flop, and after they lost to West Ham United on 8 December 2001, Manchester United sat 9th in the Premier League table. Ferguson had earlier announced that 2001/2002 would be his last season in charge at Old Trafford, but as United's form improved, he agreed to stay on in February.
The Red Devils finished 3rd, and ahead of the 2002/2003 campaign, Sir Alex made his biggest gamble yet. He broke the British transfer record again, paying £30million for Leeds United centre-back Rio Ferdinand. It was very expensive, but worthwhile - United had the PL's best defensive record as a late comeback saw them overtake Arsenal to win their eighth league championship under Ferguson.
That win was the end of the road for Manchester United and their superstar right-midfielder, England captain David Beckham. On 15 February, after the Red Devils were knocked out of the FA Cup by Arsenal, Fergie lost his cool. He allegedly kicked a boot in Beckham's face (although some reports said that he threw it at Beckham). The pair's short-term relationship was damaged, and in the post-season, Becks was sold to Real Madrid. Who would fill the number 7's boots at United?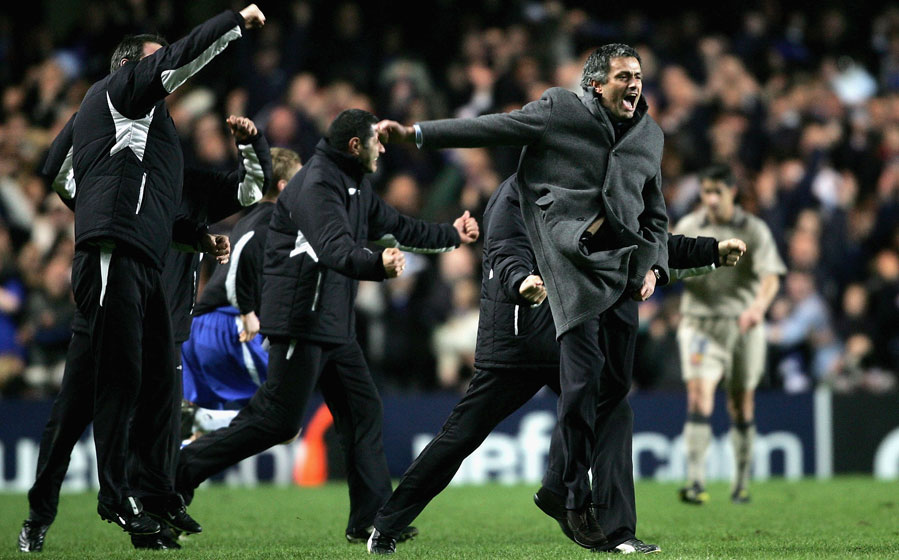 Jose Mourinho would be the bane of Fergie's life for the best part of four seasons.
2003-2007: Dominance under threat
The new number 7 at Manchester United was a flashy Portuguese teenager called Cristiano Ronaldo dos Santos Aveiro. Ferguson paid a good £12million for Sporting Lisbon's 18-year-old winger, and Cristiano Ronaldo would end his first season in England with a trophy. However, it was not the Premier League.
Forgetful Ferdinand missed a mandatory drugs test in late 2003, and was subsequently banned for eight months. The loss of a defensive rock was a major blow to United, who could only manage 3rd place as unbeaten Arsenal dominated and mega-rich Chelsea planned an assault of their own.
United didn't win the Champions League, either. They were felled at the Round of 16 when Costinha scored in the final minute to send Porto through to the Quarter Finals. This was Sir Alex's first meeting with a young, charismatic coach called Jose Mourinho, and it wouldn't be his last.
For Ferguson personally, it was a frustrating season. He fell out with United shareholder John Magnier over the ownership of a racehorse, and refused to speak to the BBC for seven years after they screened a documentary which cast his agent son Jason in a negative light.
Victory in the FA Cup Final meant that 2003/2004 wasn't completely fruitless for Manchester United, but the following season was a different matter, even though they spent £25.6million on the signing of wonderkid Wayne Rooney from Everton. Chelsea, now under Mourinho's guidance, took the Premier League title to Stamford Bridge for the first time. Liverpool triumphed in the Champions League, but the bitterest pill - as far as United were concerned - was in the FA Cup Final against another rival, Arsenal. Ferguson's men were beaten on penalties, with Scholes missing the crucial spot-kick.
United had struggled in goal since Schmeichel's departure after the 1999 Treble-winning season. Mark Bosnich, Massimo Taibi, Fabien Barthez and Roy Carroll all flopped. Ferguson turned to the experienced Fulham keeper Edwin van der Sar for the 2005/2006 season, which was the Red Devils' first under the ownership of Malcolm Glazer and his family.
That season yielded just the one trophy: the League Cup, which was Ferguson's first since 1992. With Chelsea continuing to spend their way to the very top, this was very much a transistional campaign at Old Trafford. Keane left by mutual consent, van Nistelrooy soon followed, while the January signings of Patrice Evra and Nemanja Vidic bolstered the defence.
Keane's replacement in the centre of midfield was Tottenham Hotspur's Michael Carrick, an £18million signing in July 2006. While the United midfield line was looking stronger than ever, Rooney and Ronaldo were starting to hit their stride as well. As a result, their four-year wait for another Premier League crown was ended in 2007. The king was back on his throne.
Manchester United were crowned European champions again in 2008.
2007-2011: Back on top
There were plenty of arrivals for the next season: Owen Hargreaves, Anderson, Nani and Carlos Tevez all signed for Manchester United ahead of what would prove to be another hugely successful campaign.
The Premier League was won by United after a close three-way battle between themselves, Chelsea and Arsenal. While a squad which Sir Alex called the best he had ever assembled did their talking on the pitch, the boss talked his way into trouble off it. His disdain towards referees was always well-known, but when he said that refs chief Keith Hackett was "not doing his job properly", the FA threw the book at him.
On 21 May 2008, United were chasing another double of sorts, as they faced Chelsea in Moscow for the Champions League. The first all-English European final came down to penalties, but when Ronaldo missed, Blues captain John Terry had the chance to take the trophy to south London. He slipped on the wet pitch, missed the penalty, and moments later, van der Sar saved from Nicolas Anelka to secure a second Champions League title for Ferguson, and a third for Manchester United.
Now aged 66, the question was: how long would Sir Alex go on for? United fans were wishing he could manage them forever when, in 2009, they celebrated an 18th league championship, pulling them level with Liverpool. To put that in context, before Man United won their first Premier League title in 1993, they had been crowned English champions just seven times.
United also won the League Cup, but lost out on the Champions League to a Barcelona team that was beginning to look like they could dominate world football. At the end of the season, Ferguson said that he would carry on as long as his health permitted him.
The hunt was on for that record 19th championship, and Manchester United would have achieved that in 2010 if they beat Stoke City on the final day (which they did) and Wigan Athletic shocked Chelsea. Alas, Chelsea were in no mood for dramas as they demolished the Latics 8-0.
Ferguson officially became Manchester United's longest-serving manager on 19 December 2010 when he overtook Sir Matt Busby's tenure of 24 years, 1 month and 13 days. He would finish the 2010/2011 season by completing his big mission of overtaking Liverpool on the league championships count. In the end, the Premier League was won comfortably, with a nine-point lead and just four defeats.
Sir Alex now had the chance to do what Sir Matt did, and win the Champions League at Wembley. The opponents were Barcelona, and it was an excellent match... if you were a Barca fan. Thanks to one of the greatest team displays ever seen in top-level football, Barcelona denied Fergie his third Champions League win.
"We've done it, lads, we've won the tit... oh, wait, no we haven't."
2011-2012: Noisy neighbours
2011 represented the end of the line for some of Manchester United's old guard. Gary Neville and Edwin van der Sar retired, as did Paul Scholes, although the latter would come back the following January. Sir Alex Ferguson lined up a couple of youngsters to replace them, namely goalkeeper David de Gea and defender Phil Jones. England winger Ashley Young, who while not THAT young was still only 26, was signed from Aston Villa.
In 2009, Ferguson referred to big-spending rivals Manchester City as "noisy neighbours". United's neighbours became even easier in October 2011 when a thumping 6-1 win at Old Trafford firmly established City as the team to beat in the Premier League. It was Ferguson's worst home defeat, and he didn't like it one bit.
A couple of weeks later, he was in a happier mood when the North Stand at Old Trafford was renamed as the Sir Alex Ferguson Stand. His mood continued to improve as the season went on, and United got closer and closer to their rivals in the standings.
After 37 teams, City were on 86 points, and United were on 86 points. The Citizens' goal difference was +8 better compared to the Red Devils'. Basically, on the final day, United had to get a better result against Sunderland than City got against Queens Park Rangers to make it title number 20.
United did their bit, narrowly defeating Sunderland 1-0. They then faced an anxious wait as City played out the last few minutes against QPR. Manchester City were 2-1 down when Edin Dzeko equalised in injury-time, but surely, SURELY, they wouldn't get a winner in the time that was left! United fans waited. And waited. And waited some more.
Then this happened
.
And this was how they reacted
. If Sir Alex Ferguson was going to bow out on a high, it wasn't going to be on 13 May 2012.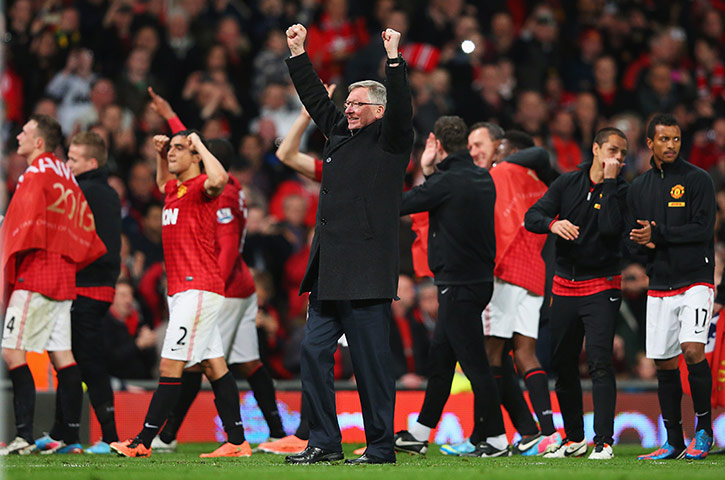 With a 13th league title sewn up, Sir Alex Ferguson is heading for retirement.
2012-2013: The final curtain
Sir Alex Ferguson sought to get revenge on Manchester City, and he did so by pinching Arsenal captain Robin van Persie from under their noses. It would prove to be around £27million well spent, while Fergie also invested in Borussia Dortmund's Shinji Kagawa, whose first season at Old Trafford would be a bit more mixed.
The campaign began with a shock 1-0 loss against Everton, managed by David Moyes. Despite this early set back, Manchester United quickly got back to winning ways, and as the Citizens slipped up, United built a solid lead.
The Red Devils were going great guns in the Premier League, but in the Champions League, they were early casualties. They lost a controversial Round of 16 clash against Jose Mourinho's Real Madrid after Nani was the recipient of a perhaps unwarranted red card.
Back on the PL front, United were so dominant that their lead was as big as 18 points at one stage. They missed the chance to all but seal the title on 8 April when they were beaten by Manchester City, but the party eventually got underway a fortnight later. Ferguson's big-name signing, van Persie, repaid the best part of his transfer fee with an incredible hat-trick against Aston Villa. With the help of their number 20, United had got league championship number 20.
With 13 league titles and 36 other trophies on his CV, Sir Alex Ferguson now sees this as the right time to retire - at the age of 71 - from a job which he has held for over 26 years. In eleven days' time, Manchester United will finish the season at West Bromwich Albion. It will be Sir Alex's 1506th and final game in charge.
Before then, the Old Trafford faithful will have their chance to say goodbye to Ferguson when United play host to Swansea City this Sunday. There won't be a dry eye in the house.
SIR ALEX FERGUSON'S HONOURS
With Manchester United:
13 Premier Leagues
(1993, 1994, 1996, 1997, 1999, 2000, 2001, 2003, 2007, 2008, 2009, 2011, 2013),
5 FA Cups
(1990, 1994, 1996, 1999, 2004),
4 League Cups
(1992, 2006, 2009, 2010),
10 Charity/Community Shields
(1990 [shared], 1993, 1994, 1996, 1997, 2003, 2007, 2008, 2010, 2011),
2 UEFA Champions Leagues
(1999, 2008),
1 UEFA Cup Winners' Cup
(1991),
1 UEFA Super Cup
(1991),
1 Intercontinental Cup
(1999),
1 FIFA Club World Cup
(2008)
With Aberdeen:
3 Scottish Premier Divisions
(1980, 1984, 1985),
4 Scottish Cups
(1982, 1983, 1985, 1986),
1 Scottish League Cup
(1986),
1 UEFA Cup Winners' Cup
(1983),
1 UEFA Super Cup
(1983),
With St Mirren:
1 Scottish First Division
(1977)
Individual:
3 LMA Manager of the Year awards
(1999, 2008, 2011),
10 Premier League Manager of the Season awards
(1994, 1996, 1997, 1999, 2000, 2003, 2007, 2008, 2009, 2011),
UEFA Coach of the Year
(1999),
4 World Soccer Magazine World Manager of the Year awards
(1993, 1999, 2007, 2008),
BBC Sports Personality of the Year Coach Award
(1999),
BBC Sports Personality of the Year Lifetime Achievement Award
(2001),
Order of the British Empire
(OBE 1983, CBE 1995),
Knights Bachelor
(1999)
SIR ALEX FERGUSON'S MANCHESTER UNITED RECORD
League:
Played 1033, Won 624, Drawn 237, Lost 172, For 1939, Against 924, GD +1015
FA Cup:
Played 120, Won 80, Drawn 22, Lost 18, For 230, Against 93, GD +97
League Cup:
Played 97, Won 62, Drawn 10, Lost 25, For 178, Against 107, GD +71
Charity/Community Shield:
Played 16, Won 4, Drawn 7, Lost 5, For 22, Against 22, GD 0
Europe:
Played 232, Won 124, Drawn 61, Lost 47, For 393, Against 213, GD +180
Intercontinental:
Played 6, Won 4, Drawn 1, Lost 1, For 11, Against 7, GD +4
OVERALL RECORD:
Played 1504, Won 898, Drawn 338, Lost 268, For 2773, Against 1366, GD +1407