Rio, here we come! Japan are already preparing for the 2014 World Cup assault.
There is exactly a year left to go until the start of the 2014 FIFA World Cup in Brazil, and we're approaching the business end of the qualifying stages.
203 teams started out on the road to Rio de Janeiro (amongst other cities, of course), and as things stand, just one team - Japan - has booked their place in the finals, and 101 are still in qualifying contention. The next five months will decide which 30 teams join Brazil and Japan in next year's big dance.
With 365 days to go until it all kicks off in Sao Paulo, what is the current state of play? Today, TDTR looks at the runners and riders, along with some of the big-name fallers.
AFRICA
In Round 2, 40 teams are split into 10 groups of four. The winners of each round-robin group will advance to Round 3, where they will be put into five two-legged knockout ties, with the winners qualifying for the World Cup.
With only ten teams advancing to the final round of Africa's qualifiers, we are certain to see some big-name casualties, and we're also likely to see some unheralded nations rise up.
With two rounds to go, Tunisia, Ivory Coast and Egypt are in control of their respective groups, although neither of them is yet assured of a Round 3 place, while Congo are set to move a step closer to their first ever World Cup finals. Zambia are one point ahead of 2010 quarter finalists Ghana in Group D, while the hosts from three years ago - South Africa - trail Ethiopia in Group A.
Nigeria and Algeria are also leading their groups, but both sides are still under some pressure. Elsewhere, Groups I and J are exceedingly tight - in both groups, a mere two points separate the top and bottom teams! Libya and Senegal are the respective group leaders at the moment.
ASIA
In Round 4, 10 teams are split into two groups of five. The top two of each group will automatically qualify for the World Cup. The third-placed teams will face off in a two-legged tie, where the winner will meet a South American team in another two-game play-off for one of the last remaining World Cup berths.
Next week's final round of matches will see three teams join Japan in booking their plane tickets for Brazil. The two victors from Group A are yet to be decided - South Korea, Iran and Uzbekistan all remain in the running. The Koreans top the group and are almost there, barring a disaster, and Iran will also qualify unless they lose to the leaders and Uzbekistan beat Qatar. Were that to happen, the Uzbeks would be in a World Cup for the very first time.
Group B has already been won by Japan, who have completed their qualifying fixtures and can now relax. Australia can't, though, despite the fact that they are in 2nd place. Were they to slip up against the already-eliminated Iraq, they could open the door for either Oman or Jordan - who face one another - to qualify automatically, although Jordan would need to win by double figures to do so.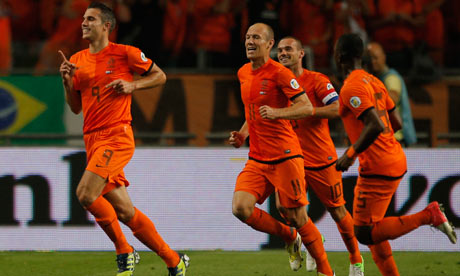 Holland are running like clockwork in the World Cup qualifiers.
EUROPE
53 teams are split into eight groups of six teams and a ninth group consisting of five teams. The group winners will automatically qualify for the World Cup, and the eight best runners-up will play-off for the four remaining European places.
Group A is basically a straight fight between Belgium and Croatia. Belgium have the upper hand, holding a three-point lead with three games to go, although the two teams' meeting in Split on 11 October will be crucial in deciding who qualifies. From this group, Scotland became the first European team to be officially eliminated from the 2014 World Cup.
Group B is headed by Italy, although they are still looking behind their shoulder, as Bulgaria and Czech Republic aren't yet miles behind them. Armenia and Denmark are also in the running for a potential play-off spot.
With four matches left, Germany lead Group C by five points, and one feels that only a complete stromausfall would stop them from qualifying. The battle for that play-off place couldn't be any tighter, though. Austria, Sweden and the Republic of Ireland all have 11 points, and those three will fight to the finish.
Holland traditionally saunter through the qualifiers, and Group D is already theirs to lose. They are the only European team to have a 100% record in the 2014 World Cup qualifiers, and have four games to repeat their perfect run in the 2010 preliminaries. What about the others? Hungary are second, but Romania are just one point behind them, and neither Turkey nor Estonia can be discounted at this stage.
Group E is very interesting. Switzerland are, unsurprisingly, the standout team in a competitive group and lead by four points from Albania. Third place is occupied by Iceland, who are one point behind their fellow World Cup virgins, and Norway are another point shy of Iceland. Slovenia, who qualified in 2010, are currently 5th but still retain some hope.
Portugal are the Group F leaders, but that's not to say that they are the favourites. They have 14 points with three matches to go... but Russia have 12 with five matches left, and Israel have 11 with four. What's more, Russia are still to have their two meetings with Luxembourg, so I'd put a sizeable chunk of money on Fabio Capello's side to qualify automatically.
Group G now, and the next four months could be the biggest in Bosnia & Herzegovina's footballing history. The Bosnians lead Greece by three points and have a massive advantage in goal difference, so they're the favourites to finish top and make their debut appearance in a World Cup. However, the Greeks still have to play little Liechtenstein twice, and the Bosnians must play third-placed Slovakia home and away. The Slovaks will be hoping to act as spoilers for Bosnia, while boosting their bid to qualify for successive WCs.
I couldn't possibly call Group H. Montenegro are on 14 points (three games left), England are on 13 (four games left) and Ukraine are on 11 (also four games left). Importantly, though, Montenegro and England have both slaughtered San Marino twice, while Ukraine are yet to play the minnows. Add six almost guaranteed points to their total, and you'd have to make Ukraine the oh-so-slight favourites.
Group I was always going to be dominated by Spain and France, and thus that is the case. With three games to go, Spain have a single-point advantage, and they don't have to play Les Bleus again. Three easy wins against the group's smaller fish will see the world champions home and dry, and France are almost certain to hold off Finland and Georgia to secure the play-off berth.
NORTH AMERICA
In Round 4, the six remaining teams will play one another home and away. The top three teams will automatically qualify for the World Cup, and the fourth-placed team will meet Oceania's top side New Zealand in a two-legged play-off for the right to join them in the finals.
We're just over halfway in the final round of North America's qualifiers. It's currently advantage United States, but only just, while Costa Rica are also in a healthy postion. Mexico's hopeless home form (all of their home ties in this final stage have ended goalless so far) could prove to be the continental giants' downfall, with Honduras and Panama both primed to pounce. Jamaica have yet to register a win, and they have a mountain to climb if they're to reach Brazil.
OCEANIA
Oceania's qualifiers were completed in March. As one would expect, New Zealand got through with a 100% record in the final round, so they go through to the inter-confederation play-offs. The Kiwis will meet North America's fourth-placed team in a two-legged tie, with the winners qualifying for the World Cup.
SOUTH AMERICA
The nine teams will play one another home and away. The top four teams will automatically qualify for the World Cup, and the fifth-placed team will meet an Asian side in a two-legged play-off for one of the last remaining places in the finals.
Argentina haven't been at their very best, but they are guaranteed a top-five finish, and one more win will ensure that they will be in next year's finals. Colombia are second and can expect to go through as well, while Ecuador and Chile occupy the other automatic places. Copa America holders Uruguay are only in 5th place, though, and if they're not careful, one of my tips to win the 2014 World Cup won't even be there!
Venezuela have their best chance in decades to qualify for their maiden World Cup, and Peru still have an outside chance of a play-off spot. Bolivia are struggling, though, and Paraguay - who have qualified for each of the last four finals - are bottom, and odds-on to miss out in 2014.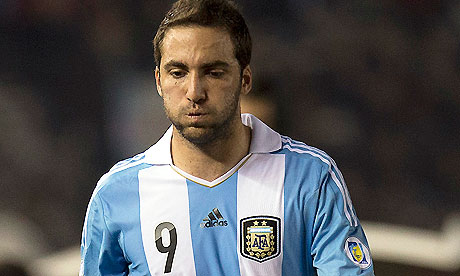 Cheer up, Gonzalo Higuain! Argentina are almost qualified for Brazil 2014!